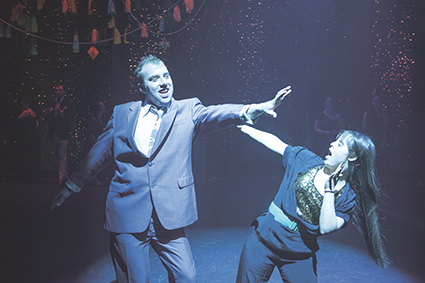 photo Shane Reid
Jesse Rochow and Jianna Georgiou
IF THE DANCE FLOOR IS A DEMOCRACY THEN RESTLESS DANCE THEATRE'S IN THE BALANCE REMINDS US THAT ITS BORDERS ARE FRAUGHT WITH, IN THE WORDS DIRECTOR MICHELLE RYAN USED TO INITIATE THIS NEW WORK WITH THE COMPANY'S YOUTH ENSEMBLE, "FLIRTATION, REJECTION, INCLUSION AND EXCLUSION." WHILE MEMBERS OF THE ENSEMBLE TAKE TO THE FLOOR IN CHOREOGRAPHIES OF ONES AND TWOS, THE REST HOVER ON THE PERIPHERY, HERE A FURTIVE EXCHANGE OF GLANCES, THERE AN INTRODUCTION MADE AWKWARD BY LOUD MUSIC OR A LACK OF CONFIDENCE.
The anxieties only dissipate, replaced by exhibitionism or exuberance or a muscular masculinity, as the performers in turn peel off from the throng and become the focus. Each brings with them a fiercely individualised energy informed by their physical capabilities, their dynamic within the group and their relationship with the space: at ease, listless, assertive. And the space itself? A glittering state of decay, designed by Gaelle Mellis and Meg Wilson that, with its fallen, shattered mirror ball and messy assemblages of hanging ropes, tinfoil and paper lanterns, recalls the apocalyptic/hedonistic bifurcation of Prince's 1980s heyday: "Everybody's got a bomb/ We could all die here today/ But before I'll let that happen/ I'll dance my life away."
The breadth of the stylistic diversity between the vignettes and the vim with which they are performed maintains interest, even as the production's conceptual slightness is revealed. Chris Dyke's lurching, sexually charged athleticism provides a fine contrast, by way of an example, with Kathryn Evans' tender, curiously touching solo routine with an exercise ball. Intermittent group work, such as when the performers chaotically transport two sets of chairs from one side of the stage to the other, provides an additional, if still inadequate, layer of complexity. The production ultimately circles round on itself, having travelled nowhere in particular, its constituent parts diverting but disconnected. There is an elusive metaphorical quality to Ryan's direction that remains unresolved, and only tritely treated in the program notes: "We stumble, bounce and back flip on the awkward journeys we make to become who we are." I would have been more convinced had Ryan managed to embed something of the shape of this transformation in the work's overall contour.
More successful are Geoff Cobham's characteristically sinuous lighting design and The Audrey's rootsy soundtrack, equal parts alt-country languor and T Rex-ish stomp. The Adelaide band's 2008 single "Paradise City" makes for a fitting, if unexpected, accompaniment to Dana Nance's introspective, yearning solo: "In this town we all bear our own load," moans singer Taasha Coates over Tristan Goodall's plaintive guitar, "'cause we know what's waiting at the end of the road." As though stirred into action by these ill-boding words, the Ensemble subsequently unites again and In the Balance concludes as it began, with a jubilant, freewheeling group choreography.
Ryan's darker purpose, however, remains unexpressed as the audience enthusiastically applauds each member through a final, brief solo before they bounce from the stage. If only they had begun the journey that led them there from a deeper, darker place, I might have felt like I was clapping for more than just an ending already seen, a destination arrived at rather than one never left.
Restless Dance Theatre, In the Balance, director Michelle Ryan, performers Josh Compton, Darcy Carpenter, Felicity Doolette, Chris Dyke, Kathryn Evans, Jianna Georgiou, Michael Hodyl, Lorcan Hopper, Nigel Major-Henderson, Caitie Moloney, Dana Nance, Jesse Rochow, Tara Stewart, lighting designer Geoff Cobham, designer Gaelle Mellis, Meg Wilson, music the Audreys; Odeon Theatre, Adelaide, 16–25 Oct
RealTime issue #124 Dec-Jan 2014 pg. 36
© Ben Brooker; for permission to reproduce apply to realtime@realtimearts.net