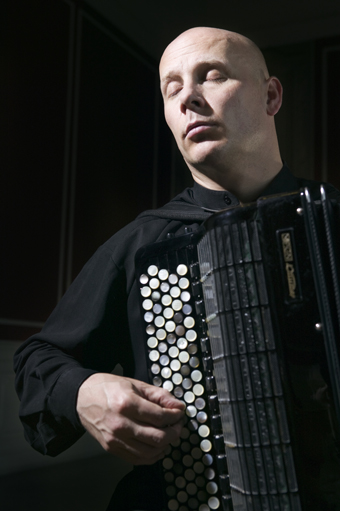 courtesy the artist
James Crabb
THE ACCORDION IS A MUCH MALIGNED INSTRUMENT. OFTEN ASSOCIATED WITH AGING FOLKIES, KITSCH MIDDLE EUROPEAN MUSIC AND DISTANT RELATIVES, FEW LIKE TO ADMIT THAT THEY ENJOY ITS MUSIC. THAT IS UNTIL THEY HEAR JAMES CRABB PLAYING AND HIS INFORMATIVE TALK ON THE INSTRUMENT'S HISTORY AND MANY GUISES. AT CAMPBELLTOWN ARTS CENTRE, CRABB REVEALED UNFAMILIAR FACES OF THE ACCORDION WITH HUMOUR AND CLARITY, AND ONLY POPPED THREE BUTTONS IN THE PROCESS.
Crabb's program delivered a wonderful balance of convention, innovation, adaptation and piracy. Opening with a work to immediately reconfigure audience expectations, Crabb shared with us De Profundis, Sofia Gubaidulina's 1978 masterpiece for accordion. Apparently this work has reshaped the direction of composition for accordion, inviting more composers to experiment with the until-recently untapped sound worlds of the instrument. Gubaidulina treats sounds as living things. They shimmer and, as Crabb explains, "do the breathing." The work has an underlying narrative based on a psalm about forgiveness. You hear of trials and ascension. But for me the most spectacular thing was the careful use of diminuendo. The singing accordion exhales unwaveringly, but as the airspeed decreases the pitch does not drop. It keeps realigning. Listening, it's as though you had spun around on the spot so many times that you'd fallen to the floor and were watching the room revolve around you, all the while knowing that the ceiling is fixed and your perception lies. This is how pitch whirled as the accordion grew quieter: spinning, continuous and stationary.
Crowd-pleasing Piazzolla tangos punctuated this and the next meaty contemporary work. These were played with incredible sensitivity, and all the subtlety of tango dancers. Next was the world premiere of Campbelltown City Council's commission from Peter McNamara, Der Ost-Westspiegel, composed for Crabb this year in a collaborative exchange between the two. McNamara had never composed for accordion before so was grateful to Crabb for providing a 20-page manual the musician had written years before on the idiomatic traits and advantages of his chosen instrument.
Der Ost-Westspiegel plays with various contrasts between East and West. Intentionally oblique associations are drawn between East and Western Sydney, East and West Germany, occidental and oriental thought and philosophy. The theme extended also to geographic contrasts, poverty and development. Western Sydney-based composer McNamara explained in the pre-concert talk how these themes related to the work's musical material, with which he explored extreme contrasts in register and character of sound. How these sounds are arranged follows recognisable patterns too, for example some phrases are mirror images of one another. McNamara has chosen this approach to re-personalise the listener's perspective believing that East and West will see different reflections in the mirror depending on their circumstances.
McNamara explained, "There certainly aren't any tunes, that's for sure…I'm more interested in textures, combinations." He sees the accordion as a sort of mini-chamber organ, one that can play very widely spaced chords. This is particular to the accordion as players are not limited by their hand spans the way they are when playing a conventional piano keyboard. Don't be fooled into thinking an accordion has a keyboard on only one side. That instrument is actually a piano accordion, a mutt according to Crabb. Accordions in their purest form have buttons on both sides.
After this premiere we jumped back 300 years to France for three short harpsichord pieces by Baroque composer Rameau. To my surprise, these translated beautifully to the accordion, retaining something of the timbral authenticity of French Baroque dance music. On occasion I could hear the hautbois, cor anglais, flutes and voices amid the memory of the keyboard.
To wind up, Crabb offered a quirky 1985 work by John Zorn called Road Runner. Named after the swift desert hen and its persistently failing pursuer, Wile E Coyote, this romp gave Crabb the chance to act, stomp and holler. It's an homage to the renowned composer of cartoon music, Carl Stalling, who has conditioned children of many generations to associate sound effects with cartoon character blunders and moments of victory. Quotations surface and subside faster than you can recognise them and then transform. It's a race. There's a gasp, a close call, an uneasy stillness. "Is that a tune I know?" Meep meep.
James Crabb, The Classical Accordion, Campbelltown Arts Centre, Campbelltown, NSW, Oct 28
RealTime issue #112 Dec-Jan 2012 pg. 41
© Felicity Clark; for permission to reproduce apply to realtime@realtimearts.net