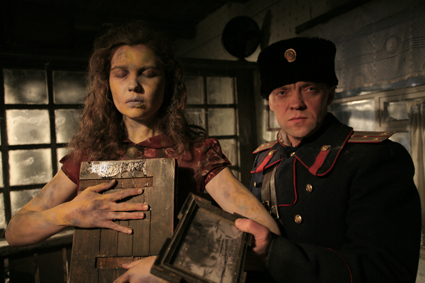 Alexander Proshkin, The Miracle
DEFINING A FILM IN REFERENCE TO ITS NATIONALITY (A FRENCH FILM, AN AUSTRALIAN FILM, A RUSSIAN FILM) IS AN INCREASINGLY TENUOUS BUSINESS THESE DAYS. IN AN AGE OF GLOBALISATION, IT WOULD SEEM THE BOUNDARIES OF A NATION STATE ARE NO LONGER IMPERVIOUS ENOUGH TO ALLOW FOR THE INCUBATION AND GROWTH OF A DISTINCTIVELY NATIONAL CINEMA. CONTEMPORARY RUSSIAN CINEMA REFLECTS THESE CHANGING ECONOMIC AND CULTURAL CONDITIONS MORE ACUTELY THAN MOST OTHER NATIONAL CINEMAS.
For so long culturally isolated and protected by the Iron Curtain, the Russian film industry has, since the fall of the Soviet Union, been forced to undergo a quick and radical transformation. Most significantly, Russian cinema has had to contend directly with Hollywood, the international monster that other national film industries have been struggling with or against for over 90 years. The goal has been simple: to survive in a monopolised marketplace without losing a distinctively national voice. After a shaky start in the 1990s, a definably 'new' Russian cinema emerged in the new century, a cinema that, for better or worse, has asserted itself as a producer of popular, economically viable films that participate in the populist aesthetics of Hollywood while also drawing on Russia's prized and often traumatic cultural heritage.
The career of Russian director Alexander Proshkin (b1940) in many ways reads like a biography of this transformation. Beginning his career in Soviet television in the 1960s and 1970s, Proshkin asserted his reputation as a director of quality television drama before achieving box office and critical success for his 1988 feature Cold Summer of 1953. That film—a dark, violent and dramatic thriller set in the early days following Stalin's death—was in many ways a pioneering work that offered a model for what Russian cinema could become in the post-Soviet era. Integrating historical and politically contentious subject matter within a generic scenario lifted from a Hollywood western, Cold Summer of 1953 demonstrated the possibility of a culturally respectable, serious, yet also populist and exciting cinema.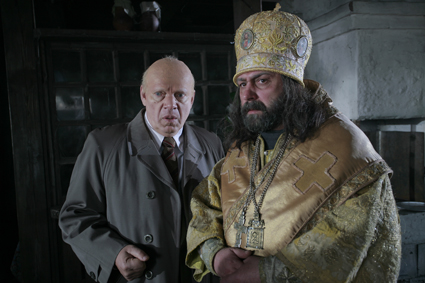 Alexander Proshkin, The Miracle
Proshkin's latest feature Miracle, which plays at this year's Russian Resurrection Film Festival, is also an entertaining film of serious ambition. Like Cold Summer of 1953, Miracle is set in the early Soviet 'thaw' of the mid-1950s, a period when Nikita Khrushchev initiated a relaxation of the paranoid grip of Stalinism. Proshkin was in his mid-teens at the time, and must have experienced the cultural atmosphere as a powerful liberation. "The time is significant," he explains, "because 1956 is the year which marked a turning point in our history. Khrushchev's address at the 20th Congress [of the Communist Party] marked the arrival of the new post-Stalinism period. With one foot, we were still in the past, while with the other we were in an uncertain future."
Presented as a film based on historical events, Miracle's narrative offers a fictionalisation of the characteristically Russian cultural myth, or true event, known as the "Standing of Zoia." Said to have taken place in Kuibyshev (now Samara) in January of 1956, the story goes that while dancing with an icon of St. Nicholas, 21-year-old Zoia Karnaukhova froze solid in her living room for 128 days, only thawing at the arrival of Easter. In a culture very accommodating to superstition, news of the "miracle" was frantically suppressed by the Soviet government, and circulated only by word of mouth. Proshkin explains:
"In Russia, such information is often referred to as 'bush radio,' where one person tells one person and he tells another etc. Our scriptwriter, Yuri Arabov, was told about this incident by his grandmother, when he was nine years old. To the wider community, this information was kept confidential till about the end of the 1980s."
With names altered and dramatic twists thrown in (Kuibyshev becomes Grechansk, Zoia becomes Tatiana and Khrushchev himself gets involved through a deus ex machina) Miracle manages to engage with the complex problems of Russia's Soviet past without losing the narrative momentum of contemporary popular cinema, a balancing act that, in Proshkin's view, Russian filmmakers can no longer afford to neglect. Just like everywhere else, he explains, Russian filmmakers are now answerable to the dictates of the mass audience: "The filmmaker's role—or existence—has changed in our nation… Before there was an ideological influence, now it's a commercial one."
Despite being unambiguously popular in its presentation, there are considerable dimensions of depth in Miracle. As an allegory, the film would seem to present a metaphor of a society, frozen by Stalin's terror, coming back to life. For Proshkin, however, the film's narrative has less specific connotations:
"It is an attempt to explain the mentality of Russia, which in essence has not changed over time. Waiting for so-called 'miracles' has been embedded into the national character and we often put things down to simply being miracles."
Proshkin's interest in the "mentality" of Russia, and especially in the profound incompatibility between Russian social life and systematic centralisation, echoes throughout much of the director's work. Open to the possibility of the miracle, but not certain of it, his is what might be called an agnostic attitude, significantly distanced from the more fervent religious cinema of contemporary Russian directors like Andrei Zviagintsev and Pavel Lunguin (whose epic Tsar also features at this year's festival). Asked whether he considered his film to belong to the growing 'religious' genre of Russian cinema, Proshkin replies:
"For me it was always a mystery: how could a nation, which existed for 1000 years with the Christian-orthodox faith, suddenly condemn its pastors, destroy its churches and reject its religion? Religious belief, which was nurtured for 1000 years, cannot just disappear in one particular moment. It simply moved into the subconscious… Spiritual movies represent the character of our culture and its peculiarity."
This concern with the Russian subconscious leads me to pursue another subject. If anything can be said to have persistently pricked at the conscience of Russian filmmakers for the past 50 years, it would be that most traumatic chapter of the country's Stalinist nightmare, the Second World War. At this year's festival, a retrospective of World War II dramas made in the post-war era—The Cranes are Flying (Kalatazov, 1957), Ivan's Childhood (Tarkovsky, 1962), Trial on the Road (German, 1971) and The Ascent (Shepitko, 1977)—offers a captivating and sobering glimpse of the war's centrality in the Russian memory. These are some of the finest films of their time. And yet still today, narratives set during the war continue to be made, as untold stories come to light. One such film is Vera Glagoleva's One War, perhaps the finest new feature at this year's festival. Other films explore an adjacent period: Stanislav Mitin's lyrical gem Backdoor is set in 1949 and Nikolay Dostal's award winning Peter on His Way to Heaven takes place in 1953.
For Proshkin, there's a specific rationale in Russia cinema's preoccupation with the trauma of Soviet history. Raking over the past is, it would seem, a way of processing the unacceptable, making sense of the incomprehensible:
"It's not a matter of history. It is just that that period influenced the formulation of the mentality. Until we actually rid ourselves of the past which has been infused into our blood, we will never find the road to the future."
2010 Russian Resurrection Film Festival, Sydney, Melbourne, Brisbane, Perth, Adelaide, Canberra, Aug 19-Sept 19; venues & dates www.russianresurrection.com
RealTime issue #98 Aug-Sept 2010 pg. web
© Tom Redwood; for permission to reproduce apply to realtime@realtimearts.net