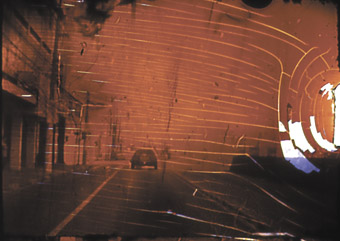 Tenho Saudades
I torture the film in any way I can think of.
Louise Curham, RT58
Louise Curham is at the forefront of Australian moving image art. As well known for curating innovative expanded cinema events in non-traditional exhibition spaces as for provocative Actionist performances, Curham is highly regarded in the experimental film world for her work using "obsolete media." Her hand-worked Super 8 films reinvent the home movie medium of years gone by.
Her new film, Tenho Saudades, showcases Curham's continuing (some would say consuming) obsession with physical mark-making and intervention in the filmmaking process. The work consists of Super 8 footage which has been subjected to a range of interventions (hand painting and other 'direct animation' techniques including scratching, bleaching, and collaging) along with a male voiceover. Some found footage (including a millisecond of a bemused looking Bert and Ernie!) and pieces of optically printed and re-shot film strips are interpolated with treated footage shot in Brazil by collaborator Peter Humble. The layered soundscape carefully juxtaposes various pieces of music–a Bach fugue, Brazilian drumming, club techno–with traffic and street noises. For most of its 18 minutes, the male voice narrates, unusually in the second person, a visiting male performer's encounter with the gay underbelly of Brazil: "You have a map. In red pen you mark the location of gay clubs. The first one you can't find. The second one, it's packed. Groups of guys, drinking, laughing, dancing. Are gay clubs the same all over the world?"
This voice-over may not be to the taste of all avant-garde film lovers. Viewed without the sound, it is certainly pointless to construct much of a narrative from seemingly random images of a South American city collaged with hand-processed film. Screened silent (as many avant-garde films are, to avoid the melodrama inherent in what Stan Brakhage famously termed the 'grand opera' of narrativity), the film is–typically of Curham's work–nothing short of a visual orgasm of sublime colours, textures and forms. The intense sensuality of the bands and strips of film bleeding, weaving and colliding with each other is exquisite, as are Curham's signature jewel colours–explosions of amethyst, emerald, amber and sapphire, the result of her alchemical explorations in hand-processing.
With the sound added Tenho Saudades joins an international conversation with other experimental films that explore themes of gay identity and interracial romance. It invites comparisons with Karim Ainouz's Paixo Nacional (1994), a beautiful 16mm film about a young Brazilian man fleeing homophobic persecution in his homeland, intercut with touristic images of Brazil as a land of sexual license. It also brings to mind films by the highly acclaimed German queer artist Matthias Muller, whose works such as The Memo Book (1989) also evoke emotions through complex manipulations of film material and lyrical abstraction.
Contextualising Tenho Saudades in the field of gay experimental film/video, which emphasises masculine subjectivity and formal manipulation, perhaps ameliorates some of the 'pure film' concerns about the voice-over, since it functions as an aesthetic genre marker.
Curham famously 'performs' her film works with noise orchestras and other musicians, darting between multiple projectors, adjusting them, turning them on and off. This suggests that there may be multiple ways of seeing Tenho Saudades: as a gay experimental film, as an aesthetic object evidencing its maker's fine art training, and, given its poignant title (which means 'I miss you'), as a hymn to a dying medium. Whichever way you see it, Tenho Saudades is an extraordinary film.
Tenho Saudades, images by Louise Curham, voiceover written and performed by Peter Humble, 2005
RealTime issue #66 April-May 2005 pg. 22-
© Danni Zuvela; for permission to reproduce apply to realtime@realtimearts.net