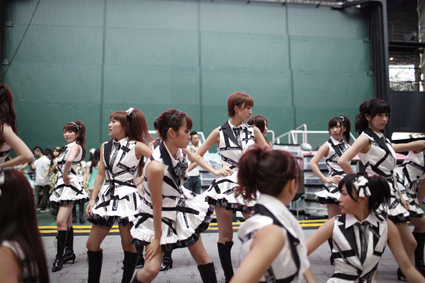 © 2012 Aks Inc. / Toho Co., Ltd. / Akimoto Yasushi, Inc. / North River Inc. / Nhk Enterprises, Inc.
Documentary Of AKB48 Show Must Go On
BEFORE DISCUSSING DOCUMENTARY OF AKB48: SHOW MUST GO ON (2011) WHICH SCREENED IN THE 16TH JAPANESE FILM FESTIVAL ACROSS AUSTRALIA, HERE ARE SOME INTRODUCTORY POINTERS ABOUT THE JAPANESE POP GROUP, AKB48. THEY ARE A COLLECTION OF GIRL SINGERS COMPRISING THREE PRIMARY TEAMS OF 16, BASED AT A LIVE THEATRE FOR FANS IN AKIHABARA, FORMED IN 2006 BY EX-AIDORU (IDOL MUSIC C1980s) LYRICIST AND MANAGER YASUSHI AKIMOTO.
Their music is mostly a softened yet pneumatic Euro-disco à la Stock-Aitken-Waterman, designed to be uncontrollably memorable. The vocals come from a team's 16 voices singing in unison, usually without harmony lines, generating a sports-like karaoke of kiddie chants. Between 2011-2012, AKB48 released 10 singles in Japan (population 127.5 million), each selling on average 1.2 million. (Between 2011-2012, Katy Perry released eight singles in Australia, population 22 million, each selling on average 0.14 million.)
But Pop Music in Japan is a different being. The Idol syndrome that first peaked in the 80s was based on idolatry, figurine worship and the rupturing imperfection of human amateurism, which was perceived to define the 'idol' as a shimmering deity in human form. (Only 40 years earlier, Japan collectively subscribed to the Emperor's divinity.) Japanese Idol music employs crass electronic synthesism as an environmental context for highlighting human expression—hence the off-tune, over-emoted, unadorned voices of groups from Pink Lady and Onyanko Club to SMAP and Arashi.
The AKB48 documentary Show Must Go On is an exhausting ride into the maelstrom of Idol culture. On the surface it appears as yet another exposé of the 'real world' behind those ensnared by the machinations of show business. But Show Must Go On presents with uncompromising clarity what is within the surface of Japanese Idol culture.
A number of narrative incidents shape the documentary's trajectory across the year 2011. The major one is the Great Tohoku Earthquake and resulting tsunami (referred to in Japan as 3/11). We see six members from the A-Team travelling by bus into Otsuchi, Iwate in June. They stare in silence into the de-spatialised devastation we can also see through the bus windows. The members on the bus silently try to read what was once a recognisable landscape.
As they descend, the six young women move differently: they now resemble figurines, exuding the subtle power of Japanese women engaged in formal ritual. The stilted slowness of their bodies and their almost indiscernible head-bowing are signs not of obsequiousness, but regality and divinity, here performed through the minutiae of bodily control as if they are no mere mortals.
They straddle the makeshift stage and formally introduce themselves and their "stricken area support tour." Suddenly they transform, leaping into synchronised callisthenic moves, singing atop the blaring backing track of Heavy Rotation (2010). Dressed not in their usual glitzy uniforms, which seem borrowed from the mystical princess sub-genre of anime like My-HiME (2005-8), they wear white tour T-shirts, gym pants and trainers. The location sound is similarly raw: it accentuates AKB48's aural presence as frail human vocals enmeshed in a dizzying multiphonic synthesis.
At one point, the camera hand-tracks behind a gaggle of Japan Self Defence Force members corralled as relief workers, dressed in military garb and patiently listening. It's the first of many moments in the documentary's audio-vision where AKB48's music—performed live or played in a public space—seems dislocated from its surroundings.
Yet at that very moment, it also evidences the means by which the music fuses with its surroundings. Because when such 'inappropriate' music occupies a social realm—here, tacky disco pop amidst the ruined townships post-3/11—a reality effect seeps back into the music to intone it with opposite sentiments. In this instance, Heavy Rotation begins to sound less sprightly and bouncy and more drained and hollow.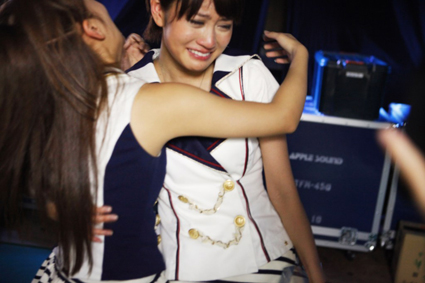 © 2012 Aks Inc. / Toho Co., Ltd. / Akimoto Yasushi, Inc. / North River Inc. / Nhk Enterprises, Inc.
Documentary Of AKB48 Show Must Go On
Another major narrative incident is the AKB48 22nd Single Election held June 9 at the Budokan in Tokyo. Having spent three months in Tokyo shortly after 3/11, much of what is in Show Must Go On brings back memories for me of the transformation and reconstruction which frenetically hit Japan over that time. The AKB48 Election was accorded an amount of media attention proportionate to the drastic re-shuffling of the Democratic Party of Japan's cabinet under Naoto Kan during the post-3/11 crisis. Images of besuited old men and uniformed young girls each engaged in popularity polling were everywhere.
The AKB48 Single Elections manifest how 'popularity' can govern with chaotic yet ultimate power in Pop Music, as team members who get to actually record each new single are selected by their huge Japanese fan base (they sold out the Budokan). How better to ensure attraction to AKB48 than by having one actively dislike certain members in order to like others. That's how the Single Elections have unfolded since 2009, and Show Must Go On unflinchingly reveals the emotional exhaustion and terrorising debilitation its members wilfully suffer.
When Yui Yokoyama achieves 19th place in Team B, she appears onstage, hyperventilating from the trauma of succeeding. We quickly cut to a later interview where she's mildly laughing at it herself, querying what she felt. It's the first of the documentary's onslaught of such para-bipolar incidents which are performed with an embedded schizophrenic calm typical of Japanese emoting and self-presentation.
When the dramatic long-winded announcement of the first place is blared over the Budokan PA, we see No.1 contender Atsuko Maeda bobbing in her seat like an epileptic. Here is a star, suffering in public, about to succeed, filmed by multiple cameras, surrounded by her colleagues—but everything and everyone around her treats her as a non-existent entity. Show Must Go On documents such instances of Japanese behavioural customs, proving AKB48 to be a simulacrum of Japanese endeavour: completely fabricated, excessively exploitative, undeniably fictitious, yet absolutely affecting.
Backstage after the announcement, we focus on Yoko Oshima, this time demoted to second place. The onstage male announcer's barking drowns her, indifferent to her emotional collapse. Then an AKB48 ballad blares through the PA: it's like sonic salt poured onto her gaping wounds. She stands with her back to us, moored in the bowels of the Budokan's subterranean infrastructure, facing an air-conditioning duct. In the ugly miasma of lo-light video grain, cables and ducting swirl around her like a deadly forest. It's a chilling anime icon—the mystical schoolgirl princess ensnared in a cruel environment. The camera zooms in slowly on her shadowy back: a sublime moment in Pop Music audio-vision: a portrait of the dark self away from Pop's photosynthetic brightness.
–
RealTime issue #113 Feb-March 2013 pg. 21
© Philip Brophy; for permission to reproduce apply to realtime@realtimearts.net