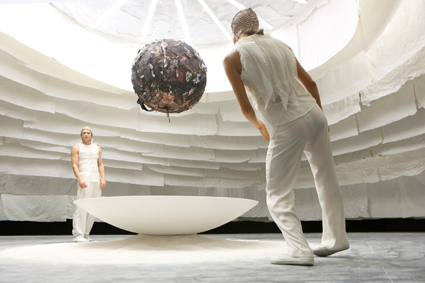 photo Prudence Upton
Inside There Falls
BY WAY OF EXPLAINING THE SOUND/UNSOUND COMPONENT OF HIS 2015 SYDNEY FESTIVAL AT CARRIAGEWORKS, ARTISTIC DIRECTOR LIEVEN BERTELS FILLS ME IN ON HIS BACKGROUND IN AND PASSION FOR MUSIC AND SOUND ART, WHICH IS EVIDENT IN OTHER WORKS IN THE PROGRAM: THE KITCHEN, PUNCTURE, ATOMIC BOMB, ON THE HARMFUL EFFECTS OF TOBACCO AND DARKNESS AND LIGHT. BUT IT'S MORE THAN MUSIC: IT'S MUSIC IN THE MIX OF INSTALLATION, THEATRE, SCREEN AND DANCE.
Bertels comes from a background of classical music and sound art, having trained in the late 80s, early 90s as a musicologist and composer at the University of Durham where there was a state of the art electro-acoustic studio at the time of the transition from analogue to digital. After graduating with his second master's degree in 1994 he abandoned the notion of pursuing a career in composition, "but it gave me insight into sound art and a love of the manual labour, the craftsmanship of composing." The same period was rich with postmodern diversity, opening Bertels' listening, confirmed and expanded by the invention of "the democratising MP3"—often surprising himself with things he has stored and plays randomly.
Sound/On Sound
Bertels kindly offers me a copy of Recovery/Discovery, 40 Years of Surround Electronic Music in the UK (2008), a CD he conceived and produced featuring composers Jonathan Harvey, Harrison Birtwistle, Javier Alvarez and Mira Calix. Calix is a key guest in the 2015 Sydney Festival with an installation at Carriageworks as part of Bertels' Sound/On Sound program. He notes, "It's not the first time it's happened but the convergence between theatre, installation art, music making in its concert form and electronic music consumption is significant. There are people in the visual arts who essentially make sound art installations, like Janet Cardiff. Others come from DJing and hip hop."
Mira Calix
"Mira Calix started as a sound artist musician on WARP," says Bertels, "a very important label in the early 90s in electronica and still the label for people like Aphex Twin and Squarepusher. She was the only woman on that label. I got to know her when I was at the Brugge Concertgebouw and I co-commissioned a work which combined the music of Steve Reich and Phillip Glass with Squarepusher, Aphex Twin and Mira Calix—real name Chantal Passamonte—who did a piece for the string players of London Sinfonietta and 100 live crickets, which we had to source—nice challenge! So we had a terrarium full of crickets and we needed to give her control over it because she knew the crickets would sing at a different speed depending on the temperature. She could then orchestrate the sound of the crickets and the speed of their 'beating' (or whatever you call it) to the music, which was beautiful." It was then that Bertels invited Calix to be part of Recovery/Discovery and, subsequently, she expressed an interest in coming to Australia to do an installation, having been taken with a novella by Australian journalist and editor Brett Clegg—"a kind of stream-of-consciousness text called Inside There Falls. Clegg listens to a lot of electronic music and is a fan of Mira Calix and had managed to trace her email and sent her this text. She was fascinated by it, and wrote to him asking 'what do you want me to do with this because I love it? Can we do something together?' Then it was a matter of what they wanted—a big space to build an installation that would research these boundaries of concert performance, dance, installation and sound art. It is, of course, a leap of faith. This is the kind of risk you want to take in a festival." Calix also wanted a live physical dimension for the installation so she approached Rafael Bonachela, inspired by what he had done in the Kaldor Project's 13 Rooms.
"There's an antechamber where you wait until there's a group of about 20 and then enter as a group into Bay 17—the big space which will be transformed into a giant paper labyrinth you wander through, discovering elements of sound and text as well as encountering dance interventions." Access to the work is free and there's a tactile tour for the blind on 17 January.
Tamara Saulwick, Endings
There are two other commissions. Endings, commissioned by Sydney Festival, Arts House and Performance Space, is Melbourne performer Tamara Saulwick's new work. By way of background Bertels recalls that when Edison patented the phonograph he didn't foresee its future as delivering music: "The first two uses he listed were to record the words of famous people and of dying people as mementos. And now, 125 years later, how many people would feel comfortable about [recording] their dying relatives? It's very confronting because the voice is way more personal than an image. It's fascinating because at the same time it's intangible. Sound memory is not very precise. If I try and remember the voice of my father it's very hard. I can recognise it, just like a smell, but you can't bring it back, you can't recreate it. So that's what Tamara Saulwick is working with—all kinds of sound recordings that have to do with endings. She's cutting her own acetates and pressing the LPs she will use onstage in quite a ritualistic, theatrical kind of way."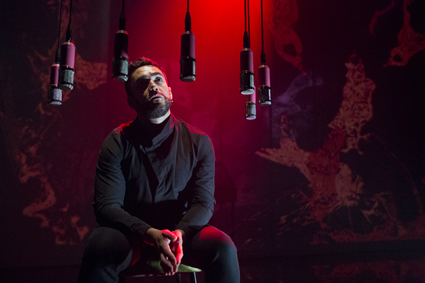 photo Jamie Williams
Mauricio Carrasco, The Experiment
David Chisholm, The Experiment
The other commission—from Sydney, Adelaide and Melbourne Festivals through the Major Festivals Initiative—is The Experiment by Melbourne composer David Chisholm, founder and director of the Bendigo International Festival of Exploratory Music. Bertels says, "He's a composer who's very dear to me and should be heard way more often. I tried to get him to the Holland Festival before I came here. He's a 21st century version of an Australian larrikin: witty, funny, outspoken. He's also got an amazing sense for drama. The subject matter in The Experiment is essentially ethical: if you were close to solving a massive medical issue but you knew you had to kill a child, would you do it? He's chosen a 19th century musical theatre form called monodrama—essentially spoken word and instrumental music. A guitarist performs in an installation with electronic sound. It's a performative work with a beginning and an end but inside an installation as if we were part of the experiment."
Greg Barrett, SpongeBob SquareTimes
"This is a very funny little work, also quite melancholic and very beautiful. It's a bit of an experiment." It's the work of well-known Australian dance photographer Greg Barrett who lives between Melbourne, Palm Beach in Sydney and New York where "he had a fancy new camera which caught on video one of those sad buskers, like those who impersonate Disney characters. This was a SpongeBob character—and not engaging at all successfully. And that's what he filmed for 48 minutes—a guy unsuccessfully trying to make some money until finally a family engages with him and gives him a few dollars. When Greg saw this footage he said he felt this was something he wanted to present as an installation with music that reflects loneliness for him—one of the seminal minimalist music pieces from Europe, Canto Ostinato by Simeon ten Holt, a piece for anything from two to eight pianos. So Greg chose to present it as two player pianos, two pianolas, to reflect that loneliness. I've just received from the Simeon ten Holt estate a MIDI version played for us by two people to be programmed onto massive Yamaha Disklaviers, the modern player pianos. The installation will be two lonely pianos playing with the video."
Bernard Foccroulle, Lynette Wallworth, Darkness and Light
Darkness and Light, another work connecting Australian and European artists (and commissioning partners), is a double projection screen work by Lynette Wallworth with music by Sofia Gubaidalina (the show's title comes from a work of the composer who proudly describes her self as half-Tartar, half-Slav"), Bach, Buxtehude, Messiaen and rising star Toshio Hosokawa played by Belgian organ virtuoso, Bernard Foccroulle, the director of the Aix en Provence Opera Festival. "In this collaboration," says Bertels, "the challenge has been to balance music and video because "your brain needs 85% of its capacity to decode the image [which means] you're not listening any more. The artists presented the work for the re-inauguration of the organ at Royal Festival Hall in London and then took it to Brussels." Wallworth's expansive projections, drawing on the Australian landscape and NASA astronomical film footage, will doubtless resonate powerfully, if subtly, with the Sydney Town Hall organ.
Theatre Des Bouffes du Nord, On the Harmful Effects of Tobacco
Another of Bertels' other music-oriented recommendations is Theatre Des Bouffes du Nord (the Peter Brook company) with its On the Harmful Effects of Tobacco, adapted from the Chekhov story to music by Bach, Tchaikovsky and Luciano Berio. It's smaller than previous festival works Semele Walk (2012) and Dido and Aeneas (2014), says Bertels, but in line with his commitment to blending live music with theatre. "This is a good example because it's part Chekhov monologue and part concert on a very high level and there is a very funny, classy actor in it, Michel Robin, who is 83 years old who, in daily life, walks with a walking frame but onstage suddenly shakes off 20 years." I ask how the music is integrated with the monologue. "As little interventions by three schoolgirls in ornate 19th century frocks designed by Christian Lacroix. They sing, they play piano and violin and interact with the man." Chekov's subject should be delivering a talk to us about the evils of tobacco but finds himself ranting about his domestic situation.
Atomic Bomb, The Music of William Onyeabor
"Another show with music we're very proud of is Atomic Bomb," says Bertels. "On his record label Luaka Bop, David Byrne released a compilation of the surviving albums of a really enigmatic and slightly odd Nigerian musician from the 80s called William Onyeabor. He's still alive, a newborn Christian now, and doesn't necessarily want to perform his own music any more. But Byrne did, with NY-based African musician Sinkane, Onyeabor's original backing vocalists and guests. It transferred to London where Byrne's MC role was taken by Damon Albarn from Gorillaz. We wondered who would be right in Australia and we approached Gotye, who is between albums and working on new material and was very keen to perform."
Vicki Van Hout, Long Grass
A likely highlight in this year's About an Hour program at the Seymour Centre will be Indigenous choreographer Vicki Van Hout's Long Grass. An idiosyncratic artist who draws on Aboriginal and modern dance traditions and has an acute theatrical sensibility and design eye, Van Hout engages in this new work with the lives and culture of Indigenous people who live on the streets and in the parks of a modern city, Darwin, where they are perceived to be homeless, without character and are labelled "Long Grassers." Bertels says, "the work looked very promising from the first workshop version. At the end of this festival, [we'll have presented] 30 new Australian works over these three years—as presenting partners, or commissioning or co-commissioning. We didn't commission Long Grass but it's a very important work for us because of its Indigenous elements but also that kind of small-scale experimental dance doesn't have a lot of outlets."
More in About an Hour
Other shows in About an Hour include the hyper-physical theatre work The Long Pigs (RT120, p42; from Melbourne), featuring a trio of nasty clowns in search of a lost nose with bloody consequences; Perth-based The Last Great Hunt's Falling Through Clouds; and shows from the USA—Adrienne Truscott's Asking for It, a scathing exploration of rape language in the everyday and especially in comedy—and from Ireland, Have I No Mouth, in which a family and their real-life therapist deal with a death.
Also on at the Seymour Centre will be Australian Theatre Forum, curated by David Williams, featuring conversations and provocations on the role theatre has in shaping our culture.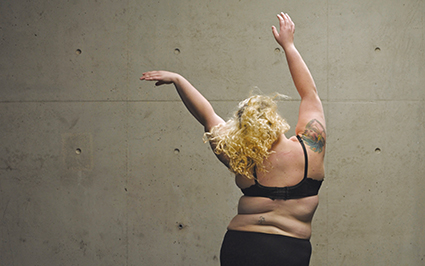 photo Toby Burrows
Force Majeure, Nothing to Lose
Force Majeure, Nothing to Lose
Another Australian dance work is Force Majeure's Nothing to Lose—a Carriageworks and Sydney Festival co-commission and the last of the exiting artistic director Kate Champion's productions for her company. It focuses on body weight, body aesthetics and dance. Local artist and "fat activist" Kelli Jean Drinkwater is Champion's collaborator and Torres Strait Islander dancer Ghenoa Gela is providing additional choreography. Bertels tells me, "Champion workshopped with a number of people with very large bodies and explored all the language around being fat—'obese,' 'oversize' etc—and the work taps into the meanings quite beautifully. Kate's strength is she's good at making ensemble dance pieces that also tell important stories." Like Long Grass, Nothing to Lose should be a 'must see.'
Legs on the Wall, FORM and VOX Choir: Puncture
Puncture is set on a dance floor—in the broadest sense—as the site for masked ball, tango, fox trot, mosh pit, classical and pop dancing—on a monumental scale with 12 dancers (led by Kristina Chan and Joshua Thomson to choreography by Kathryn Puie) with the Sydney Philharmonia Vox Youth Choir and percussionist Bree van Reyk performing a score composed and arranged by Stefan Gregory that ranges from Monteverdi to Madonna. As well, there'll be the physical theatre you'd expect from Legs, electronics by Bob Scott and video by Mic Gruchy. Pina Bausch's dance-hall Kontaktoff it won't be but a work with something to say on its own terms about the social and ritualistic nature of dance, dramatically puncturing formal dancing with the styles that have constantly challenged and sometimes corrupted it.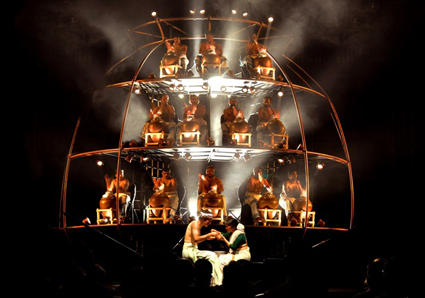 photo courtesy Sydney Festival
The Kitchen
Roysten Abel, The Kitchen
In the footsteps of the sold-out The Manganiya Seduction in 2010 with its wall of Indian musicians comes The Kitchen. "Again, it's a work with a simple dramaturgical arc," says Bertels, "building energy through music. What's new here is that there's a story. A couple are cooking a temple sweet from Kerala, the region where Roysten Abel, the director, comes from, which will be served to the audience at the end. The idea is that you need to be 'cooked' to get ready for life. The aromas of the cooking will waft out over the audience as it takes in wonderful music from 12 drummers." Also in the festival's 2015 program is ancient Kandyan dance from Sri Lanka in Dancing for the Gods.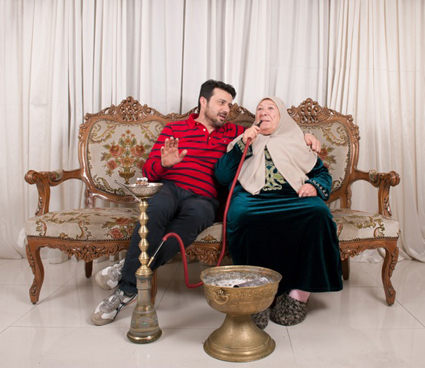 photo Joanne Saad
Michael & Samira, Bankstown Live
Urban Theatre Projects, Bankstown
For Campbelltown Arts Centre and the 2011 Sydney Festival Rosie Dennis created MINTO:LIVE (RT101, p16) in suburban outer Sydney. In 2014 Karen Therese created FUNPARK (RT119, p15) in Bidwell, Western Sydney. These works effectively brought together local and visiting artists and communities. For the 2015 festival, Dennis, now artistic director of Urban Theatre Projects, presents Bankstown: Live, a four-hour, four-day event featuring nine new works created in collaboration with local residents who have offered their homes as the sites for performance, screen and audio works or the telling of their own family histories.
Alwin Reamillo and locals will build a bamboo house that will be carried through the streets "in homage to Bayanihan, a Filipino tradition of the community helping to re-locate people from one village to another" (press release). Michael Mohammed Ahmad's novel The Tribe about three generations of a local refugee Lebanese Muslim sect and their difficult place in the community has been adapted for performance by Janice Muller. Rosie Dennis' documentary film Bre & Back focuses on Indigenous motherhood and cultural leadership. Emma Saunders is leading The Bankstown Dancing Project, working weekly with locals to prepare for dancing publicly on Northam Street and singer Sofia Brous and some great UK musicians will perform an array of local lullabies in Lullaby Movement. And there's much more in what will doubtless be a revealing and embracing event.
As this mere sampling of a huge program indicates, Lieven Bertels' third Sydney Festival is rich in cultural diversity and experiments in form and collaboration where adventurous Australian artists figure prominently.
Sydney Festival 2015, 8-26 Jan
RealTime issue #124 Dec-Jan 2014 pg. 26-27
© Keith Gallasch; for permission to reproduce apply to realtime@realtimearts.net