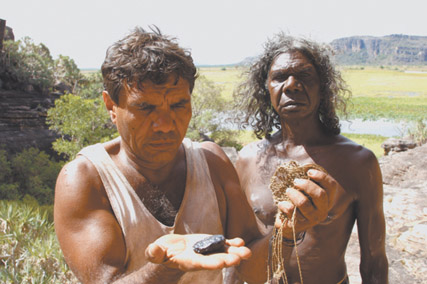 Tom E Lewis, David Gulpilil, Crocodile Dreaming
APPROACHING ITS THIRD INSTALMENT IN FEBRUARY 2007, THE BIENNIAL ADELAIDE FILM FESTIVAL HAS ALREADY ESTABLISHED ITSELF AS A SIGNIFICANT SCREEN CULTURAL EVENT, BUT ALSO ONE THAT APPROACHES AN IMPORTANT PERIOD OF CONSOLIDATION.
Festival Director Katrina Sedgwick is tightening and refocusing her program: "We felt that we were too big [in the second festival], we perhaps grew too quickly." The program has been trimmed from 13 days to 11 and will ultimately have about 90 titles to screen, the vast majority of them now to play twice to foster greater flexibility for cinema-goers' schedules. While AFF will perform its core function of bringing art cinema to a quality starved audience, ultimately the distinguishing features of the festival remain its collaboration with its sister events and its slate of projects in which it is an equity investor. These, along with the summer setting, differentiate AFF on the national festival landscape.
Amongst the announced program highlights include the experimental silent feature Passio from Paolo Cherchi Usai (the Director of the National Film and Sound Archive of Australia), which combines a plethora of confronting imagery from the twentieth century with a live accompaniment from the internationally acclaimed vocal ensemble Paul Hiller and the Theatre of Voices. Also on the AFF agenda are all the commissioned films from Peter Sellars' New Crowned Hope Festival (Vienna), which includes works from Bahman Ghobadi and Mahmet-Saleh Haroun, Garin Nugroho's Opera Jawa and Tsai Ming Liang's I Don't Want to Sleep Alone (p22). These works have been financed with the stipulation that they each use a theme from Mozart's final operas as a springboard, and have already been attracting the attention of festivals such as Vancouver and Pusan. The AFF recognises that Sellars' commissioning of films (starting in 2002 with his involvement with the Adelaide Festival of Arts contributing to, among others, Rolf de Heer's The Tracker) has served as an inspiration for its own investment fund (Look Both Ways, Ten Canoes).
While the investment fund has been AFF's most idiosyncratic attribute, a recent announcement of a similar equity pool at the Melbourne International Film Festival suggests that the fund is considered a success on a national level. AFF contributes to the budget of features and shorts, generally as a co-investor in a traditional Australian financing model. However, the 2007 program will premiere a feature with the festival as the sole investor: Kriv Stenders' Boxing Day. A follow up to his film Blacktown (2005) with the same spartan production methodology, gritty social realism, and modest budget ($100,000), the film unfolds in real time over a single afternoon as a father battles to reunite his estranged family. Part of the project's evolution occurred at the last AFF as Sedgwick revealed: "Kriv and I chatted after the screening of [Kriv's] Illustrated Family Doctor in 2005. At that point I didn't know about Blacktown, but was intrigued by his ideas. I asked him if he had anything else on his slate." Stenders took the opportunity to pitch his collaboration with actor-writer Richard Green. Admitting that she is "particularly interested in the creative opportunities that digital technology provides", Sedgwick was attracted to the idea of taking the risk on a low budget digital feature. After it picked up a South Australian producer in Kristian Moliere, the AFF board decided to back the project despite having no marketplace attachments in place and without a full script, the project being heavily improvised in rehearsals from an existing outline. For the Boxing Day team, the advantage of an investor with primarily culturally driven concerns and an interest in securing its own premieres shone through in a scenario when other funding avenues weighted towards commercial outcomes were closed. Hopefully Boxing Day's festival exposure will lead to wider distribution.
The AFF is also a minority investor in Rolf de Heer's latest venture, the silent, black and white slapstick socio-political satire Dr Plonk, and has not limited its slate to features, through including the short dramas Crocodile Dreaming (director Darlene Johnson), Spike Up (Anthony Maras), Swing (Chris Houghton) and the joint Australian-Chinese animation Sweet and Sour (Adelaide's The People's Republic of Animation and Shanghai Animation Film Studio).
The big news from the AFF is the announcement of a $25,000 prize funded by Natuzzi, the Italian furniture designer and manufacturer (also a Venice Film Festival sponsor) for best international feature. This jury-awarded prize will raise the profile of the festival considerably and doubtless increase the number of international filmmakers seeking to screen in future festivals.
AFF ties in neatly with several other screen cultural events. Commencing at the beginning of AFF and running for four days, the twentieth anniversary of the Australian International Documentary Conference (AIDC) provides a forum for 600 delegates and guests to discuss factual film and television as well as participate in a busy dedicated marketplace. Also on the schedule is Crossover Australia, (co-presented by the AFF and the South Australian Film Corporation and kicking off before the festival and AIDC), a residential think tank for experienced content producers to brainstorm crossplatform and interactive projects under the guidance of mentors such as British TV producers Marc Goodchild and Robert Thirkell.
The AFF cleverly carved its own niche in its first two editions and now looks set to consolidate with idiosyncratic programming, creative investment, a substantial prize and its continued collaboration with other significant screen events.
Adelaide Film Festival 2007, www.adelaidefilmfestival.org
RealTime issue #76 Dec-Jan 2006 pg. 17
© Sandy Cameron; for permission to reproduce apply to realtime@realtimearts.net