March 8; March 9
Absolute Ensemble, Adelaide Town Hall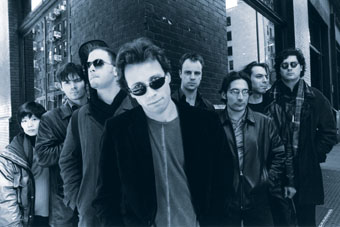 photo Pavel Antonor
Absolute Ensemble
Two unusual and immensely powerful concerts by the Absolute Ensemble demonstrate the capacity for development and innovation still remaining in contemporary music.
The late Frank Zappa is an under-appreciated composer. In the 1960s and 1970s his work was generally pigeon-holed with rock, albeit of the progressive variety. However, his was an eclectic mix of diverse influences, blended with great subtlety, and, above all, fully cognisant of the wide variety of classical and contemporary idioms that musical history has thrown up. It was self-conscious music—Zappa was a satirist and parodist, and he made the listener think about his musical sources and their meanings. His work is characterised by multiple voicings and frequent shifts of metre, rhythm, tempi and dynamics, so that, while the music is often foot-tapping, it keeps the listener on edge, waiting for the next shift.
The Absolute Ensemble has taken Zappa's work to another level. Modern electronic instrumentation allows further developments beyond those Zappa pioneered, and the Ensemble's arrangements of his work fully brought out its mesmerising structures, motifs and rhythms. Absolute's visionary conductor, Kristjan Järvi, controlled the event wonderfully, using a computer to cue electronic elements and also using his own keyboard while conducting.
In the hands of Absolute, Zappa's work resembles concert band music, but played with extraordinary flair and energy. Some of the 19 Zappa pieces in the concert were almost beyond human playability, recalling Conlon Nancarrow's gymnastic compositions for pianola. A multitude of different instruments might carry Zappa's lyric melodies: marimba, piano, synthesiser, violin, guitar, flute, saxophone, clarinet, even bassoon and contrabassoon. Sometimes 2 contrasting instruments pair in a melodic line; flute and bassoon, for example, creating a wonderfully dense texture. But the key to Zappa's music is his use of competing metres and sudden metric shifts, say from 3/8 to 7/8, while 4/4 or 2/4 continues in the background. Thus the ensemble must divide and aggregate instantaneously into various component sub-groups, a drummer taking one rhythmic line to support a soloist's melody and synthesised percussion taking another rhythmic line with other soloists. Zappa also rapidly shifts keys and uses chromatic elements, connecting passages with cascades of notes. The music is intense not only because of its energy and striking melodies but also because of its disjunctions and contrasts.
On top of this, Zappa uses parody and pastiche, introducing musical forms as diverse as klezmer, pop, country ballad, blues and rap, all built on a foundation of rock and jazz forms. Overall the music is frenetic and while it has a satirical edge, it is ultimately joyous, even cathartic. Keeping the whole thing together is a great feat, and Absolute do it wonderfully.
Mark-Anthony Turnage's 9 movement Blood on the Floor (1996) starkly contrasts with Zappa's musical style, yet the 2 concerts, on consecutive nights, formed a delicious whole—a re-energising of contemporary music. Blood on the Floor might best be described as a jazz suite of symphonic proportions for jazz ensemble and orchestra. The work could also be used as a ballet score or augmented by dancers, such are its dramatic and rhythmic properties. Though partly a tribute to the composer's brother who died from drug addiction, it is far from sentimental. Its opening self-titled movement is dramatic, dissonant and raucous, setting the tone for the suite. Short solo themes build and are then broken by brief intervals; a longer pause near the movement's end precedes its cacophonous resolution. Here are the sounds of the city and of the anguished mind.
The dreamy second movement, Junior Addict, retains the intensity of the first, perhaps suggesting the addict's entrapment. Bruce Arnold's enchanting guitar solo emerges as a long, introspective thought. The third movement, Shout, returns to the clamour and blare of the first, with a machine-like intensity built on strong playing from the brass section. Sweet and Decay begins with a bass drum roll, a motif that returns to haunt the movement. While Turnage evidently did not write the work expressly for his brother, Sweet and Decay evokes death's inevitably.
Needle is a series of unconducted solos, including one for bass clarinet. The slow, cool Elegy for Andy follows, its soprano saxophone evoking the wailing human voice. The last 3 movements continue the extraordinary writing and orchestration, shifting through jazz, funk and blues, variously suggesting filmic narrative, cries in the night and howls of mourning. The finale to the work requires 2 trumpets, one at times suffocatingly muted, culminating in a return to the suite's characteristic blare. Turnage theatrically ends the work with a single, heavy bass drum note.
That jazz idioms could be used to sustain such an extended, complex and evocative work reminds us of jazz's richness and fertility. Blood on the Floor naturally recalls Gershwin and, contrastingly, Miles Davis's film score for Louis Malle's Ascenseur pour l'Échafaud (Lift to the Scaffold) as examples of longer works in the genre. The performers sustained a controlled energy throughout the performance and Absolute's arrangement and instrumentation created unworldly textures with great dramatic effect. Blood on the Floor showcases the performers' interpretive ability and capacity to combine notated elements with engaging improvisation. Both composer and ensemble have mastered a musical language in a way that revitalises and opens it for further experimentation. There is wide scope for virtuosity, but Blood on the Floor is not merely a vehicle for dazzling solos. Turnage's music takes precedence, and the audience sits as it would for a Mahler or Shostakovitch symphony. The Absolute players blended smoothly with the Adelaide Symphony Orchestra players—there was a clear understanding of the work as a concept and how it might unfold in performance.
These extraordinary and well attended concerts remind us of the considerable developmental possibilities still remaining in music. Why is there not more like this? Turnage explores both classical and jazz traditions, but his work is unique-neo-modern rather than postmodern. Zappa's music too has an essential integrity and Absolute's arrangements retain and extend its character and resolution. Both composers have drawn on the mythology a well as the musical idioms of contemporary society to make reflective, powerful work.
RealTime issue #60 April-May 2004 pg. 27-
© Chris Reid; for permission to reproduce apply to realtime@realtimearts.net