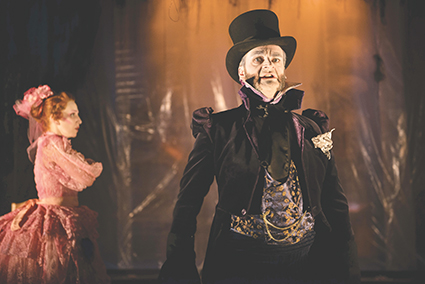 photo Dylan Evans
Helen Christinson and Hugh Parker, A Doll's House
THERE CAN BE LITTLE DEBATING THE ASSERTION THAT AUSTRALIAN THEATRE IS CURRENTLY IN AN ADAPTO-MANIA BOOM CYCLE—ARGUABLY NOW JUST ON THE OTHER SIDE OF THE CREST OF A WAVE THAT PEAKED IN SYDNEY THIS YEAR WITH RALPH MYERS' BELVOIR SEASON WHERE SEVEN OUT OF THE 11 SHOWS, BY MY RECKONING, WERE RESTAGED EUROPEAN CLASSICS OR ADAPTATIONS OF CANONICAL UR TEXTS.
The current surge in activity seems to have had its genesis in Melbourne's independent theatre sector over the past decade or so, with the centre of gravity occurring at the Malthouse Theatre under Michael Kantor's stewardship (2003-2010). Indeed, this year's Brisbane Festival—Noel Staunton's last—sees a new version of King Lear (The Shadow King) co-created and directed by Kantor. It is joined by Melbourne playwright Lally Katz' new version of Ibsen's A Doll's House, and Melbourne-based indie company The Rabble's reimagined stage version of Virginia Woolf's novel Orlando. Interestingly, none of these three productions' presenters use the word 'adaptation' in their programs or on festival websites. Indeed, in the case of The Shadow King neither Shakespeare nor Lear is mentioned at all; Katz' text is named as a "new version" of the Ibsen original; and The Rabble's take on Orlando is described as "a hallucinatory reworking of Virginia Woolf's classic gender-bending parable."
A Doll's House
Of the three adaptions, in some ways Katz' version of A Doll's House is the most reverent to the parent text. The playwright's voice is subtle—and Katz' voice can quite literally intrude into the text of her plays. There are no overt attempts to Australianise the dialogue, for example, or to place the mise en scène in an idiosyncratic local setting. The most radical intervention the audience witnesses here is with Steven Mitchell Wright's directorial signature, which sees Nora and the other characters (an excellent ensemble cast led by Helena Christenson as Nora, with Chris Beckey, Damien Cassidy, Cienda McNamara and Hugh Parker as Krogstad, Dr Rank, Kristine and Torvald, respectively) animated as clockwork dummies or music box figurines.
For all but the final moments of the three-act play, the actors avoid eye contact with each other and move in rigid, mechanical trajectories across the stage. We are invited to read the characters as wind-up toys trapped in the eponymous doll's house that sees wives as properties of convention and their husbands' estates and reputations. There was a risk the performative trope would become irritating over the play's three hour running time, but in fact it worked well. The tension was meted out expertly and married beautifully to colour-coded period costume design (by Nathalie Ryner) and musical score (Dane Alexander) that combined to put me in mind of the Vulgarian palace scenes in the children's film Chitty Chitty Bang Bang (and I say that as a good thing!). This was the most disciplined directorial hand I have seen from Wright. He did an excellent job to marry themes and aesthetics together in a rich, compelling interpretation of Katz' text. As Nora peels herself out of period dress in the play's famous climax, she transforms into the 'modern woman' before our eyes—having sung key moments of subtext that express her psychological entrapment up until now—and the famous door that slams shut on the institution of 19th century marriage re-echoes so loudly here that audience members around me actually screamed as Nora exited.
The Shadow King
Tom E Lewis and Michael Kantor localise Lear dramatically in The Shadow King, resituating the parent text so that it speaks directly to an Australian Aboriginal political constituency, alluding strongly to the fraught issue in Northern Australia of private Indigenous home ownership in communal lands. As in the original text, an ageing, ailing Lear (Lewis) is deciding to which of his three daughters he should leave his property. Firebrand Cordelia (Rarriwuy Hick) doesn't want anything to do with the 'blood money'—private ownership of community lands acquired through mining company royalties—so Lear gives the property to Goneral (Jada Alberts) and Regan (Natasha Wanganeen), whose greed and self-interest see them destroy each other. It is left for the Fool (Kamahi Djordon King) to announce at play's end that "You can't divide up the land…This land is you."
It's a daring, dynamic and delightfully aggressive reinterpretation of King Lear. The politics are raw and piercingly insightful. I could write a page on Paul Jackson, David Miller and Kantor's set design—a gigantic earthmoving piece of mining equipment that converts into both elevated tropical houses and rusty prison cell. And Natasha Gadd, Rhys Graham and Murray Lui's videography evokes such wonderful domestic detail of North Australian bush households—rusty fridges on the back patio, dirty eskies, wandering camp dogs. It was a brilliant night's theatre for me on so many levels, and as close to a game changer in contemporary Indigenous theatrical collaboration and revisionism (of the European canon) as I can think of.
Orlando
The Rabble's stage adaptation of Woolf's most challenging of novels is another bold theatrical experiment, and one which reviewers in this magazine have lauded (see RT112, p15). It is a looser, more episodic reinterpretation of its European parent text than the other two plays discussed here. Woolf's novel itself is, of course, a modernist experiment in structure and form and her spirit of radical gender play is honoured here.
Certain scenes were more theatrically compelling than others for me, with some stock post-dramatic techniques (the reading of lists as text, in this case synonyms for vaginas, for example) more effective for the audience member that hasn't seen them rendered similarly elsewhere before. But the daring performances in this stark white, sterile set (Kate Davis designs) succeed in transporting us to the Great Frost of 1709 as effectively as to the anachronistic domestic interior of Orlando's bored housefrau watching an electric jug boil. Its residence in the festival's curated Theatre Republic 'sideshow' season was a fitting showcase for this interesting independent company's introduction to Brisbane audiences.
A capital city's arts festival is designed to bring the best of local, national and international work together and place it in regional conversation, and as a trifecta, these three stage adaptations are examples of best practice in many ways. But has the glut of adaptomania reached its zenith, and is it tipping into surfeit? Four out of six mainstage plays in La Boite incoming Artistic Director Chris Kohn's inaugural 2015 season are restaged classics (of beloved children's novels, Shakespeare and Euripides) so, in Brisbane at least, the Melbournesque surge continues for a while longer.
2014 Brisbane Festival: La Boite, A Doll's House, writer Henrik Ibsen, new version by Lally Katz, director Steven Mitchell Wright, La Boite, Roundhouse Theatre, 6-27 Sept; Malthouse, The Shadow King, creators Michael Kantor, Tom E. Lewis, director Michael Kantor; Orlando, creators Emma Valente, Kate Davis, QUT The Loft, Brisbane, 16-20 Sept
RealTime issue #124 Dec-Jan 2014 pg. 8
© Stephen Carleton; for permission to reproduce apply to realtime@realtimearts.net