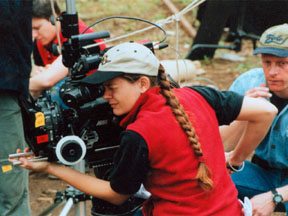 AFTRS student filmmakers
AFTRS student filmmakers
In April this year I attended the CILECT (Centre International de Liaison des Ecoles de Cinéma et de Télévision) congress at the Victorian College of the Arts in Melbourne. Founded in Cannes in 1955, CILECT is the association of the world's major film and television schools, with 108 member institutions from 50 countries on 5 continents. The congress was an excellent opportunity to observe how screen teaching practices and philosophies in Australian schools fit into an international context. The 4 key congress themes were "School and Student—The conflict between Harmony and Invention"; "Curriculum Change and Technologies"; "Triangle—the creative collaboration between Writer, Director and Producer"; and "Documentary in the Teaching of Fiction."
The first of these looked at the challenges of supporting students in their creative endeavours within specific cultural and economic contexts. The Australian film schools, like their international counterparts, deal with this through a variety of teaching models that range from independent and auteur to creative collaboration driven by producers, as well as courses that reflect the models of mainstream television and film production.
Globally, school curricula are responding to changes generated by new technologies. The range of opinion about use of film versus digital media in the training of emerging filmmakers—when, where, how soon, how much—was immense and reflected the way courses develop to match the resources and traditions of each school and the cultural role they play in their community. The Australian Film Television & Radio School (AFTRS) is an interesting example of a national school that has changed over the years to produce graduates who can create innovative work in various forms—television, documentary and new media—rather than just focusing on the traditional training needs of the feature film industry.
"Triangle" explored how curricula can foster creative collaboration. The question of how to create and manage it within a film school is pedagogically challenging and requires the commitment of teaching staff in every department to agree to support the concept and system.
With issues as potent as innovation, cultural specificity, the demands of new media and collaboration all circulating, the choice of where to go and how to get started in a competitive industry can be daunting for emerging filmmakers. AFTRS, the Victorian College of Arts (VCA), Royal Melbourne Institure of Technology (RMIT), Queensland College of the Arts (QCA), Charles Sturt University and Flinders University all offer practical courses with a range of curricula, entry levels and outcomes. I asked lecturers and heads of schools to describe what is unique and innovative about their courses and teaching practices. Here are their edited responses.
AUSTRALIAN FILM TELEVISION AND RADIO SCHOOL (AFTRS)
www.aftrs.edu.au
Annabelle Sheehan, Head of Film and Television
The full-time postgraduate program is an intensive, hands-on, production course. Students work on productions in their chosen specialist roles (DOP, editor, director, producer, etc) while at the school. Production work emphasises the nature of creative collaboration and assessment requires reflection on the process and collaboration. Teaching approaches include lectures, seminars, workshops and one to one mentoring. The short course program is linked to the full-time program and external students can take up units within it.
The diversity of the AFTRS program is a major strength. Students work on animations, TV magazine programs, documentaries, short dramas, feature scripts and drama series. With 12 different departments (from Cinematography to Design, from Directing to Sound, Visual FX and Producing) AFTRS offers a unique program with its in-depth specialist focus. It is one of the few schools in the world that offers a comprehensive program in Visual Effects Supervision.
Many graduates go on to develop their own production companies and often form teams through the networks they build at AFTRS (eg The Boys, The Bank). A 1995 study indicated 96% of graduates interviewed were employed in the film and television industry. Students range in age from 21 to 40 with 25 about the average. Entry is highly competitive. AFTRS receive several thousand requests for the application form each year which calls for a fairly solid portfolio of written and visual material. About 450 people apply for the 60 or so new places available each year.
VICTORIAN COLLEGE OF THE ARTS
www.vca.unimelb.edu.au
Jennifer Sabine, Head School of Film and Television School
The VCA School of Film and Television courses include a 3-year Bachelor of Film and Television degree, a one year Graduate Diploma in Film and Television, a Masters in Film and Television, a part-time non-award Foundation Program and a series of short courses.
The VCA aims to develop students who can make motion picture programs of high artistic and technical standard at a professional level. The strength of our style of training is that it develops students' creativity and independence. The VCA School of Film and Television places ideas at the centre of all its teaching and development programmes. Innovation is at its heart.
Programs produced by VCA students have won numerous awards at festivals nationally and internationally. Alumni of the school include directors Gillian Armstrong, Geoffrey Wright (Romper Stomper), Andrew Dominik (Chopper), Aleksi Vellis (The Wog Boy), Robert Luketic (Legally Blonde); BAFTA and AFI award-winning producer Jonathon Shiff; Academy Award nominated editor Jill Billcock (Moulin Rouge); DOP Ian Baker (6 Degrees of Separation); and animators Peter Viska and Adam Elliot.
VCA students come from a variety of backgrounds and ages—some have substantial industry experience, others none. It is very competitive to get into the BFTV. In 2001 we had 203 people apply for 14 places. People sometimes apply several times before getting in to the course.
QUEENSLAND COLLEGE OF THE ARTS
GRIFFITH UNIVERSITY
www.griffith.edu.au/visual-creative-arts/queensland-college-art
Ian Lang, 3rd Year Production Convenor
Established in 1881, the QCA is one of Australia's leading art and design colleges. Today it is strengthening a reputation in creative arts innovation, offering study across a range of disciplines—Animation, Screen Production, Australian Indigenous Art and, from 2002, a new Bachelor of Digital Design. An interesting feature of QCA has been the close link our film school has made with SBS Independent, producing 5 films in the last 7 years.
The college was annexed to Griffith University in the early 90s and offers an atelier style 16mm film course (the only one in Queensland) separate from the much larger video and media theory courses offered by Griffith University's Humanities department.
The performance indicators by which to judge film schools are awards and jobs. We take less than 30 students per year, and their employment rate after graduation is high. Films produced at QCA win many awards in creative as well as technical categories. In 2000, honours student Peter Hegedus was invited to the prestigious Dokumart European Documentary Festival in Neubrandenberg, where his Grandfathers and Revolutions won a Highly Commended Award. Widely televised, the film has been seen around the world.
In 2001, 4 QCA graduate films were selected for New York University's International Film School Festival; Natalie & Tanya Grant's Ballet Shoe Laces shared the Audience Choice Award, competing with films from 70 countries. These are outstanding results equal to the best of many national film schools around the world from an emerging regional competitor.
FLINDERS UNIVERSITY
www.flinders.edu.au
John McConchie, Head of Screen Studies
Recognising a need for further production training in South Australia, Flinders University introduced a Bachelor of Creative Arts Screen (BCA)in 2002— a 3-year course with an optional fourth Honours year. Prior experience in actual filmmaking is not a necessary requirement but evidence of creative work in visual or written form is, and a short-list of applicants is invited to interview on the basis of this submission. Last year we received 70 applications for a first intake of 14 places. The BCA is designed to be "industry ready", producing students with sufficient skills to gain employment in a variety of screen/media industries at entry level, capable of gaining additional funding support for independent production, and qualified to pursue postgraduate study in this area.
The practical training emphasises collaboration and the role of the creative team, producing students who can get a foot in the door of industry, can think analytically, critically and creatively, and who understand screen media. Flinders University is an institution which endeavours to encourage innate creativity. Graduates are highly visible in the South Australian film and television industry. Two of the 3 South Australian Film Corporation's $50,000 Filmmaker of the Future awards and all of the SBS/ SAFC documentary Accords for Australia By Numbers have been awarded to Flinders graduates. In the first few years after graduation many find attachments through the South Australian Film corporation (SAFC) on features and go on to a range of jobs, from project officers at SAFC, to production coordinators/managers, editors, sound recordists, DOPs, producers and directors in television, new media and feature films.
For students aiming for a career in the television industry the following courses may be more suited to their needs.
RMIT
www.rmit.edu.au
Adrian Miles, Lecturer in New Media and Cinema Studies
RMIT Media Studies provides a 3 year Television Production major that introduces and develops a broad range of skills relevant to independent and commercial television and film production. Television Production is a Major within the BA Media Studies at RMIT.
The major strengths of our approach are the ways in which students are encouraged to work in independent and collaborative projects. We have redefined production to acknowledge the converging nature of the media industries. Students in their final year are able to develop and produce major collaborative projects that have multiple real world outcomes for converged media environments.
Broad television skills are emphasised, 16mm film production is available as an elective, and television studio experience is also available. Students are encouraged to concentrate on basic skills in the first 2 years of their program and in their third year to specialise in cinematography, direction, producing, sound design, editing, or digital postproduction. There is also the possibility of specialising in networked interactive video.
Our graduates are well represented throughout the film and television industry in Australia and enter the film and television industry as assistants to established industry practitioners, or start their own independent production companies.
The majority of our students are school leavers and there is a broad mix of local (Australian) and international students. Our first year enrolment is approximately 50 students.
CHARLES STURT UNIVERSITY
www.csu.edu.au
William Fitzwater, Course Coordinator
The 3-year degree course in Television is vocationally oriented. It provides high level craft skills training at broadcast operations level combined with an equal emphasis on storytelling and aesthetics. Students are exposed in first year to the range of craft skills used in television production, from tape ops to directing, single camera to 3 camera multi-camera studio and are expected to identify their craft interests early in the course. The major strengths of this practice lie in the graded approach to skills acquisition and consolidation in the first 2 years.
We only teach within the electronic television environment. However, anything they learn in this course is transferable laterally to filmmaking. The course is a BA (Television Production) with the possibility of Honours (an additional year) and a Masters degree.
We have had a take up rate that varies between 80% and 95% and at least three quarters of a class of 35–40 will be employed upon graduation. We work at this constantly by making our training both relevant to the industry environment, and challenging to future creative possibilities. We aren't in the business of training 'button-pushers.' It's why you push the button that matters.
Most of our students graduate around age 20-21. Backgrounds are varied, but most have had some exposure to video production at secondary school. We look for students who have a passion for television as an expressive storytelling medium and want people who will take a risk, not just conform to fashion. Television needs to be constantly challenged and I think the core of it all is that we want to train these young people to be employable and challenging in the coming decades.
* * * *
The paradoxical question of how you teach creativity while training people for an industry that is about commerce and business is constant and ongoing. As are the issues of how many students we should be training, how many graduates will make their way into careers that are (and always have been) highly competitive to enter, difficult to survive in financially and often already oversubscribed.
The schools covered in this article are by no means the only way to get into the film and television. For young people starting out, the CREATE training package on offer in some TAFEs and schools can be a useful place to begin, as can the many undergraduate courses on offer within Screen, Media and Communication departments in universities throughout Australia.
RealTime issue #50 Aug-Sept 2002 pg. 19-
© Alison Wotherspoon; for permission to reproduce apply to realtime@realtimearts.net