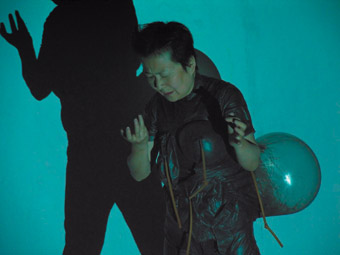 photo Mariusz Marchlewicz
Tari ITO, Comfort Women
The top floor of the Europa Restaurant has been roughly swept and rows of chairs set up for the audience. There is a large gap around a hole in the floor, marked out with red tape. During Communist times the Europa was a popular meeting place for Party bigwigs but now the only hint of former grandeur is its size. The Europa is in a state of dereliction having been stripped of everything—light fittings, plumbing, wall panelling. Electricity for sound and lighting is sourced from one or 2 functioning powerpoints in the room adjacent. Interakcje 8 International Action Art Festival is launched.
The opening night includes performances from Poland, Quebec and ourselves (senVoodoo) from Australia. The room is bursting with local townsfolk and media, a flock of cameras settling around Janusz Baldyga, stalwart of Polish performance art since the 70s, who opens with a work about the burden of materialism.
Interakcje takes place in May in Piotrkow Trybunalski, a poor town of around 86,000 in central Poland. Run by Piotr Gajda and Gordian Piec, the festival is funded by the city council. Ryszard Piegza, the festival's founder, although absent in 2006, remains a figurehead alongside Jan Swidzinski, at 80 one of the grand old men of Polish performance art. Interakcje has been running since 1999 and this year extended to satellite events in Poznan, Krakow and Bielsko-Biala.
Artists are provided with accommodation for the duration of the festival, a catalogue, meal tickets and per diems. Given Piotrkow's unemployment rate hovers around 30%, the generosity is overwhelming.
Young locals are heavily involved as performers and volunteer crew. They also make up the bulk of the audience. It's fair to say that they gave the festival its main fuel. The festival crew and performers were striking in their energy and imagination; the gang of tipsy teenagers that watched performances night after night offered a refreshing change from the earnest atmosphere that can prevail at performance events.
The second night began with Peter Grzybowski, a Pole based in the USA. His was the only performance that made reference to the Iraq war, a topic strangely absent from public discourse in a country that has troops in Iraq. Grzybowski's piece was a sustained yet not entirely successful attack on brutality and the media.
There was an intensely masculine energy to the performances on this night, which, when interrogated with passion and honesty, was searing. Pole Mateusz Felsmann shaved himself until he bled, staunched his face with squares of white cloth, then stapled them to the wall. After printing the wall with his bloody cheeks, he knelt before the display. The work unconsciously resonated with everything from Scorsese's The Big Shave (1967) to the blood printed cloths in performances by Ron Athey and Kira O'Reilly. Felsmann's poise and focus created a unique performance that was to be one of the most intense and moving of the festival.
Omar Ghayat from Cairo followed with an interactive work. Ghayat refreshed familiar motifs—the bandaged man, the alienated suit, audience members placed inside compartments marked on the floor with tape—and delivered a heartfelt comment on communication, technology and social isolation.
This year's Interakcje had a spotlight on emerging Quebecan artists invited by performer, teacher and curator Richard Martel, who has a long association with the Polish performance community. The most striking of these was Christian Messer. With only a chair and an onion as props, Messer created an anguished piece about heartbreak, the claustrophobia and anger of love. His climax had the audience scrambling out of the way as he tied a rope to a chair and swung it around and around, eventually smashing chunks of plaster from the walls.
The destitution of the venues gave a cathartic, anarchic feel to many of the performances. People let loose in every direction. The 3 guys from Grupa Wlochy set to work on a large round table and shelves with hammer, nails, saw and drill. They became increasingly frenzied and violent, a sort of orchestra of chaos, subsequently laying into a column which had glued to it a page of Kierkegaard's Poetry of Fear.
Another highlight was a work by veteran Nicòla Frangione, who runs the Monza Festival in northern Italy. Frangione works with video, slides, music and spoken word to create hypnotic, provocative and highly amusing collages. Much of his text takes the form of manifestos, poetry as a sensory experience. He performed with such rhythm and passion that, although most of it was in Italian, little was lost on the audience.
Les Fermières Obsedées, a trio from Quebec, reminded us somewhat of Sydney's Frumpus. They brought a colourful contrast to a program otherwise almost completely pared down, non-theatrical, ideas-based performance. In costumes, wigs and smeared make-up, Les Fermières stomped up and down, smashing holes in the wall with knuckledusters. They built nonsensical rhythms from repetitive movement, ending covered in paint, Coke and spit, and with grazed knees. If overlong and indulgent, it was nonetheless high-spirited and funny.
For 5 days and nights actions and performances took place in the streets, in Europa and another empty building, slightly less derelict, which also contained the festival office. Photos of the performances featured heavily in the local paper. Although the audience dwindled gradually, their spirit of commitment and energy was unflagging. The shabby rawness of the spaces intensified the intimacy of the performances.
Each morning in the hotel dining-room performances of the night before were discussed along with performance art in general. Old colleagues from the festival circuit were re-united, new performers examined with curiosity. Discussions continued in the cheap restaurant where we were ticketed to eat or at one of the 2 bars in the main square. What is this thing called performance art? How is it catered for in Poland/Spain/Egypt/Australia? All of us spoke the international language of whingeing about lack of funds. We were pretty much the only people in the town bars.
We were told that when Interakcje first began, the townsfolk were out and about a lot more. But now that economic depression had hit Piotrkow hard, nobody could afford to so much as go out for a beer.
Towards the end of the week performances became more frequent and improvised. In a park one afternoon 6 of the festival volunteers created a poignant comment on intimacy. Beginning at far corners of the lawn, they began threading themselves together before onlookers realised what was occurring. They ended in a tight circle, applauded by the public.
Another local, Huba Byczkowski, performed a light-hearted gender-transformation. In the context of a conservative government and an extremely powerful and homophobic Catholic church, the work also took on a darker, courageous hue.
There were grumbles about the programming. Zbigniew Warpechowski, pioneer of Polish performance art, gave a long dissertation on the second last evening right in the middle of a run of performances. Warpechowski has written 5 books and his installations and videos are in national museums. The audience, comprising largely non-Polish speakers, sadly and inevitably drifted away.
Warpechowski spoke of how conceptual and performance art as evolved in communist Poland had offered liberation—endless undefined possibilities. He was bleak about the current state of affairs, complaining that artists who are fashionable manage images, and that even state galleries look at art with a commercial eye. Interestingly enough, although schooled in Stalinist times, Warpechowski finds the new conservatism and political correctness just as limiting as previous regimes.
There were 2 compelling performances from Japan on the last night. Tari Ito created a beautiful homage to 'comfort women' (those forced into prostitution during WWII). Ito worked with slides and a latex costume at once elegant and grotesque with inflatable breasts and buttocks. She is a seasoned performer, with years of dance and movement study behind her. Her subtle butoh-esque moves and direct narration took on the tone of a grieving ritual. Seiji worked with nothing but his body and a table, creating a puzzle of flesh, object and space.
On the last night of the festival, the bedraggled delegates were invited to dinner by the mayor. This was once a public event, but is now private so the townsfolk don't resent his spending money on art. The Kaczinski government gained power in Poland late in 2005 on a platform of family values and anti-corruption leading to the closure of long-running performance festival, Castles of Imagination and Warsaw's queer-friendly club, Les Madames.
The Mayor of Piotrkow Trybunalski has been accused of taking bribes, his case is still pending. When I asked Piec, who also works at the town council, what the future held for Interakcje, he smiled enigmatically. The future, he said, is always uncertain.
Interakcje 8-Interactions, International Art Action Festival; Piotrkow Trybunalski, Poland, May 8-12, www.wizya.net/inter.htm
RealTime issue #75 Oct-Nov 2006 pg. 48
© Fiona McGregor; for permission to reproduce apply to realtime@realtimearts.net