ash keating
<img src="http://www.realtime.org.au/wp-content/uploads/art/3/301_vb_ashkeating_.jpg" alt="Ash Keating, Work in Progress—
interception of PVC sticker waste, 2006 ">
courtesy of the artist & Dianne Tanzer Gallery,
photograph Russell Kitchin
Ash Keating, Work in Progress—
interception of PVC sticker waste, 2006
Melbourne visual artist Ash Keating integrates his commitment to environmental issues with his art strategies. These vary from process-based projects, public art and performance to murals and installations. His stoush with Juliana Engberg early last year over the artist's aesthetic "interception" of black and white sticker and vinyl text waste from ACCA's Barbara Kruger exhibition ("an attempt to draw attention to the collusion of artists and art institutions in our environmental crisis", according to Keating) chalked up some column inches. Grist for the mill for the artist who, as it turns out, recycles newsprint creatively too, finding a use (where no other can possibly exist) for copies of the Murdoch freebie, mX (30,000 of them) in yet another performative installation (250 Hours Work for One Person) in which he cut out the shapes of 6500 Australasian gannets from their pages to later release in a gallery.
The video of the performative removal of the ACCA waste—now officially a work in progress—has been exhibited on a monitor placed within the pile. Adding Commonwealth Games detritus to the mix, Keating later materialised as a performative waste creature within it. Documentation of this incarnation was exhibited in January in the Dark Portraiture exhibition at Perth's Centre for Contemporary Photography's curated by Kieran Stewart in an enterprising strategy to show the work of Melbourne artists in the first three years of their practice outside their state of origin.
Ash Keating recently joined 11 other Australian & New Zealand artists in Trans Versa at the Museo de Arte Contemporaneo in Santiago, Chile, as part of The South Project—a Craft Victoria based initiative. As well as releasing his newsprint gannets in the gallery he also collaborated with local artists in creating an installation protesting the proposed relocation of the Pascua Lama gold mine.
In his new work, Parched, Keating has painted a wall of water on the timber panels erected on the site of Melbourne's Mockridge Fountain, de-activated due to current water restrictions. The artist intends to regularly revisit the site over the three months of its installation (Jan 6-March 31) to record the falling water levels by over-painting with lime paint, "evocative of the mud of drying dams" and reflecting the depletion of Victoria's precious water reserves over the summer period.
"In a subtle, understated way Parched aims to remind us of our precarious relationship with nature. We may be able to paint water, but we can not conjure up the real thing."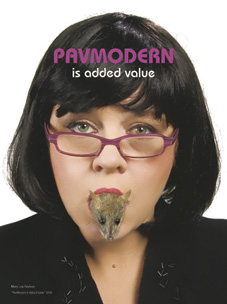 photo Mary Lou Pavlovic
Rat Woman from Pavmodern is Added Value
mary lou pavlovic
Always interesting to receive a missive from Mary Lou Pavlovic announcing her latest guerilla artwork. Pavlovic has used billboards and skywriting and staged performances outside several of Melbourne's leading art venues questioning the relationship between art and sport. In 2001 she famously recreated, amongst a series of ironic works, the execution bed of Timothy McVeigh and encased the structure in tiny, hand-painted balls to resemble hundreds and thousands. Having decided to include this work in a segment on the artist, ABCTV then took a swift detour and censored it. In retrospect, says Pavlovic, "I couldn't believe when I got back to Australia after living ten years abroad what passed for serious political art in the commercial scene here. If it was genuinely confronting it didn't get a look in (Andre Serrano at the NGV being closed down a good example.) But if it was aestheticised in some way—watered down—then middle-class people seemed to be genuinely moved because they could cope." Pavlovic also organised the 2004 Jake Chapman Lecture tour after the National Gallery of Australia's refusal to take the Sensation Exhibition in which Chapman's work featured.
In January Pavlovic's Pavmodern Museum launched its brand, taking a full-page advertisement in the January-March edition of Australian Art Collector magazine, the issue, which annually features "Fifty Most Collectable Australian Artists."
"The work is an artist's comment about outside systems that place value on artists and their work, on artworld hierarchies … dodgy art world politics…" Pavmodern Museum is an attempt to define a space where these sorts of issues can be raised. A museum without walls." (Pavmodern press release)
Apparently, there has been an unprecedented demand for the Collector since investors got wind you could pick up a Pavlovic for $18.95. RT
RealTime issue #77 Feb-March 2007 pg. 52
© Virginia Baxter; for permission to reproduce apply to realtime@realtimearts.net