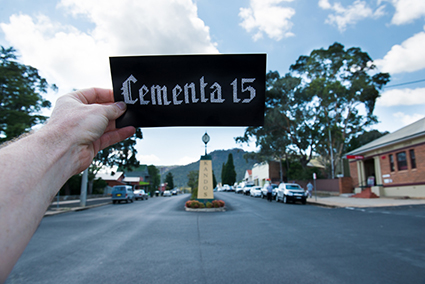 ACROSS THE BLUE MOUNTAINS ON THE BYLONG VALLEY WAY, 235KM NORTH-WEST OF SYDNEY, IS THE SMALL TOWN OF KANDOS, APPROXIMATELY HALFWAY BETWEEN LITHGOW AND MUDGEE. WITH A POPULATION OF 1,300, UNTIL 2011 THE TOWN WAS A CENTRE FOR CEMENT MANUFACTURE FROM LIMESTONE QUARRYING AND THIS YEAR WILL SEE THE CESSATION OF COAL MINING IN THE IMMEDIATE REGION. WHERE THERE WAS CEMENT AND COAL, NOW THERE'S ART, WHETHER IN THE FORM OF THE KANDOS ANNUAL BOB MARLEY FESTIVAL IN MARCH OR IN APRIL, CEMENTA, THE SECOND OF A BIENNIAL FESTIVAL OF CONTEMPORARY ART OF ALL KINDS.
Co-directors Ann Finegan, Alex Wisser, Christine McMillan and Georgina Pollard have curated an immersive four-day program rich in new forms and cultural diversity, featuring an impressive list of 60 local and visiting artists, Indigenous and non-indigenous, and crossing the great divide between city and country. As well, say the directors, "We will celebrate the beautiful little town that graciously hosts our festival…Artists will exhibit and perform in shop windows and garages, in pubs and churches, in community and scout halls and vacant blocks across the town."
Liz Day is creating a field of mushrooms knitted by local craftspeople. Indigenous artist Aleshia Lonsdale from Mudgee "will be making a work of concentric circles using earth and different materials to represent the stages of encounter and transformation since first settlement," and Jason Wing will use "native birdsong to evoke relationship to country." Wade Marynowsky's Acconci Robot appears to be a large, plain, human-height box, but when ignored it has a life of its own.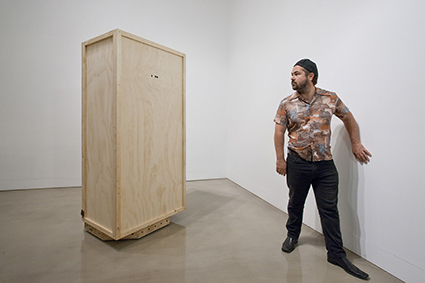 Photo © RMIT Gallery
Wade Marynowsky, The Acconci Robot, 2012 An Experimenta Commission RMIT Gallery, Melbourne
Other artists of the many in the program include Alan Schacher, Karen Therese, Renny Kodgers and The Twilight Girls, Robyn Backen, MR & MRS Brown, John Conomos, Daniel Mudie Cunningham, Nola Farman, Daniel Green, Alana Hunt, Lucas Ihlein, Jumaadi, Fiona MacDonald, Ian Milliss, Sean O'Keefe, Juilee Pryor, Eugenia Raskopoulos, Josephine Starrs and Leon Cmielewski, Justene Williams, Alex Wisser and Yiorgos Zafiriou.
Word about the first Cementa in 2013 spread quickly. Doubtless, the second, much-expanded iteration will attract an even larger audience of locals and visitors eager to embrace new experiences in sound art, installation, performance, electronic art, music, street art and more: artist tours, workshops, and evenings dedicated to sound, poetry, cabaret and film in a unique setting. RT
Cementa 15, Kandos, NSW, 9-12 April, www.cementa.com.au
RealTime issue #125 Feb-March 2015 pg. online
© Keith Gallasch; for permission to reproduce apply to realtime@realtimearts.net