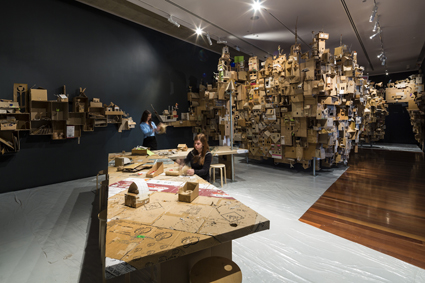 photo Sam Noonan
Alfredo and Isabel Aquilizan, In-Habit: Project Another Country, 2014, installation detail, Samstag Museum of Art, University of South Australia
Adelaide's annual OzAsia Festival, which began in 2007 as a cultural bridge to Asia, spotlights the cultures of the disparate nations of the region. Elements include the family-oriented Moon Lantern Festival, symposia on cultural exchange and politics, a film festival, crafts, cuisine, workshops and traditional and contemporary theatre, dance, music and visual art. Such a wide-ranging and illuminating exposition also sows developmental seeds.
Visual Art
The Samstag Museum is hosting two contrasting exhibitions highlighting postcolonial South East Asia and extending the perennial consideration of the nature of art: Alfredo and Isabel Aquilizan's In-Habit: Project Another Country, and Berlin-based art dealer Matthias Arndt's Mooi Indie—Beautiful Indies. 'Mooi Indie' refers to the early 20th century Indonesian art movement that used Western forms to depict sanitised, beautiful images of the Dutch colony. The term is now used ironically, as the artists parody colonial, Western culture. Jumaldi Alfi's Rereading Landscape—Mooi Indie (I know where I am going) is a painting of an unframed Mooi Indie painting. He reframes and thus reconsiders the traditional Mooi Indie landscape subject. Wedhar Riyadi makes enlarged copies of found historical photographs of people posing in Western outfits, and then overlays them with vividly contrasting cartoon graphics, questioning the culture that spawned the photos and the imported values they represent.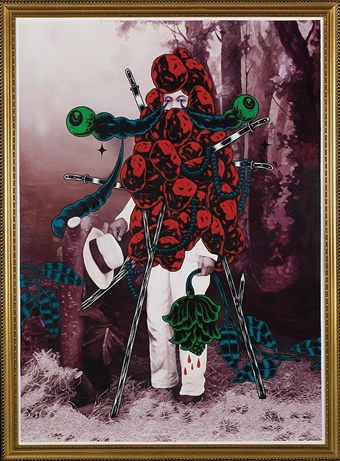 courtesy the artist
Riyadi Wedhar, Keributan, 2011, Mooi Indie
Eko Nugroho's sculpture Under Pillow Ideology is a mannequin in a traditional Javanese mask hiding under a quilt and cushions, suggesting a traditional performer obscured by contemporary interior decoration. His La Rue Parle #9, made in France, is a tableau of images rendered in machine-embroidery that speak of urban European life, clashing the concept of urban culture with the mechanised form of a traditional handicraft. The Tromarama collective's Ons Aller Belang is a set of dinner plates, printed with urban rather than decorative scenes, displayed together with a projected animation of the urban scenes. The reality of urban life thus displaces the typical decoration in these household goods, and animation displaces the static image. Arndt states, "If we observe the journey of Indonesian art from the colonial era to its present development, we can conclude that modern Indonesian art is a reflection of the struggle of local artists to achieve freedom, not only from colonialism, but also from Western domination."
In-Habit: Project Another Country takes a very different approach. In this touring work, the Aquilizans build and rebuild a series of massive cardboard honeycombed structures representing ramshackle housing. The structure grows organically, like biological life enveloping the planet, and refers to the housing of the Badjao community of the Philippines. The Badjao are traditionally semi-nomadic, living on boats on the coast, but have been obliged to make more permanent homes. Built from whatever materials they can find, their houses sit on stilts over the water's edge. Their culture is being rapidly overtaken.
Mounted within the cardboard structure are video screens showing Badjao life, including children giving rap performances for which they earn a little money. Embedding the videos in the cardboard structure metaphorises the invasion of contemporary technology. Rap is becoming a universal modus operandi of those affirming identity, and the Badjao children are thus synthesising a new culture. In creating the cardboard structures, the Aquilizans work with school groups in cities where they exhibit—again, it will be children who carry forward this new cultural awareness.
At CACSA, Cao Fei's exhibition of videos is an excellent introduction to her compelling oeuvre, in which she analyses contemporary Chinese society through a range of cinematic devices from realism to animation and virtual reality. Her beautifully crafted video Haze and Fog shows the tedious, battery-hen existence of zombie-like people who are alive but whose souls are dead, an outcome of rural migration into high-rise urban life. Whose Utopia shows the desolate lives of factory workers, with dancers surreally appearing on the factory floor. Her animation RMB City Opera is evidently influenced by the propaganda plays of the Chinese Cultural Revolution, with their roots in traditional Chinese opera, and relates to her RMB City project, which is based in the VR Second Life. Her animation People's Limbo shows a philosophical debate between Mao, Lao Tze, Karl Marx and a Lehman Brothers banker, and her Cos Players video documents people acting out role-playing fantasies, equating role-playing with real life. Cao Fei shows how the human spirit challenges the orderly but sterile high-rise life.
Music
Legendary Australian percussion ensemble Synergy joined with Korean five-piece Noreum Machi for a memorable concert that opened and closed with the two groups performing together. In between, they performed separately, and in the first half of the concert, Synergy gave us some classics of modern percussion—John Cage's Third Construction, Nigel Westlake's Omphalo Centric Lecture and a work by Synergy leader Timothy Constable.
Noreum Machi, performing traditional Korean music known as samulnori, opened the concert's second half with a processional entrance, Gilsori, from the back of the auditorium. Based on traditional forms—percussion, dance and singing—but redesigned for contemporary audiences, Noreum Machi's music attracts those interested in Korean traditions. It's high-energy and fun. The complex rhythms have an infectiously jazzy feel, building up to fast, intense crescendi. During this performance, we were invited to participate in a voice percussion work but the performers soon left us behind. Noreum Machi also use reed instruments, the low-pitched piri and the wailing higher-pitched taepyongso, which sound like declamatory human voices. Kim Yong-jun's taepyongso solo, East Wind, was hypnotic.
For the riotously joyous concert finale, Noreum Machi and Synergy joined forces, Constable blowing a conch shell to match Kim's taepyongso. This is a dialogue between cultures and between the ancient and contemporary. The two ensembles expound their own traditions as well as working together, offering three genres of challenging but totally engaging music.
In a concert combining art with music, Japanese calligrapher Hiroko Watanabe made work on stage to the accompaniment of jazz-rock-taiko fusion band Above the Clouds, her action projected on a screen above the stage. Following an introduction that reminded us of the origins of calligraphic ideograms, she responded to the music by rapidly executing dozens of large-scale gestural works in heavy black ink on paper mounted on fold-out cardboard boxes that she then stacked around the stage until she was surrounded by a forest of images. Afterwards, ensemble members autographed giveaway CDs. With screaming guitar and energetic taiko drumming, this is theatrical entertainment, but it extends the appreciation of calligraphy and taiko through reinvention and popularisation. Watanabe's calligraphy emphasises the spontaneity characteristic of such art. Her work is displayed at the Art Gallery of SA alongside traditional Chinese, Japanese and Korean calligraphy, some of which is centuries old.
The Western domination of which Matthias Arndt speaks is not only economic or political and is not confined to visual art—cultural appreciation and criticism are frequently Western-centric. OzAsia Festivals bring us traditional culture, hybrid, modernised culture and cultural and political critique that press us to re-consider our own perspectives. In celebrating cultural diversity and cross-fertilisation, festivals such as OzAsia precipitate and encourage artistic development, and the emerging forms develop their own trajectories and aesthetics, accelerating cultural evolution.
8th OzAsia Festival 2014: Mooi Indie—Beautiful Indies, Indonesian Art Now, curator Matthias Arndt, and In-Habit: Project Another Country, Alfredo & Isabel Aquilizan, Samstag Museum of Art, 1 Aug-3 Oct; Cao Fei's Theatrical Mirror: living in-between the Real and Unreal, Contemporary Art Centre of SA, 12 Sept-19 Oct; Synergy Percussion Meets Noreum Machi, Space Theatre, 12 Sept; Hiroko Watanabe and Above the Clouds, Dunstan Playhouse, Adelaide, 13 Sept; http://www.adelaidefestivalcentre.com.au/ozasia-festival/
RealTime issue #123 Oct-Nov 2014 pg. 4
© Chris Reid; for permission to reproduce apply to realtime@realtimearts.net