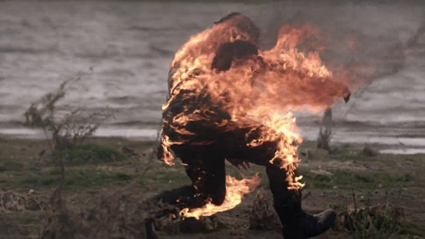 Death Race 3: Inferno
Saturation. Overload. Acceleration. Persistent 1960s concepts describing visual media as phenomenally excessive. Media sociologists and media artists for the past half-century chime in chorus how assaultive and bombastic visual media can be—debilitating for the former; liberating for the latter. Be it Jefferson Airplane's Fillmore Ballroom lightshows or Ryoji Ikeda's Armory Show installations, the human threshold is remarkably low for intaking sensory information. Audiences so quickly resort to registering sensorial, synaesthetic and immersive effects when presented with a few abstract flashes fired off in rapid succession.
When audio-visuality is championed for its radical potential, it has mostly been enabled by sound and/or music replicating these 60s concepts. Digital tools, processes and effects seem pre-designed to aurally simulate how visual perception grapples with abstraction, speed and density at this low threshold. While the high arts (through multi-media and audiovisual events commissioned by international arts festivals) spiral along these entropic lines, the low arts carve out a spiral equally inspired by saturation, overload and acceleration. Except the words more commonly employed are awesome, incredible, amazing.
Such are the terms audibly announced throughout Roel Reiqné's Death Race 3: Inferno (2012, currently screening on cable TV). The central premise of Death Race 3 is how the races have now been targeted by a British media mogul for expansion. He has been buying out privatised prisons around the world to establish a global pay-for-view network for the franchising of the Death Race brand. The story centres on the first trial death race staged in Cape Town, South Africa. The action shifts equally between racing (myriad in-car and on-location camera-feeds) and the 'behind the scenes' operations within the broadcast studio. Additionally, the film 'becomes' the actual broadcast, showing what viewers see. Collectively, the franchise performs self-reflexively by increasing each film's higher quotient of 'sports commentary.' This mode of oral narration signposts an audiovision unique to the generic mutation of sports and cinema.
Where Death Race 3 deviates from other models of 'media overload' is in how it audiovisually narrates this phenomenon, as opposed to thinking that it's creating the phenomenon. Death Race is a fictionalisation of a live event, perversely extemporising and fragmenting the real-time dynamics of multi-camera/monitor spectacles so as to create a meta-fractured sensation of how such spectacles are produced. In a para-nouveau roman fashion, shots shift gratuitously from real-time to ultra-slomo, then into detonations of rapid fire cross-camera edits. The sensation is one of simultaneously being too slow and too fast, giving us a most prosaic interpretation of Deleuze and Guattari's notions of cinematic time and motion. But it's not simply the editing and camerawork conjoined which evidences this meta-fracturing: the fusion of voices, sound effects and score marks a shift from the 60s scopic-centric notions of saturation/overload/acceleration toward a coruscating and corrupting mode of audiovision. Let's consider these soundtrack components individually.
First, dialogue. The bulk of dialogue in Death Race 3 is neither character-motivated nor character-directed: it's responsive and self-uttered. Characters scream "awesome!", "incredible!" and "amazing!" in fast edits framing their response to no one in particular. It's a form of linguistic grunting, like the guttural growls and groans of televised wrestling. Even the stand-offs between racing drivers, the evil media mogul and his South African show producer become symbolic 'power struggles' dramatised like wrestling post-bout interviews. Most importantly, the edits are radiophonic, cut according to the vocal delivery. Unlike actual live commentary in televised spectacles, there is no fumbling, stuttering or inanely scripted homily. Here, the voice is a spurting machine-gun of banal yet explosive quips.
Next, sound. You'd have to be deaf to not acknowledge the role of sound effects in Death Race 3. A wonderful moment occurs during the opening Paramount Pictures logo with its chrome 3-D whooshing, wreath of gilded stars and Valhalla-like mountain crest. Over the last decade, this logo (similar to that of Warner Bros, 20th Century Fox and Universal) has been sono-musically re-designed like a cryptic overture to its film. Death Race 3 has a barrage of car noises (engine revving, hood slamming, chassis shuddering) skilfully timed to the logo's movement. Semiotically, it declares the film is shaped by these sounds, sensations and events. Thus we enter a soundscape entirely located by the ear's proximity to the noise orchestrated by a car engine. Monstrously customised engines. A bunch of them. A dizzying fatigue hovers at the perceptual threshold of the film, turning it into a numbing rumble of raging machines. It breaks the golden rule of sound design: ensure your listening audience is not 'aurally fatigued' by saturation, overload and acceleration. Perversely, Death Race 3 manifests an appropriately sonic equivalent of the effect so lacking in media arts' attempts to 'brutalise' its listening audience.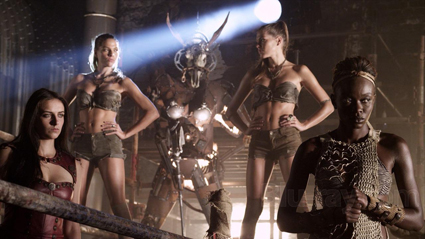 Death Race 3: Inferno
And finally, music. Death Race 3 has a score and song mix which is sublimely artless in its neurotic impulse to narrate dramatic change while flattening the very drama it seeks. Many of the songs are from Celldweller, a Detroit-based late 90s Industrial musician who progressively moved into electronic dance music—but like so many acts globally with similar CVs ends up producing purposely 'hi-octane' revved up music with noise affectations that has a detached 'scorezak' sense of narrating something without saying anything. It's the kind of generic speed-fixated stock library music currently churned out by a billion bedroom composers providing fodder for fast-edited quasi-reality cable TV shows. Drum sample libraries, spritzy effects plug-ins, ornately pre-designed soft-synths and a real guitar put through 'awesome' FX boxes. It's an amazing return to the original principles of "stimulus progression" which governed supply by the Muzak Corporation 60 years ago.
But for the last few decades, everything from rock and pop concerts to Olympics broadcasts to presidential elections to Broadway musicals to reality TV shows to viewer-voting talent shows have deployed an arsenal of broadcasting/recording devices intent on mirroring and replicating their own forms of media-encoding. The 60s notion of a NASA-style wall of monitors has become a banal de rigueur trope to insinuate that there is something momentous and monumental in the recording/broadcasting of the event that necessitates said arsenal. This constitutes the contemporary climate which self-serves media sociologists/artists who presume they are 'reflecting society' when they articulate/replicate this mode of self-actualising mediarisation. Death Race 3 bypasses this by rebooting Marshall McLuhan's adage: it drives into the present while looking at itself in the rear-vision mirror. And like any good race, it goes nowhere really fast.
–
Death Race 3, BluRay/DVD, Director: Roel Reiné
RealTime issue #117 Oct-Nov 2013 pg. 13
© Philip Brophy; for permission to reproduce apply to realtime@realtimearts.net