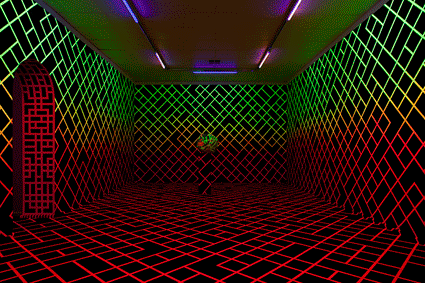 photos Emily Taylor
Sam Songailo, Digital Wasteland, CACSA
The gracious old stone house in the leafy inner Adelaide suburb of Parkside—the Contemporary Art Centre of SA's home for around half a century—has been the subject of several exhibitions intended to address its architecture and its function as an exhibition space. For example, CACSA Contemporary 2013: Provisional State Part Two comprised works by James Dodd, KAB 101 and Johnnie Dady that deliberately filled the three main internal spaces so fully that viewers hardly had room to move, drawing attention to the limitations of the space for exhibition.
The latest occupation of the building is by the now Melbourne-based Adelaide graphic designer turned visual artist Sam Songailo whose oeuvre recalls 20th century abstraction, especially 1960s Op Art and Geometric Abstraction. Songailo's Digital Wasteland is a painting of complex grid-like patterns that covers the entire inner walls and floor of the gallery, much of it in dayglo colours under UV lights. Vividly expressionistic colour contrasts create a shimmering, disorienting effect and there are many subtle nuances in the patterning. Here and there are coloured sticks leaning against the wall—strips of MDF cut from the temporary walls Songailo painted for CACSA's New New survey exhibition (2010)—and there is a video of the painted walls and floor of his contemplative 2013 Zen Garden installation at Adelaide's Fontanelle Gallery. By incorporating fragments of previous work, Digital Wasteland becomes a study of his work. Songailo also makes abstract paintings and some of these adorn CACSA's walls, referencing the gallery's exhibition format and subject matter of earlier years.
In eschewing narrative or direct political commentary, Songailo's work offers a return to optical experience, extended here into spatial experience. In calling to mind the work of Bridget Riley and Victor Vasarely, it reconsiders Modernism and revitalises the technological sublime. But in contrast to his previous installations and extensive public art (at a train station, in a car park, on a road and under a bridge) there are discordant elements in Digital Wasteland, for example, the gestural blurring of some passages of paint, which disrupt its mathematical precision and restore, the human element. His addition of pictures on the wall, the sticks and the video, the smeared paint and the use of colours associated with street art distance Songailo's work from the formal closure and perfection of high Modernist Geometric Abstraction, reminding us of the inevitability of imperfect reality. This isn't a virtual world, nor the return of the Modern after all. Digital Wasteland contemplates a post-digital world.
Songailo's installation is nicely complemented by Zoe Kirkwood's installation in the CACSA Project Space adjacent to the main building. ENTER EXCESS: Space Invaders combines dazzlingly coloured painting with mechanical sculpture. The publicity states it's intended to "…engage with notions of contemporary excess and superabundance…" and the transposition of "the visual extravagance and opulence of 17th century Baroque into a contemporary art format…" This is a very different theme from Songailo's, but the juxtaposition of Kirkwood's work with his creates a powerful resonance that generates great interest in formalist art. Among numerous other prizes, Kirkwood, from the University of South Australia, has recently been awarded the $35,000 Dr Harold Schenberg Art Prize at the 2014 Hatched: National Graduate Show in Perth.
Sam Songailo, Digital Wasteland, Zoe Kirkwood, ENTER EXCESS: Space Invaders, CACSA, Adelaide, 24 April-24 May
RealTime issue #121 June-July 2014 pg. 52
© Gail Priest; for permission to reproduce apply to realtime@realtimearts.net