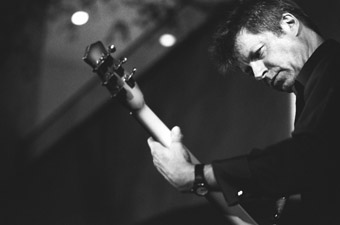 courtesy Melbourne International Jazz Festival
Nels Cline
JAZZ FESTIVALS TEND TO BE ABOUT 'JAZZ' IN THE MOST PEJORATIVE SENSE. FOR A GENRE WHOSE MOST IMPORTANT OPERATIVES ARE STILL FOLLOWING UP ON THE COMPLEX ROUTES OF LOGIC PROVIDED BY FREE JAZZ'S MID-20TH CENTURY EXPLOSION, JAZZ WITHIN THE FESTIVAL/FUNDING CIRCUIT TENDS TOWARD THE POLITE AND INEFFECTUAL—FOR ANYONE WHO'S ALSO WATCHED THE ENGLISH TV COMEDY THE FAST SHOW, THEIR MOCKERY OF THE BLANDNESS OF MUCH MODERN JAZZ, VIA THE HILARIOUSLY CHEESE-BALL JAZZ CLUB TV PROGRAM SKIT, WILL BE BOTH FAMILIAR AND HORRIFYING.
Kudos is due, then, to the Melbourne International Jazz Festival, who this year have made some gestures toward jazz's fringe activity, while acknowledging several of the genre's heaviest conceptualists. The presence of Cecil Taylor and Tony Oxley is instructive here. Taylor is one of free jazz's most rigorous artists, whose oft-quoted description of the piano as "eighty-eight tuned drums" acts as the hinge to much of his playing. Traditionally read as one of the most overtly percussive of free piano players, Taylor's conceptions are a lot richer than this codification, and one of the joys of his playing is hearing his leaps in complex tonal logic manifest through the physicality of his performance.
Taylor is joined by long-time sparring partner, English drummer Tony Oxley, who was a member (alongside American free jazz alumni William Parker) of Taylor's Feel Trio. As one of the players who's successfully negotiated a compact between the two key styles of free playing—blithely put, American free jazz and European free improvisation—he's best placed to be negotiating the curveballs that a character like Taylor throws to his accompanists. (Also, having played with the late Derek Bailey over four decades, he's probably good at negotiating the ornery behaviour that often characterises jazz and improvisation's high flyers.)
Taylor and Oxley may be the great drawcards for avant music fans, but it's the presence (as artist in residence) of Charlie Haden and his Liberation Music Orchestra that has me most thrilled. This may be more for historical reasons—the first Liberation Music Orchestra album, a political protest song suite released in 1969 on Impulse!, is one of jazz's most enduring documents. But the Australian line-up assembled for the LMO's opening night performance is solid, if lacking in wild-card figures like the original line-up's Don Cherry, Roswell Rudd or Andrew Cyrille.
Other great names, quickly. Nels Cline may be best known as guitarist for American rock group Wilco, but his solo and trio music evidences a player whose fluency in rock forms can translate easily into free and jazz idioms. The Anthony Pateras, Sean Baxter and Dave Brown trio have always offered the most articulate and forward-thinking context for Pateras' concepts, and they bring welcome electro-acoustic anarchy to the festival program. Baxter and Brown's sparring partner in Bucketrider and Embers, Adam Simmons, is also performing, as is punk-primitive trio Bum Creek (giving a series of National Gallery of Victoria 'Sound Walks'), and free percussionist Joe Talia appears alongside Stephen Magnusson and Eugene Ball.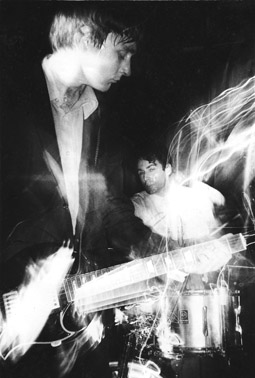 courtesy Melbourne International Jazz Festival
Ed Kuepper and the Laughing Clowns
Most thrilling of the Australian performances, though, is the appearance of Ed Kuepper's Laughing Clowns. After their first shows in over 23 years at 2009's All Tomorrow's Parties festival, now feels like the right time for the resurrection of Australia's greatest rock group, one of the few outfits to not so much 'cross jazz with rock' as completely explode the tired notion that the two were ever somehow unrelated. Great jazz is rock, and vice versa, and Kuepper understands this at gut level.
Program Director Sophie Brous and Artistic Director Michael Tortoni certainly deserve commendation for their selections. However, they do need to further avoid relying on 'canonical avant' to fill out the riskier sections of their program. The underground has long used improvisation and free jazz to bolster the wilder sides of electronic, rock and DIY/folk practices, and more representation from genuinely outsider creatives would be welcome. A closer look at both free jazz's and free improvisation's healthy American and European underground scenes would also help balance out a slightly conservative caste, even among these more relatively 'outre' selections.
The Melbourne International Jazz Festival also must be wary about the framing of the music itself—very little spells aesthetic stagnation more than the fencing-in of artists by the often overly dictatorial framework of festivals, funding and 'curation.' There have been several relatively recent examples of festivals or events which manage to avoid this socio-cultural impasse, such as Winter Tragic in the Blue Mountains, or Other Film and Audiopollen in Brisbane. This year offers possibly the best line-up yet for the Melbourne International Jazz Festival; now it needs to work on the ideological aspects of its practice.
2009 Melbourne International Jazz Festival, various venues, Melbourne, April 26-May 2;
www.melbournejazz.com
RealTime issue #90 April-May 2009 pg. 50
© Jon Dale; for permission to reproduce apply to realtime@realtimearts.net