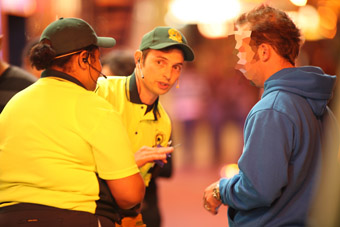 photo Bohdan Warchomij
pvi, reform
In the latest work by Perth based collective pvi, reform, audiences accompany its elite taskforce, the loyal citizens underground—self appointed vigilantes in the fight against the lewd and crude on the streets of Northbridge—on a kind of semiotic scavenger hunt. There is an urgent tenor to our mission as we set out to take the pulse of contemporary Australia. Armed with absurdly inadequate decoys such as newspapers and champagne glasses for cover, we head out to find out just how badly we are in need of reform.
It is worse than we could have ever imagined from the polite confines of nearby PICA (Perth's Institute of Contemporary Art). James Street, Northbridge is a tough strip with a lot of emotional code strewn on the street. On a Friday night, it is hard to distinguish between outreach, collusion and coercion and the district's carnality can easily inveigle an unsuspecting audience without the moral compass of the loyal citizens underground to guide it. What a zoo! Littering, crossing against the lights, dressing provocatively, carrying a condom, begging. Such things will not be tolerated.
reform brings to mind a pub-crawl, a progressive dinner or a kerb crawl. Tuned into a live broadcast, we dip in and out of James Street establishments, weaving through the cruising traffic and taking in the rhythm of Northbridge with its cast of bouncers, taxi drivers, clubbers and drifters. A woman queueing at an ATM asks if we are sociologists.
As we head to the Tom Cruise Room at the back of the Pot Black snooker hall for a briefing, the prospect of audience participation is weighing on our minds. Just how far will the loyal citizens underground go? We allay our discomfort by assuring ourselves that everyone on James Street seems to be wired and that props like ours worked for Maxwell Smart and Agent 99. Added to this, Jason Sweeney's enveloping soundscapes have a cumulative, cocooning effect so that by the end of the show I am staring back at the taxi drivers.
With all pvi's work you do have to sign up or you won't get the most out of it. The group's working methods do not privilege discrete performances over other practices and techniques. The live elements in pvi shows, whether scripted or ad-libbed, are experienced by audiences as inserts in an agitated stream of sound and image. reform's performances swing between compelling squad formations best viewed as part of the streetscape through to deadpan vox populi interviews played for laughs.
reform is less ambitious than the group's most recent show, tts: australia, which I saw in Sydney last year, but its finer structure does provide a more satisfying experience. Sweeney's soundscapes bring coherence to the patterns, slogans and manoeuvres of the work without resolving the disjunction between what we are seeing, hearing and thinking…People don't seem too badly behaved—but hang on, there are standards to be upheld.
Carried forward by the soundscapes, we venture further and further into Northbridge, as the patrol's demands upon its denizens grow more and more ludicrous. Insisting that people pick up rubbish on the streets or brushing off a pesky beggar is one thing but hectoring a woman about how inappropriately she is dressed is something else. Despite our best libertarian credentials, the patrol's ghastly sincerity rubbing up against this woman's rising aggravation is very funny and we catch ourselves, on edge, laughing. Our reform is complete, we see her flagrantly disloyal and anti-social behaviour for what it is, and our conversion to model citizens at the hands of pvi has been enacted. Only on our return to the haven of PICA are we able to confirm our suspicions about who on the street was a plant and who passing trade.
One of pvi's hallmarks is a passion for research, so much so that in preparation for tts: australia, 2 of its members undertook an Australian Army Reserves recruitment trial. The group's commitment to research and its members' progressive-left politics could generate work with such an interrogative tone that it might feel laden. This is particularly so since the collective's aim "to question the darker side of technology and the various forms of social control that we live under" has led to a sustained engagement with paramilitary organisations of all persuasions. For audiences, the play of the vocabulary of surveillance and deterrence throughout the group's work is simultaneously farcical and chilling. I can report, however, that thanks to the humour and humanity of reform, Northbridge's reputation as a place for perving is secure.
reform, devised & performed by pvi collective with Jackson Castiglione, Ofa Fotu, Ben Sutton; soundscapes Jason Sweeney, production manager Mike Nanning; researcher Dr Christina Lee, on-site performers Chris & Michelle Atkinson de Garis, Alee Bevlaqua, Andrew Bretherton, Michael Ford, Belinda Massey, Sarah Wilkinson; presented by PICA, Perth, May 25-June 4
RealTime issue #74 Aug-Sept 2006 pg. 48
© Jasmin Stephens; for permission to reproduce apply to realtime@realtimearts.net