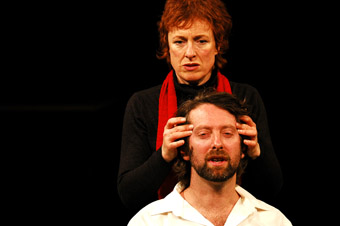 Heather Bolton, Paul Lum, Affection, Ranters
AS MORE OF AUSTRALIA'S LARGER PERFORMING ARTS VENUES TAKE ON MORE RESPONSIBILITY FOR COMMISSIONING, CO-PRODUCING AND TOURING WORKS BY SMALL TO MEDIUM THEATRE AND PERFORMANCE COMPANIES, AND AS SCHEMES LIKE MOBILE STATES AND MAPS FACILITATE CREATION AND MOVEMENT OF WORKS, THE FULL TILT PROGRAM AT MELBOURNE'S ARTS CENTRE IS LIKEWISE BOLDLY PRESENTING A TRIO OF PRODUCTIONS FROM THE SECTOR'S LOCAL THEATRE INNOVATORS.
Full Tilt's artistic director, Vanessa Pigrum, explains that her program has been focused, from inception, on cross artform works, but the opportunity arose to program three works with "a clear focus on text" and "musicality…there's something orchestral about them." Like an increasing number of plays, the programmed works also bear the influence of cross artform practices. Ranters' new work, Affection, will doubtless display the sense of installation, music theatre and autobiography in the weave of their previous work, the popular and well-travelled Holiday. Pigrum also admits to pragmatism—three Arts Centre spaces just happened to be available at the right time, as were the artists she'd been in conversations with for up to two years: "it often takes at least 18 months to arrive at a production."
The program includes a remount of Red Stitch's Red Sky Morning (June 3-13); followed by a new play about love, "love as adrenalin, love as joy and hope, love as hysteria, love as a curse, love as weakness and love as redemption", Poet #7, by Ben Ellis and directed by Daniel Schlusser (June 8-21); and the new work by Ranters, Affection (July 1–12), which has been in creative development with Full Tilt. Like its bracing predecessor, Holiday, Affection will be conversational, question the audience-performer relationship and work from the lives of its creators. Richard Watts will host "a newish initiative", The Talk Show on 2 June, July 7, August 4 and September 1 at Black Box for those wishing to deepen their responses to the program and argue current arts issues.
Pigrum sees the trio of shows as "perfect winter fare: a warm coat, a glass of red and a discussion of meaty works", and she's hoping that audiences will take in at least two of the shows, to pick up on the resonances and continuities in these new contemporary theatre works.
I ask Vanessa Pigrum about her involvement in Full Tilt's Creative Development program, which supports the emergence of new works. She describes her role as part-producer, part-dramaturg, involved early in the process "teasing out some of the key imperatives with the artists", stepping back during the workshopping, offering frank feedback of the outcome" and sometimes suggesting the participation of another artist, "to add another dimension to the work."
Pigrum tells me that Another Full Tilt program cluster will manifest in November-December with five productions including cross artform productions alongside innovative theatre works: Hayloft's first production of an Australian play, about Jesus no less, and Kylie Trounson's roller-skating fantasia set in the 1980s, The Man with the September Face, developed with Playwriting Australia. Full Tilt continues to do its substantial bit in the growth of opportunities for new work.
Full Tilt, Arts Centre, Melbourne, www.theartscentre.com.au/full-tilt/about.aspx
RealTime issue #91 June-July 2009 pg. 42
© Keith Gallasch; for permission to reproduce apply to realtime@realtimearts.net