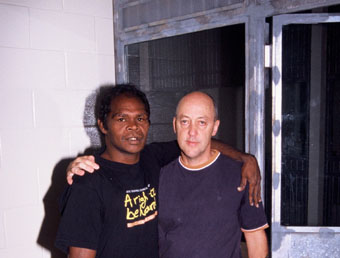 Richard Wanambi and Trevor Graham (director) in a cell at the Supreme Court Darwin
Two recent locally made documentaries demonstrate the diverse challenges facing our communities—and the ties that bind them.
Richard Wanambi lives in Yirrkala, a small isolated community in Arnhem Land. He's been drinking since the age of 14 and now, aged 35, he's in trouble for committing a serious offence. He's looking at doing a long stretch in prison.
Tony Wood and Lee Matthews live in Melbourne. They're a gay couple eagerly awaiting the birth of their first child from a surrogate mother in America. This is the culmination of a long and expensive process for Lee and Tony and they are both excited and apprehensive as they wait to fly out to meet the mother and witness the birth of their son.
Nami White, the woman who Richard Wanambi calls his mum (he is, in fact, her deceased sister's son) is worried about her other son, Jamie, who is also drinking and getting into trouble. Nami has already lost one son as a result of a drunken fight and she's petrified that the same thing will happen again.
Lee and Tony are busy preparing the baby's room with the assistance of their mothercraft trainer. The white wine is poured and sits on the dining room table, ready to toast the future of a new family. Meanwhile, Richard is heading into the 'long grass' to catch up with his drinking buddies. He has a cask of moselle to consume.
Different lives, different communities, same country but separated by so much on so many levels—geographically, socially, economically, culturally—that it takes a mind-stretch to see them co-existing on the same terrain. Then again, the ties that bind them are obvious too, such as the breakdown of the family structure or its transmogrification in response to personal needs and social pressures. (Reading the film notes, I also found another common denominator: Jenni Meaney who was camera operator on both films—a remarkable achievement to cover such disparate projects).
Viewing these films end-to-end, as I did, is to experience (albeit at a viewer's safe distance) the dead weight of social inequality, moral imperatives and legal constraints. We watch the inevitable unfolding of events that seem nevertheless to catch those affected by surprise, and feel the confusion and trepidation of people trying to cope with unusual circumstances and their consequences.
Lee and Tony, Richard and Nami are all defined by their historical moment, a conjunction of quite different competing interests that block off some options, close some doors and offer other ways out that are certainly not always ideal and, ultimately, propel them to do what they do, be who they are.
Richard's story (he calls himself Lonely Boy, a sign of his own isolation from the rest of his community due to his alcoholism) is an example of the problems besetting remote communities in the Northern Territory and, in particular, the devastating impact of alcohol on traditional ties and relationships.
This is a frustrating film. Everybody interviewed seems to know what the problem is and understands its impact; the lawyers, judges, police, community leaders all recognise that alcohol abuse is central to the routine violence and self-inflicted human misery found in places such as Yirrkala. The lack of meaningful progress on this problem, however, seems inexplicable. Certainly, the film offers no answers and that may be intentional; it raises issues, presents them lucidly but doesn't pretend that anything is anywhere near being resolved.
As Richard disappears into prison, Nami White remarks that she will probably not see him again in her lifetime and her matter-of-fact tone belies the palpable pain of this situation.
The film benefits from the obvious sense of trust and openness before the camera that everyone in the film displays, not least Richard himself. The film tries hard to connect with him and succeeds momentarily although it is hard at times to penetrate the fog of alcohol and find the person within.
Man Made also benefits from an intimacy between the camera and the subjects while never shying away from the obvious implications of Lee and Tony's situation, such as the parallels between shopping for baby and shopping for a baby. As both Lee and Tony acknowledge, once you start flipping through the egg donor catalogues, political correctness goes out the window and it all comes down to face value.
The film owes a lot to the perceptiveness of the camera work, the happy knack of being able to capture the prescient detail, such as observing the meticulous preparation of the couple, clothes neatly folded, travel items arranged in a row on the bed, an orderliness that underpins their approach to the buy-a-baby arrangements (and undermined when baby refuses to arrive on time). This observation is particularly acute in the hospital, firstly during the nervous wait for something to happen (life measured in dilated centimetres) and then as the relationship between the couple and the surrogate mother, Junoa, gradually shifts as the moment of separation approaches.
The actual birth, a coincidence of commercial, social and scientific developments, is also the site of powerful emotions that are invariably ambivalent and unruly.
Lee and Tony's surrogacy raises issues about the rights and roles of mother, dads and baby. Man Made is sensitive to these concerns—motives are examined, feelings questioned—and, by and large, the subjects respond with candour. In a sense, the film is as much about the couple's relationship as it is about the birth of their son, Alexander. The birth becomes a means of examining how the couple negotiate the transition to a new phase in their lives through what is largely uncharted territory. In the end, Junoa's argument that everybody should be given the opportunity to raise children seems justified and the couple grow as a result.
From a documentary perspective, both films underline the value of spending time with the subjects, gaining their trust and presenting their situation honestly without trying to dilute the implications of their behaviour. There is a tough fairness about them both which is ultimately hopeful if only because, whatever the problems and challenges their subjects face, at least there's somebody out there who cares enough to tell their stories well.
Lonely Boy Richard, director Trevor Graham, producers Denise Haslem, Rose Hesp; Man Made: The Story of Two Men and A Baby, director Emma Crimmings, producers Toby Patten, Michael McMahon
RealTime issue #58 Dec-Jan 2003 pg. 17
© Simon Ellis; for permission to reproduce apply to realtime@realtimearts.net