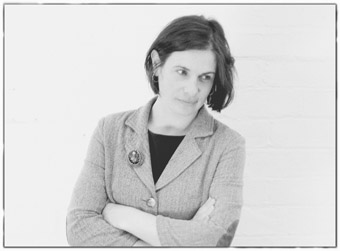 Claire Marshall, courtesy of NRLA
I HAVE NO THOUGHTS AND THIS IS ONE OF THEM IS A SKETCH MADE OUT OF SHADOWS. OVER THE COURSE OF AN HOUR, A WOMAN STANDS ON STAGE AND RECITES A LIST OF PHRASES FRAMED IN THE NEGATIVE. "I WILL NOT…", "I AM NOT…", "I DON'T HAVE TO…" SHE CREATES AN IDENTITY THAT IS PART RESOLUTION, PART REALISATION—LIKE A FIGURE HALF HIDDEN, HALF REVEALED BY FLICKERING CANDLELIGHT.
The list mixes up facts, hopes and understandings. Assurances of a western lifestyle ("I will not die of hunger") tumble after statements of defiance ("I will never acquire 'a look'"), peppered with the occasional bout of wishful thinking ("I will never drink again"). The character that emerges is middle-class and middle-aged, with all the freedoms and restrictions that entails. Most of it resonates with me and my values, and although I am pleased to remember that "I do not have to hide my body", it's sad and poignant to realise that I, too, will never befriend a penguin.
The eloquence of I have no thoughts…comes from the gentleness with which it sketches its cultural location. The text, and its mesmeric performance by Claire Marshall, describes the different ways a life can be curtailed—by birth and by circumstance, as well as by resolve. In doing so, it slips between the past, the present and the future. While some thoughts refer to lessons learnt, and some are literally performative ("I am not afraid…"), more project into a hoped-for future, explaining both the control we have over life and our powerlessness in the face of external events. "I will never have children", Marshall says, which could be a choice; but the statement "I will never be ripped apart by penetration" does not, of itself, guard against violent attack.
What makes the character built here so realistic, and so three-dimensional, is its sense of becoming. Framed in the negative, her thoughts describe what does not fit, so that her outline is constantly shifting. Occasionally, Marshall refers to other people—a string of somebodies all addressed as "you"—as if she is speaking these thoughts while she lives each encounter. The effect is like a woman walking towards you with the sun behind her; she dashes in and out of focus, a ball of energy remaking its own boundaries.
I have no thoughts and this is one of them, created by Tine van Aerschot, performer Claire Marshall, Tramway, Glasgow, Feb 8
RealTime issue #84 April-May 2008 pg. 4
© Mary Paterson; for permission to reproduce apply to realtime@realtimearts.net