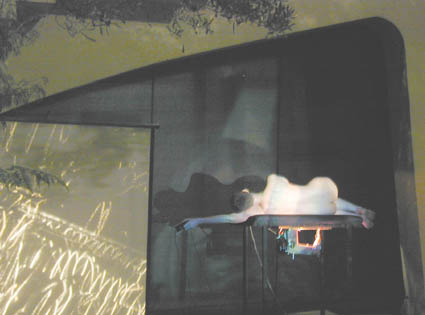 photo Barbara Campbell
The Machine, Oiled Again
"The weather forecast is for 'possible late showers' Wednesday, rain periods Thurs and Fri, so if it doesn't rain Wed, Barbara will perform again then. But if it does, there will be no performance except for tonight. Our advice: please come tonight and tell others if you can. Otherwise, come on Wed if it's not raining."
In the bar on campus at Sydney University, students are watching Fight Club. Up the road, a small crowd is assembling in the courtyard outside the Art History Block. Inside, Barbara Campbell is rubbing down with baby oil to protect her from the chill. Over in D Block, the barman drops ice into a glass. Librarians leave for the night. At 6 o'clock the artist emerges naked from behind a screen. As she slides onto a small table, her back to us, the representative from the Ministry for the Arts settles onto a garden seat. An inverted sewing machine fixed to the underside of the table whirrs into action. Laura from Performance Studies looks at the sky. On its way to the screen a cryptic film loop (shoe shine?) caresses the body in its path. Over there, Brad Pitt checks, "First rule of Fight Club?" Here, below the table, a tiny heater braves the elements. A Brancusi takes sensually slow shape in stills on an adjacent screen. A man from Security picks up his keys from the Canteen. The artist's softly glowing skin incongruously conveys warmth. Though Barbara Campbell does not move, her body dances in the flickering film light. Brancusi turns to Elsworth Kelly. Line, curve, light, image all move back and forth from screen to body. Blood slows. The machine sews stitchless, then stills. Of the hundreds of actions we have initiated, ignored or been implicated in today, this deceptively simple set, observed through the eyes and felt synaesthetically in the night air between bodies, has some chance to hold in memory.
Scooping up leads, post-performance, Barbara Campbell, now rugged up in a jumper, says "It feels so good to do it." She's more than irritated that one of last week's performances at the College of Fine Arts had to be cancelled because of rain. Then time, having dropped a stitch, picks it up again. As we make our way to the bus, the Ministry representative is thinking about her children at home. A cyclist loses his scarf. As temperature adjusts, I fight back forgetfulness that threatens to kick in.
Days later, defying first rule of Performance Art (Don't talk about Performance Art), I email Barbara Campbell for some background on her performance. She graciously replies:
"I'll just say what was in my head when I was making it….I was thinking about the dark, suppressed desire side of modernism, specifically Marcel Duchamp and his sexualised vision in things like Etant Donne, The Bride Stripped Bare by her Bachelors, Even (aka The Large Glass) and the Precision Optics. As against the white box formalists and some of the abstract expressionists. I've had Rosalind Krauss's thinking on this (The Optical Unconscious) in my head for some time.
"So, on a really simple level, I set up a kind of live version of Duchamp's Large Glass with me as the stripped bride above and the sewing machine as the Bachelors desiring machine below. This side, as you'll recall was set against a black screen with a subdued projection washing over the top (a kind of cinematic frottage). The image was of a slow-mo shoe shine in close-up–an obscure reference to another Duchamp work called Fresh Widow (Duchamp insisted this work, which was made of black leather, be shone every day like shoes). Then over the other side was the pristine white square of formalism with mute and static objects projected onto it–mostly Brancusi heads from the Guggenheim, also some Elsworth Kellys, Carl Andres, David Smiths etc. Despite the formalism, they are not without their own brand of sensuality as the slow dissolves and shiny close-ups revealed. The whole thing was played out under the stairs of the university's Art History department which provided a handy conceptual as well as physical frame, I thought."
The Machine, oiled again, Centre for Performance Studies, Sydney University, June 5. In collaboration with the College of Fine Arts, CPS is planning a survey of Barbara Campbell's performance works as part of the Sydney Biennale 2002.
RealTime issue #45 Oct-Nov 2001 pg. web
© Virginia Baxter; for permission to reproduce apply to realtime@realtimearts.net