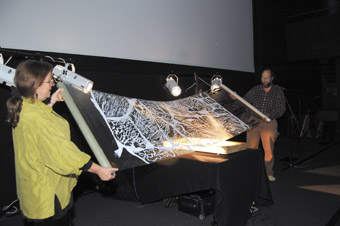 photo Peter Hislop
Warren Burt & Catherine Schieve, Sono Perception Sound Day
AS OF JULY 1 THIS YEAR THE NATIONAL FILM AND SOUND ARCHIVE (NFSA) RE-ACHIEVED INDIVIDUAL STATUS AFTER ITS SHORT-LIVED MERGER WITH THE AUSTRALIAN FILM COMMISSION (NOW DISSOLVED, WITH FILM AUSTRALIA AND THE FILM FINANCE CORPORATION, INTO SCREEN AUSTRALIA). NFSA IS NOW RUNNING A HIGH PROFILE. I MET WITH VINCENT PLUSH WHO IS ?MANAGER, RECORDED SOUND? AT THE ARCHIVE, TO DISCUSS THE SOUNDS OF AUSTRALIA PROJECT (THE 2007 SELECTION NOW AVAILABLE ON CD), THE RECENT CELEBRATORY SOUND DAY AND OTHER NFSA SOUND VENTURES.
Plush explained, "Sounds of Australia, The National Registry of Recorded Sound, was inaugurated in February 2007 as a way of drawing attention to the fact that the NFSA has a Recorded Sound Branch and quite a number of significant recordings of sounds and recorded music from over the past 110 years or so. It's modelled on something the American Library of Congress do every year. They admit 50 American sounds into their national registry, all chosen by experts. Ours is a little different in that we start more modestly and admit 10 sounds per instalment. And we invite the general public to submit their ideas about how we should build a national registry of recorded sound."
These sounds must be either recordings made in Australia, by Australians or of Australians, must actually exist on recordings that can be identified and be at least 20 years old. The public submit their proposals by the due date and, says Plush "they're sifted down by one of our staff members who then sends out a list of 40 or so to a panel of industry experts who write their opinions. That brings it down to 20. While this is going on, we pursue things like who owns the rights to these things and, if we can't secure the rights in some way, there's no point in proceeding with the nomination." After more whittling "we then take them to our director who ensures that there's a widespread contemporality—that we have something from every decade; widespread media, meaning that we have not only recorded music but recorded voices, natural sounds…Then there's genre—from popular music, through art music to Indigenous music to whatever."
Plush describes the spread as "pretty broad, ranging from birdsongs of Australia to Professor Elkins' original Aboriginal recordings to recreations of the Gallipoli landings by the BBC to Don Bradman and the 1931 Ashes and Gough Whitlam's 'Kerr's cur' speech. And now we've got Percy Grainger's "Country Garden" played on the original piano roll." And the late Billy Thorpe is included in the 2008 batch. "In the first round, we included the earliest known surviving sound recording. This was a parlour song called 'The Hen Convention' recorded in 1896 by Thomas Rome, an amateur sound recordist in Warnambool. He recorded a neighbour of his singing this song, the choruses of which are imitations of chooks and roosters. That really captured the wider ABC audience imagination and made the newspapers: 'The earliest surviving sound of Australia is not Thomas Edison reading Mary Had a Little Lamb but sounds of a guy imitating chooks…'."
On the NFSA's Sound Day, June 18, the federal Arts Minister, Peter Garrett, announced the next 10 selections for the Sounds of Australia Project and launched the CD, a joint collaboration between NFSA and the ABC. The NFSA sees the project, says Plush, as raising awareness that "there is a recorded sound history of Australia and secondly that there is a government agency that collects it…The project's a growing thing. It's like a time capsule in sound. We hope that the CD will get into every school, every public library, embassy kits and so on."
Sound artists also fall within the NFSA's brief: "We're particularly interested in collecting the archives of those Australian sound artists who've moved boundaries or who've done interesting things with the sounds of the natural environment." Composer, sound artist, sound sculptor and instrument maker Ros Bandt "fits the profile beautifully—someone we believe is incredibly important, wonderful and treasurable." Sound Day was the occasion for the launch of Bandt's book, Hearing Places (co-edited with Michelle Duffy and Dolly MacKinnon for Cambridge Scholars Press, see RT 87). Bandt reciprocated by playing her tarhu, "a gorgeous zither-type instrument, which sounds like a cross between a viola da gamba and an erhu—designed by Peter Biffin. This was the perfect illustration of everything Ros Bandt's on about, the meetings of cultures, the actual performance of music and improvisation around sounds."
The first of the Thomas Rome Lectures (named after the recordist mentioned earlier) was also delivered at Sound Day. Michael Smellie, a former executive with SONY BMG, gave the first lecture. And a strong statement it is (downloadable from the NFSA website). Smellie reminds us just how successful the industry was from the 1960s to the 1980s, but in terms of "opportunities presented by the new digital era, we have, to date, missed the boat. In 2007…8% of Australia's recorded music revenue came from digital applications, compared to a worldwide average of 15%; and 24% in the USA and 11% in Canada for example. This reflects our poor performance in digital applications employed, be it from the perspective of a consumer, producer, performer or distributor." He eliminates the usual excuses, like the effects of American Idol, and blames limited education in music, but above all a lack of leadership, specifically of a united front to embrace the digital challenge: "I contend that there is no music industry as such in Australia. It is really a collection of small and medium sized enterprises who constantly seek to differentiate themselves. They have no real desire to co-operate, to be organised or to be integrated into a formal structure. Maybe we are closer to a craft group rather than a real industry. As long as this prevails, we have structural impediments to developing leaders."
Although, given his background, he's averse to suggesting it, Smellie declares that "he would like to see the Minister [Garrett] clearly articulate his vision for the industry and to define a leadership role in music for his department." And he argues not for, as have some have suggested, "the cultural equivalent of the Australian Institute of Sport…[and its] focus on elite sports people [but an] equivalent of the Australian Sports Commission." This he hopes would facilitate the "the creation of a network of digital innovators in the music space to enable them to leverage their work" and funding initiatives "perhaps with private equity investors and existing industry investors." Finally, perhaps inspired by NFSA's Sound Day, he proposes the inauguration of an annual Australian Music Day.
It's clear that NFSA's scope is comprehensive—Sounds of Australia, Sound Day and the organisation's extensive archiving represent the work of composers, academics, sound artists, cultural groups, broadcasters and the popular music industry. Sounds of Australia's annual patrons include the composers Paul Grabowsky and Peter Sculthorpe and, this year, singer Renée Geyer was added. Sound Day itself echoes the breadth of approach by including a concert, Sono-Perception, by Melbourne's JOLT (p41), of contemporary sonic art and also the innovative Percy Grainger's exquisite Free Music machines played by Catherine Schieve and Warren Burt. Earlier that day Grainger had been inducted into the National Registry of Recorded Sound with the Country Gardens piano roll from the playing of the composer in 1919, now sitting alongside other 2008 inductees, the Aeroplane Jelly Song, the Theme from Blue Hills, Slim Dusty's "Pub With No Beer", Peter Sculthorpe's Irkanda IV, No Fixed Address' "We Have Survived" and Billy Thorpe and the Aztecs' "Most People I Know Think That I'm Crazy."
But there's more to NFSA's sound archiving. The archive is building, for example, a collection of the work of composer Martin Wesley-Smith, in partnership with the National Library which is collecting the artist's work on paper: "We collect the audio-visual archive", says Vincent Plush. "The first instalments have arrived in 12 large plastic bins—old reel-to-reel tapes, slide carousels, the Apple Mac 3 , the Fairlight pieces, the documentation that goes with all this. We began the project publicly at the end of February with an evening called The Tears of Timor during which we assembled four of Wesley-Smith's Timor-related pieces and presented them to an extraordinary overflow audience including Timorese activists and five ambassadors. It was a very emotional evening. The surviving members of the Wesley-Smith family came along: Sheila, the 91-year-old mum, the twins Peter and Martin, and Rob, the elder brother, who came from Darwin. We brought them all on stage and there was a standing ovation." More performances of the composer's work will be programmed across the next two or three years, including the music theatre work Quito. The Wesley-Smith archive, says Plush, will take at least three years to assemble.
Plush rattles off a list of possible candidates whose work warrants archiving: the late Tristram Cary and "that extraordinary florescence of Melbourne artists Warren Burt, Ros Bandt, Rainer Linz, Les Gilbert, Chris Mann…"
I ask Plush how he himself fits into the NFSA. Neatly it seems. He's a composer, founder of Sydney's Seymour Group, has taught composition and musicology in universities as well as writing reviews for The Australian. But he also spent 19 years in North America where he "ended up working for Vivian Perlis in the American Oral History Project and did 202 interviews. I did the first major interview with John Adams, the last interview with Frank Zappa. From A to Z and in between, many people who've since died—Cage, Lou Harrison, Carl Ruggles…" The interviews became the Main Street USA series in the mid-1980s for ABC radio, the first extensive introduction for many of us to American composition.
The NFSA's inaugural Sounds Alive programme for 2007-08, devised by Plush, included a mobile-phone symphony created by visiting American composer William Duckworth, a program of new music for silent films created by young composers attending National Music Camp and an evening of Indigenous-inspired music performed by Topology and Iain Grandage. Among next season's highlights will be a celebration of Voss on the occasion of the 50th anniversary of the first publication of Patrick White's novel and the 25th anniversary of the first appearance of music from the opera by Richard Meale. For a country which pays so little attention to the history of its art, the NFSA's ambitions are timely and admirable.
NFSA Sound Day, National Film and Sound Archive, Canberra, June 18; NFSA, Sounds of Australia, ABC Classics CD, ABC 476 6812; www.nfsa.gov.au
RealTime issue #86 Aug-Sept 2008 pg. 38
© Keith Gallasch; for permission to reproduce apply to realtime@realtimearts.net