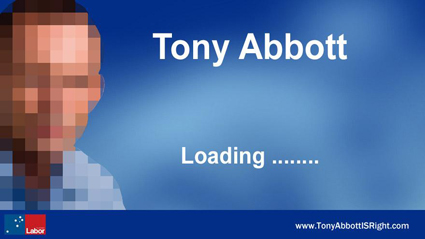 photo Tony Abbott Is Right website, reproduced under Creative Commons license Attribution-Non-Commercial 2.0
Tony Abbott, Loading
DURING THE 2010 FEDERAL GOVERNMENT ELECTION CAMPAIGN CALLS ARE INTENSIFYING FOR ALL POLITICAL PARTIES TO DEVELOP COHERENT CULTURAL POLICIES. A NUMBER OF FACTORS, ACCUMULATING OVER MANY YEARS BUT NOW MORE MARKEDLY EVIDENT, UNDERLIE THE URGENCY FOR CREATING A NATIONAL CULTURAL POLICY.
These factors include policy making on the run (reactive funding initiatives from Arts Ministers), significant changes within the arts (new forms, new technologies) and arts education (creative degrees), inadequate arts education in primary and secondary school, increasing censoriousness (the Bill Henson 'affair,' internet filtering), underpaid artists and a widespread devaluing of the arts (as elitist and self-serving) despite statistical evidence of growing attendance and participation figures across Australia.
This brief guide to the national cultural policy discussion begins with Arts Minister Peter Garrett's online public discussion (without his own participation) of his Discussion Framework towards a policy. It's followed by the most substantial engagement with the issue this year, from Marcus Westbury and Ben Eltham, and a response to one of their recommendations (about the future of the Australia Council for the Arts) from Christopher Madden. In a spirit of greater cultural inclusiveness, Westbury and Eltham substantially broaden the arts ambit (embracing non-mainstream, underground and creative industries practices), as does Helen O'Neill in Griffith Review 23 while in the same edition Robyn Archer defends art from the incursion of the creative industries model.
With its valuable historical and economic perspectives, David Throsby's Platform Paper No. 7, "Does Australia Need a Cultural Policy?" provides a brisk, cogent argument for a national cultural policy, although Jana Perkovic in RealTime worries about the use of 'economy' as a principle benchmark in the making of policy: "Artists should understand the power of words. At the moment, one of these is 'economy.' Being good or bad for the economy, vaguely defined, is argument enough to defend or shelve a policy. Agreeing that we have a 'culture' would allow a whole new string of arguments to be made and, with due respect to David Throsby, defend the arts not on the grounds of its goodness for the economy, community or health, but simply as important for our culture."
Kevin Rudd's 2009 Summit and Peter Garrett's subsequent National Cultural Policy Discussion created expectations that have yet to be met. Garrett did not address proposed changes to unemployment benefits in favour of artists (the Greens have embraced this in the election campaign), instead delivering the micro-business modelled ArtStart designed exclusively for tertiary education graduates ("I think this makes ArtStart the only Australia Council grant program that requires an artist to hold formal qualifications." Peter Anderson, "Visual Arts Education: Between research & the market," http://www.realtimearts.net/article/98/9959).
While ArtStart and its likes look good for emerging artists, without a coherent arts policy (let alone a cultural policy) they could put artists on the path to a dead end: where is the policy that points towards the development of an arts infrastructure that will accommodate the growing numbers of arts graduates (and the non-academically trained)? As attractive and significant as the micro-business model is and, for some, the correlative argument for a de-institutionalisation of the arts, we need to recognise the arts as a complex system requiring a subtle response—no easy task in an era of reductionist binary thinking. A national cultural policy that can do justice to the arts and to artists is not going to be easy to achieve, but one thing above all we must be mindful of is that art is not merely part of culture—art builds, fuels and transforms culture.
Discussion: National Cultural Policy
Minister for the Environment, Heritage and the Arts, http://nationalculturalpolicy.com.au The site includes Arts Minister Peter Garrett's address to the National Press Club, October 27, 2009 and the National Cultural Policy Discussion Framework. Submissions can now be found in the Library section.
Sharing the Luck: Cultural Policy in Australia
Marcus Westbury and Ben Eltham, Centre for Policy Development http://morethanluck.cpd.org.au/sharing-the-luck/cultural-policy-in-australia/
Marcus Westbury, "Suggestions for politicians in search of a cheap arts policy," The Age, August 2 http://www.theage.com.au/entertainment/art-and-design/suggestions-for-politicians-in-search-of-a-cheap-arts-policy-20100801-111ce.html
Christopher Madden, "In defence of the Australia Council," ArtsHub, August 2 http://www.artshub.com.au/au/news-article/opinions/architecture-and-design/in-defence-of-the-australia-council-181853?sc=1
The art in cultural policy making
Gavin Findlay: Peter Garrett's national cultural policy discussion
http://www.realtimearts.net/article/issue96/9805
Culture: an intangible, protectable & nurturable good
Jana Perkovic: cultural policy and the arts
http://www.realtimearts.net/article/issue97/9855
David Throsby, Does Australia Need a Cultural Policy?, Platform Paper, Currency House, Sydney, January 2006
Jennifer Craik, Re-visioning arts and cultural policy: Current impasses and future directions, http://epress.anu.edu.au/revisioning_citation.html, July 2007, ANU E Press, co-published with the Australia and New Zealand School of Government
Workshop on Cultural Policy, Culture and Policy, Griffith University, Vol 8, No 1,1997
Helen O'Neill, "Ratbags at the Gates," Griffith Review 23, Essentially Creative, ABC Books/Griffith University, Autumn 2009
Robyn Archer, "Industry that pays, and art that doesn't," Griffith Review 23, Essentially Creative, ABC Books/Griffith University, Autumn 2009
Forum: "A National Cultural Policy for Australia", Australian Performing Arts Market, February 22, Adelaide 2010; includes downloadable panel discussion transcription. Facilitator Sarah Miller, Speakers: Bronwyn Edinger, Kathy Keele, Greg Mackie, Chris Puplick and?David Throsby
http://www.performingartsmarket.com.au/keynote-and-forums
The Music Show, ABC Radio National
Andrew Ford with Marshall McGuire, Clare Bowditch, Graham Wood, Sandy Evans and Michael Kieran Harvey musicians http://www.abc.net.au/rn/musicshow/stories/2010/2982941.htm
ArtWorks, ABC Radio National, August 8
Amanda Smith with Marcus Westbury and Chris Puplick
http://www.abc.net.au/rn/artworks/stories/2010/2969104.htm
Julian Meyrick, Cultural Policy in Australia
Meyrick is a writer and theatre director and, with Marcus Westbury and others, a member of the Arts Minister's Creative Australia Advisory Group.
Streamed talk, October 19, 2009, Baldy Centre for Law & Social Policy, University of Buffalo, USA. Access via AustralianPolicyOnline:
http://www.apo.org.au/video/cultural-policy-australia
RealTime issue #98 Aug-Sept 2010 pg. web
© Keith Gallasch; for permission to reproduce apply to realtime@realtimearts.net