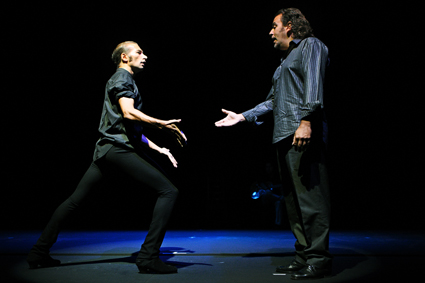 photo Prudence Upton
Israel Galván, David Lago, La Edad de Oro (The Golden Age), Spring Dance
SPRING DANCE 2011 PROVED TO BE AN INTIMATE AND ENGAGING MINI-FESTIVAL WITH A CLEAR SENSE OF PURPOSE, IN ITS TRIBUTE TO PINA BAUSCH. UNLIKE MOST INTERNATIONAL ARTS FESTIVALS THESE DAYS WITH THEIR HUGE PROGRAMS, HERE THERE WAS THE LIKELY OPPORTUNITY TO SHARE RESPONSES TO THE WORKS SEEN RATHER THAN BE TOLD HOW REMARKABLE THE SHOW WAS THAT YOU MISSED.
israel galván, la edad de oro
In La Edad de Oro (The Golden Age) Israel Galván firmly invokes the tradition of flamenco dance while transforming it, releasing his body from its taut if vigorous framework to create his own distinctive choreography. Some of this is achieved by expanding the space occupied by the flamenco male dancer, some by taking its stances and gestures (including some usually associated with the female dancer) and extending them to an almost surreal degree while texturing his vocabulary with influences from tap (he's an admirer of Fred Astaire) to contemporary dance.
The performance by Galván, guitarist Alfredo Lagos and singer David Lagos, comprises a series of solos, duets and trios in various combinations in which, again, tradition is sustained but also transformed to sometimes dramatic, sometimes almost comic effect. An impassioned duet between Galván and the singer is conducted unconventionally at the front of the stage, face to face in an upward spiralling dialogue between body and voice climaxing in a conciliatory handshake. In the good-humoured encore to the show, Galván sings, not particularly well, and plays the guitar, badly, while his fellow artists parody his dancing.
By then, we too, having revelled in a series of dance pieces, have come to recognise Galván's idiosyncratic movement language. It's rooted in flamenco with its proud, erect demeanour, but this body is far more angular, falling out of the frame, dipping deep from the knee and unfurling upwards, mutating pounding feet into subtle, musical taps, gliding scrapes and rapid skips, propelling himself, forwards or backwards, across the stage, executing improbable leaps and spins without losing the pulse of tradition. In one piece, he dances with his shadow.
Much of this Galván performs in profile—thus we miss nothing of the detail. There are numerous small touches—the fully extended arm that reaches behind his back so that his hand appears like an alien extension; the conventional tugging of the front of the shirt he extends to sexily reveal his abdomen or turns to magically make the shirt tail vibrate as with a life of its own. His hand clapping extends to slapping various parts of his body, including his face. He vibrates his lips, or holds one eye strangely wide open. Recurrently his right arm snakes up, the hand suspended and drops suddenly, or slowly, like a falling leaf.
In all of this, Galván for the most part (except where solo he makes his own music with his feet and hands) is supported by a fine, expressive tenor and a guitarist who, more Paco de Lucia than Paco Pena, oscillates between traditional playing and seductively inventive, contemporary phrasing. Each artist has their much applauded place in the spotlight. For anyone who thought that flamenco was locked into tradition, here was a remarkable dancer who revealed that without losing its pride, momentum and subtleties, the form can have new life.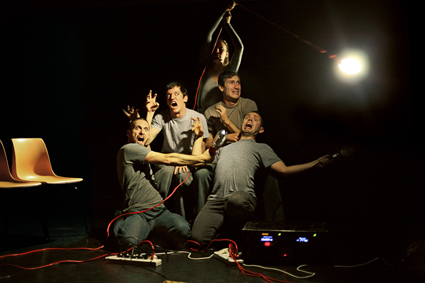 photo Prudence Upton
Byron Perry, Joseph Simons, Kristy Ayre, Lee Serle, Antony Hamilton I Like This, Chunky Move
chunky move, i like this
As we well know by now, dance theatre doesn't necessarily involve a lot of dancing, such is its ever evolving hybridity. But it still needs the discipline, poise and courage of dancers to make it. Chunky Move's I Like This, created by Byron Perry and Antony Hamilton, who, with minimal mutterings, themselves manipulate sound and light on the stage in front of and amidst a trio of dancers, play at putting together a performance, constantly reframing the action with brisk blackouts in which the dancers and their chairs and props are rapidly re-arranged, collapsing time with staged jump-cuts.
The work moves from whimsy into grotesque slow-motion dream states; the dancers deftly wielding portable industrial lights, transforming their world; one swings a light in a wide arc, expanding the performance space as the show takes on a cosmic dimension, a reverie in which the performers later appear to pull a planet into their sharing hands. Suddenly remnants of the work's evolution are shown and dismissed. A film noirish episode haunts the stage. The performers' world subsequently appears to sink into an ocean of light and sound. The sense of dream escalates until the work's creators are shrouded by the dancers in a large white sheet to the sound of rain and thunder. Glowing from within, the object appears like a thundercloud, but just as much a brain, from which something like the words "it's not at all a real ending" are ironically muttered at the work's conclusion. I Like This is a richly inventive work, adroitly voiced by the dancers and expertly danced where called upon, the overall passage from droll jump-cut minutiae to cosmic reverie only seeming a little short-changed at the end with some all too-easy irony; but it's that kind of show—pushing hard at the edges of post-modern self-reflexivity.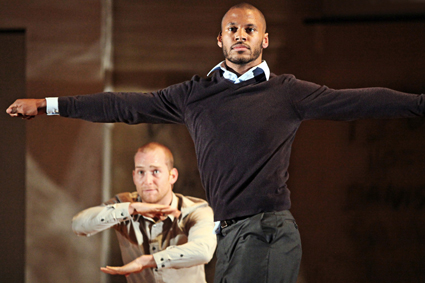 photo Prudence Upton
Hannes Langolf, Ira Mandela Siobhan, Can We Talk About This?, DV8, Spring Dance
dv8, can we talk about this?
DV8's Can We Talk About This? is a profoundly provocative dance theatre work in both form and content. Its continuous flow of spoken word and movement (occasionally literally entwined, more often laterally) deals with the ramifications of Islamic migrant culture for Western nations. It is in no way right wing anti-Islamic, nor is its rhetoric left wing. It speaks directly about "the paradox of diversity," of "multiculturalism losing its intellectual spine," of "multicultural separatism" and of fear: of being killed, as people were in several countries (the dancers hold photos of the dead which they slowly drop to the floor) over a cartoon that mocked Mohammed; of fear of being labelled racist; of losing "community cohesion"; of being the target of a fatwah—"What can we speak about without being killed—in free countries?" A much more volatile topic in the UK and Europe than here, nonetheless the work resonates with debate within Australia.
Drawn from numerous interviews, the spoken text includes statements from Muslims: a young anti-cartoon protestor in Denmark jailed for four years for merely carrying a placard; a man who spoke regularly at his local mosque until a fatwah was issued over his support of Darwinian theory (he withdraws it later, there is no choice); a young Somalian woman (deliberately near-naked in underwear on stage) who wrote the script of the documentary that resulted in the murder of Theo Van Gogh and suffers guilt for his death; the offending Danish cartoonist standing upside down, trying to function normally, dressing, zipping 'down' his fly while his world is inverted.
These brief tellings (they don't unfold as stories per se) sit side by side with those of a UK school headmaster sacked for alleged racism for being critical of aspects of Islam and the fatwah against Salman Rushdie ("a political turning point"), the continued custom of forced marriages, of girls over the age of 11 not allowed to sing, the promotion of Sharia law and the UN's refusal, under pressure from Pakistan, to even consider it as a human rights matter, let alone address it. One dancer repeating the words of Anna Cryer, an ex-politician who fought for years to prevent forced marriages, speaks eloquently and quietly about the issue; cup and saucer in hand, she sips tea all the while sitting elegantly on a male dancer (resting on the floor) cradling and shifting her about as if to suggest that, even beneath such calm, support and balance is frighteningly precarious.
What grips is the dancers' realisation of real voices, real people, while mostly in a constant flux of unusual movement, the greatest sense of which is restless containment, of suppressed violence, of "a paralysis of the West." The initial dancing is laterally folk-like, as if drawing on the uniformity of clog or hornpipe dancing; elsewhere the dancers break off into opposing groups who intermingle but never reach the point of actual violence; a pro-Rushdie Muslim woman is contained in a circular chase by a man who never catches, but does contain her; people seem locked into duos and trios, while occasionally a solo dancer manages to glide through the potential mayhem.
Meanwhile on two small screens, video images play out, including footage of the huge anti-Rushdie protests and a TV debate where a man asks an Islamic leader, "Would you really kill me as an apostate?"
At the commencement of Can We Talk About This?, a dancer asked for a show of hands: "How many of you feel morally superior to the Taliban?" There was, as far as I could see, a negligible response, a nervous laugh or two—but the provocation had been quietly thrust upon us. At the very end of the work, we were virtually asked if we were in fact afraid and would, consequently, "just shut up."
Doubtless there will be objections to Can We Talk About This?, not least when it plays in London following a tour after its premiere in Australia. The show directs its complaint at the extremes of Islamic culture that don't fit with basic human rights, not at its Muslim liberals, its civil moderates. Just as much, it asks us what we will do about those rights, our own and those of Muslims who are oppressed by their own culture. We are so used to the posturing of the right and the shift of liberals to the right in the West that it comes as a welcome shock to be provoked by DV8, by the courage of their multicultural performers and director, Lloyd Newson, by their sheer inventiveness in the equal flow of words and movement, which is at once mesmeric and, in just how they ask us where we stand, utterly disturbing.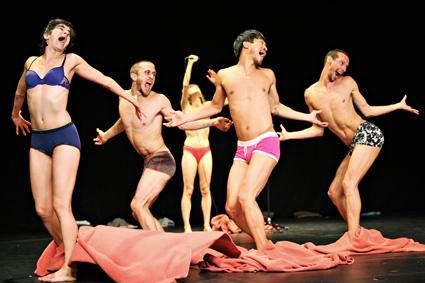 photo Prudence Upton
Out of Context—For Pina, Les Ballets C de la B, Spring Dance
les ballets c de la b: out of context—for pina
Les ballets C de la B's Out of Context— For Pina is a consistently intriguing and exhilarating work, one very different from the company's work previously seen in Australia where a transport terminal of some kind (La Tristeza Complice) or the top of an apartment building (lets op Bach) have a strong design materiality. Here, the black curtain-framed stage is bare, save for a microphone on a stand, two loudspeakers and a pile of orange blankets. The dancers, it turns out, are seated amongst us and approach the stage one at a time where they undress and wrap themselves in the blankets as if about to commence a yoga class—a scenario which persists in various ways. At other times, in a line, they sway gently like a line of Buddhist monks, forming a physical and sometimes vocal chorus for a solo dancer. However, they are subject to further transformations. As they initially circle each other they commence sniffing, heads leaning into necks, a blend of human and animal accompanied by the grating sound of perhaps a pig—growling and snorting and later intersected with classical piano and further on a soprano voice. In this tribute to the great Pina Bausch, it is as if, as in her own work, anything can happen, here in the shape of enormous shifts from animality to popular to high culture (in the finesse of yoga and exquisite dancing).
The sniffing done, the dancers pick up, virally it seems, a simple swing back of the lower leg from the knee, and then gradually shed their blankets, like snake skins. It's as if they've achieved some strange kind of commonality, short of touching—which comes soon enough. From here on we're in for a kaleidoscope of images of interaction, often forcing us to choose which simultaneous action to greedily focus on. Look centre and you might easily miss a man consistently collapsing his abdomen with masterful yogic calm.
Elsewhere two men tangle in something like slowed, abstracted Graeco-Roman wrestling, one stretched out on the floor, his weight incredibly pivoted on his head and an arm while his legs splay and his oppressor climbs astride him. A later 'wrestle' has, again, two men but squatting side by side, facing us, slowly executing a curious symbiosis, arms entwining, hands manipulating each other's jaws, becoming one creature. A female dancer executes yoga-based movements with incredible extensions while behind her, facing away, a male performer, microphone in his mouth, growls and grunts and turns adopting a simian pose, lifting the woman onto his shoulders where she becomes chimp-like, squealing into the microphone. Again there is a sense of oneness, of a new multi-limbed body, arms and legs writhing like the goddess Kali.
At other moments the performers are child-like—hands over their loins and tongues protruding—or collectively disabled, battling against a loss of centre of gravity in dance that is once disorienting and beautiful. An extended club dancing passage emerges from a series of single song lines ("No woman no cry," "I'm calling you," "that's the way I like it" etc) but the dancing transforms from predictable to remarkable moves, popular culture elevated beyond belief, and calculatedly tinted with a balletic female duet—if you caught it. There are scenes of adolescent flirtation executed adroitly with comedic relish by a tall female dancer. Rock star posturing manifests from time to time but the play with the microphone—toyed with, slowly lowered, thumped—makes for a different kind of music. Everything is subject to mutation. I was mindful of Ros Warby's Monumental, which I could not attend in this Spring Dance, but had seen several years ago (RT90) with its enigmatic but magical transformations of the artist from ballerina to bird to soldier.
Into the midst of the relentless action of Out of Context—For Pina steps Lutz Förster, an original member of the Pina Bausch company, suited and performing "The man I love," first as recitation, then accompanying a recorded version, but all the while signalling the words in Aslan. This affecting "intervention" as the Les ballets C de la B director calls it, was circumstantial, because Förster happened to be in Sydney as a guest of the Goethe-Institut. Elsewhere in the world the intervention will come, says Platel in a Q&A, from other performers or groups or even audience members. What was immediately brought to mind by Förster's performance is that sense of the artists Bausch employed—distinctive personalities, varied bodies, committed and passionate—and which Platel's performers likewise embody.
In the end, the dancers fold their blankets, dress and return to their seats among us in the auditorium. We leave the theatre still immersed in the complexities of what it means to be a human animal—from our diverse physiognomies to our desires and our cultural creations. The production's sense of exploration, spontaneity and passion, unpredictability and sheer purpose and skill, was indeed an apt tribute to Pina Bausch.
Along with two films about Bausch's work, which showed her at her most charming and good-humoured (given we've heard so much about the hard, distant, but nonetheless loved taskmaster), the film tribute to Tanja Liedtke and the foyer exhibition of William Yang's exquisite photographs of Bausch's company at the 1982 Adelaide Festival, Spring Dance added up to an exceptional experience. The dance works were quite unlike each other but all revealed intense exploration of form, sometimes with embedded ideas about human nature and creativity, while DV8 made explicit its cultural and political concerns at the same time uniquely energising the relationship between words and movement.
In our December edition you can read interviews with Alain Platel and Israel Galván.
Spring Dance: Israel Galván, La Edad de Oro—The Golden Age, choreographer, dancer Israel Galván, singer David Lagos, guitarist Alfred Lagos), artistic direction Pedro G Romero, lighting Ruben Camacho, sound Félix Vázquez, Playhouse, Aug 23-27; Chunky Move, I Like This, direction, choreography, lighting & sound Antony Hamilton, Byron Perry, performers, Kristy Ayre, Antony Hamilton, Byron Perry, Lee Serle, Joseph Simons, costumes Paula Levis, Studio, Aug 24-28; DV8, Can We Talk About This?, concept, direction Lloyd Newson, choreographer Lloyd Newson with the performers: Joy Constantinides, Lee Davern, Kim-Jomi Fischer, Ermira Goro, Hannes Langolf, Samir M'Kireh, Christina May, Seeta Patel, Anwar Russell, Ira Manela Siobhan, design Anna Fleischle, lighting Beky Stoddart, video artist Tim Reid; Drama Theatre, Aug 25-28; Les Ballets C de la B, Out of Context—For Pina, dancer-devisers Elie Tass, Emile Josse/Quan Bui Ngoc, Hyo Seung Ye, Kaori Ito, Mathieu Desseigne Ravel, Mélanie Lomoff, concept,direction Alain Platel, dramaturgy Hildegard De Vuyst, lighting Carlo Bourguignon, sound design & electronic music Sam Serruys, costumes Dorine Demuynck, Drama Theatre, Aug 30-Sept 1; Pina Bausch (2006), director Anne Linsel, Sept 2; Life in Movement (2011), a documentary on Tanja Liedtke, producer-directors Bryan Mason, Sophie Hyde, Sept 3; Dancing Dreams (2009), director Anne Linsel, Sept 3; Spring Dance 2011, artistic director Wendy Martin, Sydney Opera House, Aug 23-Sept 4
RealTime issue #105 Oct-Nov 2011 pg. 14-15
© Keith Gallasch; for permission to reproduce apply to realtime@realtimearts.net