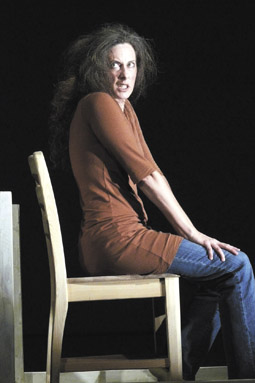 photo Rossella Viti
Dawn Albinger, Heroin(e)
MARGARET CAMERON'S POETIC MONOLOGUE THE PROSCENIUM HAS BEEN STAGED IN VARIOUS CONFIGURATIONS: AS A DOUBLE WITH HELLEN SKY'S MAKING LIGHT OF GRAVITY, AS AN ENSEMBLE PIECE BY STUDENTS FROM EDITH COWAN UNIVERSITY'S PERFORMANCE COURSE, AND NOW TOGETHER WITH DAWN ALBINGER'S AUTOBIOGRAPHICAL HEROIN(E).
Cameron's text is a dense weft of intertextual references and poetic images, including allusions to Alice In Wonderland, Gulliver's encounter with the Lilliputians, Munch's The Scream and others. Although Munch and the dream-like accessing of intense childhood memories and aestheticised traumas evokes Expressionism, Cameron's realisation owes more to late 19th-century Symbolist theatre, Odilon Redon and Baudelaire's Les Fleurs Du Mal. Her simple, resonant performative presence is both anchored in and generated by the word itself.
Cameron's gestures and movements are sparse, tending to shift between archetypal tableaux which she embodies, rather than enacting (even in an abstract fashion) the events or images she enunciates. As Cameron says, the proscenium space within which this recitation occurs is, in a sense, "literal"; the spoken word tumbles to the floor like a thick wet blanket of affect and metaphoric play. Like Redon, Cameron is seeking an ambiguous yet still recognisable world of palpable symbols which lies behind the particularities of her own experience, even as it inhabits her life.
The performance begins with the statement that this universal, aesthetic substrate to our lives rests "embedded within the ancient erotic curve of the imaginary" and "the symbolic." This might suggest a Surrealist approach, a realm of motifs whose potency stems from sexual desire and our identifications with our parents. A mother—presumably Cameron's (at least in symbolic terms)—provides a melancholy, much loved but distant centre to many of the childhood events described. This however reflects the kinship between Surrealists, Baudelaire and Redon, rather than an actual focus on sexuality and its opaque meanderings through identity. The key function and force of both Cameron's text and her performance is simply to symbolise, to translate something—a lost memory, a dream of a drunken father hosed through the window by distraught relations, an idea of Cameron herself as a "child of imaginings prancing barefoot with a stone"—into a recited performance awaiting an audience.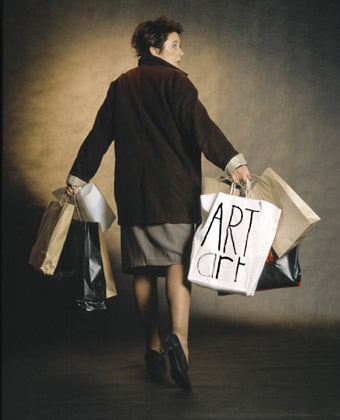 photo Ross Bird
Margaret Cameron, The Proscenium
The image of Cameron in a padded coat, dripping water onto the stage while perched, arms outstretched, on a rock, encapsulates and embodies the totality of the performance even as it demands further explication via the various stories, allusions and poetic trails which are projected from this image during the piece. The Proscenium collapses naked minimalism (the relatively few performative images and gestures) into complex linguistic play, demanding attentive listening.
Dawn Albinger's solo, Heroin(e), is also performative and minimal—indeed, its poor theatre aesthetic at times suggests rough cabaret—while emanating from a fundamentally linguistic centre, here a narrative of a woman who survived both a car crash and living with a heroin-addicted partner. Similarities cease here though, for Albinger's literalism is distinct from Cameron's. Albinger is an accomplished and empathetic performer. Heroin(e)'s appeal however is based on the performer's claim to authenticity over and above aesthetic craft and poetics. The work's aesthetic politics has its roots in those approaches arising out of 1960s feminism, in which one charts the female protagonist's struggle towards the final realisation of her true, free self.
Rather than a stone and a drenched coat, Albinger brings onstage a wooden table and a chair. She rocks, climbs over and almost juggles these items in a rude but charming choreography of form and physicality. The specific architecture which she creates here is however largely incidental, animating Albinger's angst-ridden story rather than expressing it through shape or movement.
Personally neither a great fan of, nor believer in, authenticity within a space so contrived as theatre, I found Heroin(e) most alluring when its dramaturgy reflected a poetic sensibility whose origins did not lie in the exigencies of the narrative. At several points, Albinger's table became a body, but not simply that of her lover or indeed that of Albinger herself. Rather it at times generated a sense of both presence and absence, of longing and resentment, which folded into each other as Albinger compulsively scratched the table's inclined surface, attending to a sensual itch s/he could not and did not want to shake, or when the performer lay horizontally across its length stroking its planes, hoping to transform it into her ideal.
Albinger's narrative clarity made for a more approachable work than Cameron's, Heroin(e)'s affective transparency contrasting with Cameron's more ambitious attempt to "substantiate" a wet "viscosity of being" and poetic "ambiguity." While Albinger uses the theatre as a site to restage and salve personal dramas, Cameron "swallows" whole the "house" of theatre and manifests its structure and poetic placelessness within her speech. The pairing of these artists was as revealing as it was satisfying.
The text and selected images from Margaret Cameron's The Proscenium are published in Masthead, no. 10 (March 2006), www.masthead.net.au/issue10/cameron.html
The Proscenium, writer, performer Margaret Cameron, sound David Franzke; Heroin(e), writer/performer Dawn Albinger, direction, scenography Margaret Cameron, music & songs Julie Robson, Grant MacMillan, Randall Mathews; lighting for both works by Andrew Beck; Perth Institute of Contemporary Art, Sept 25–Oct 5
RealTime issue #88 Dec-Jan 2008 pg. 33
© Jonathan Marshall; for permission to reproduce apply to realtime@realtimearts.net