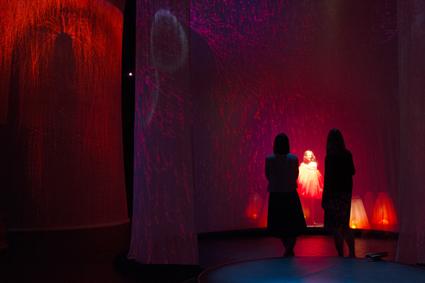 photo Tai Inoue
Rebecca Youdell with audience, Bonemap, Nerve Engine
Queensland is a river of contradiction. In the lead-up to a federal election that brought Brisbane three tiers of simultaneous conservative government for the first time, the Brisbane Festival launched a new hub for independent theatre, the QUT Theatre Republic, programed by La Boite Artistic Director David Berthold. While there was some muttering about the gender diversity of the mainstage program, the Republic was diverse and full-blooded. Elsewhere in the festival, The Danger Ensemble tackled The Wizard of Oz, Genevieve Trace presented a new work, Aurelian, and Canadians Evan Webber & Frank Cox-O'Connell performed Ajax and The Little Iliad.
Bonemap
My festival journey started early with Cairns-based new media dance collective Bonemap. Nerve Engine and Terrestrial Nerve were sister-shows performed in the same rectangular studio space dominated by a long wall with arresting projections of pulsating and osmotic images. To the left were a deconstructed tree house, a DNA-shaped canopy and a nest of tutus; to the right a circle of fans set on the floor before a wall of mirrors.
For Nerve Engine, an iPhone was strapped to my wrist to trigger sound and visuals through the movement of my hand. The experience was more a demonstration of technology than an immersive performance, which was a surprise, as a Bonemap show is usually a sumptuous visual feast. Terrestrial Nerve was more familiar: an eco-poetic chamber piece riffing off evolution, moving from the cellular to full-blooded creatures, teasing the audience with the performers' marsupial-staccato movements and decomposing costumes. My favourite image: a length of fragile white silk, a materialisation of the nerve imagery in the projections, was blown up by the floor fans into a choreography that echoed the two female performers' mimetic animal bodies. However, the brevity of the 30-minute piece in contrast to the scale of the space was a tip that the work had not been finished, or fully resolved. Two of the installations in the space were barely used and the transitions felt arbitrary rather than fully interrogated.
Fleur Kilpatrick
Another piece with gorgeous screen work but with under-utilised performance was Adelaide Fringe favourite, Insomnia Cat Came to Stay by Fleur Kilpatrick, a one-woman show where the performer, Joanne Sutton, is trapped by her bedsheets and spends her hour with us in a stream-of-consciousness recounting of her sleeplessness. The effect was dreamlike and a little dissatisfying, akin to watching video-clips all night when you know you should go to sleep.
Genevieve Trace
A similar trance-like quality was evoked by local performance-maker Genevieve Trace's new work, Aurelian (presented by Metro Arts and Brisbane Festival), a bass-thrumming solo show built around the mesmerisingly repetitive performer Erica Field, who is trying to come to terms with her grief. "I must work these things in order," she says. We watch a screen that skates across a regional small town landscape, over burning cane-fields. We listen to her recount stories of grief that come from that place. We learn, eventually, that our female narrator is hiding from us and from her diminishing memories of her dead sister. Like Insomnia Cat, there is much to enjoy in the surrender to the compelling screen-led world, shaped by soundscape and a metaphoric and uncompromising design of entrapment. But there is also something fundamentally not yet discovered, additional layers and potentialities sitting beneath the surface.
Danger Ensemble
Ditto for The Danger Ensemble's collaboration with playwright Maxine Mellor for La Boite and the Festival, The Wizard of Oz. This was the most anticipated local work and one that ought to have brought the house down with the talent of the cast, creatives and crew, but instead felt like a dry run for the real show, a sketch of something extraordinary. The compelling design seemed to lock the performers into their corners and wouldn't let them go as they gallantly battled the cultural juggernaught of Oz and Judy Garland and Wicked with their own inimitable brand of pop culture impresario spectacle.
MKA
But the joy of the festival is always in getting a look at key interstate shows and this year we got both the Melbourne and Sydney indie darlings of new writing: MKA Theatre of New Writing and Arthur. MKA's The Unspoken Word is 'Joe' by Zoey Dawson is a meta-theatrical satire of the 'staged reading,' a sort of inner-city hipster Pirandello tale, as our hapless but malevolent heroine, the playwright, tries to bully, blackmail, seduce and cajole her way through a disastrous reading of her new work, climaxing with her destruction of her own no-budget set and being cradled by the vacuous mid-career director she had dragooned into hosting her ill-fated masterwork. Sort of Lally Katz with a plot, the piece self-consciously linked itself to Tony Kushner's Angels in America in a way I still don't quite understand, but have very much enjoyed trying to work out.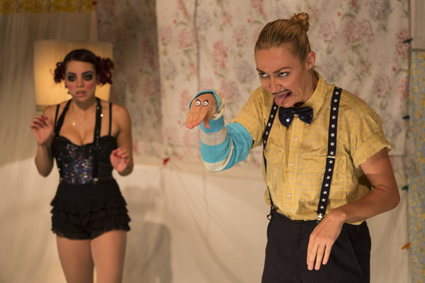 photo John Feely
Catherine Davies, Julia Billington, Cut Snake, Arthur
Arthur
However, it was the show by Arthur (Amelia Evans, Dan Giovannoni, Paige Rattray), Cut Snake, that seduced me utterly. Cut Snake is a magic realist story of three childhood friends, one of whom dies, setting the other two on unexpected life trajectories. I have so often experienced the pull in Australian performance between body and word and between plot and experience. What I thought was splendid about Cut Snake was the way they had clearly engaged in a writing process but committed to a form that was driven by physicality. This was made possible by the calibre of the performers, who could move effortlessly between the dense and lively dialogue, narration and the physical tricks and spectacle. It was also a tribute to the direction by Paige Rattray. She used pace and a classic youth theatre compressed staging to keep the show's relentlessly charming steam engine chugging to the sentimental but highly pleasurable climax. The audience completely bought into the Back to the Future time travel plot twist and happy ending that changed the fate of the two remaining friends.
New writing: directions
Much of the new writing I've seen, like that of MKA and Arthur, celebrates language and is making language-driven performance but eschewing naturalism for a plethora of dynamic forms and physicalties, gobbling up genre fiction and speculative writing tropes and blending them with classic theatrical mise en scène. Most importantly, there is a sense with the best of these shows that they aren't half finished or half-baked, the theatrical worlds have been thoroughly investigated and the writing is taut, surprising and full of bite and adventure.
As I waded through Theatre Republic's river of contradictions to the final show, the beautifully downbeat, personal, balanced and ever-so-Canadian interpolation of the classic Sophocles text Ajax and the proto-Homeric fragment known as the Little Iliad (7th century BCE), I was struck once again by the portents of the future and how much political theatre might get made in the coming years. "Arts for all Queenslanders," said the State Government advertisement in the Brisbane Festival brochure—except maybe for our bikies who probably won't even mind not being able to congregate in the public spaces of next year's Theatre Republic.
Brisbane Festival: QUT Theatre Republic, QUT Creative Industries Precinct, 7-28 Sept; Aurelian, Metro Arts, 7-15 Sept, Ajax and Little Iliad, Metro Arts, Sept 24-28
RealTime issue #118 Dec-Jan 2013 pg. 35
© Kathryn Kelly; for permission to reproduce apply to realtime@realtimearts.net