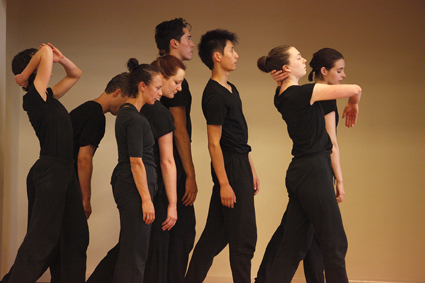 photo Rachel Roberts
dance for the time being – Southern Exposure (2013), an earlier iteration of Love is Blind, Dance Exchange
There is an hypnotically silky texture in the movement of Russell Dumas' dancers. It is not the tautly muscular control we link to any contemporary dance of a certain calibre. It doesn't really look like control at all, but as though everything falls into place naturally, and the dancers' volition is incidental, as light as a breeze.
In his new work, Love is Blind, this exquisite smoothness is in evidence again, and remains the most captivating aspect of the work. That said, such uncanny qualities are only made possible by Dumas' commitment to dance as enquiry in its own right, a form that can stand alone "without marriage to other forms," as he puts it.
Love is Blind seeks to examine how hearing and vision interrelate—in the experience of the audience but also in that of the dancers, for whom movement is obviously in the equation. A Schubert song cycle is an aptly emotive choice for this, and the work's two parts are presented in separate spaces at Dancehouse: first the open floor of the theatre, which is cast in deep shadow by the black curtains of the proscenium stage behind; then the upstairs studio, with distinctive lighting.
To begin, seven dancers run onto the bare and darkened floor, form a brief, spinning circle until the form breaks, then softly spread out in the room. The cycle of songs begins and we watch the dancers find ways into structures: radial patterns reminiscent of snowflakes or merry-go-rounds in centrifugal play. With interlocking arms their counterbalance allows for descent to the floor, and ascent with the structure intact. At one point, a small 'circle' of three rotates, enclosed by a circle that moves in counter-direction. There's a formality here (acknowledged in moments of muted humour with quaint nods and bows) that might appear prim if delivered in a different way. But an almost tender quality in these moving bodies—a transparent sensitivity as they fold into and out of each other—awakens a different view. Display of external precision is clearly not the goal here. Instead, in how these bodies rely on each other there is an intrinsic order of sorts revealed: self-regulation that still gives space for individual feeling.
A succession of duos and trios unfolds through the rest of part one, with seamless lifts and gliding descents, structures that segue into other structures with ease. These take place simultaneously and obliquely on the floor, then culminate in a solo performed in double. An image of this still lingers in my mind: one male dancer alone on the floor; his doppelganger on stage behind him, obliquely, framed to one side by the black curtain, beneath a weak and distant glow of light. While their movements are identical, they slide subtly in and out of sync.
Dumas tells me after the performance that he didn't ask his dancers to mark time by music, but assigned them bodily tasks to foil the influence of rhythm—in the case of this double solo, a breath-based score to induce an embodied sense of time. This flexing apart of sensory response is an obvious challenge for the dancers and meanwhile, for the audience, Schubert's song offers up its melodic persuasion. "Music affects emotion, and breath, and hence the way we see," says Dumas. So we have, side by side, separate systems of sensory stimulation.
The result is both dreamlike and strangely reassuring. Things hold together, but not in an exactly familiar way. And the not-quite-in-kilter details yield to a strangely smooth ride.
After interval we move to the studio space upstairs for part two, Dumas appearing briefly to announce this is a sketch, not a resolution. It is a playful displacement of expectation, a kind of macro-synchronisation of the show. The lighting design is no longer the oneiric penumbra of downstairs, but a sort of lantern effect: an almost stark jumble of shapes and shadows against the wall. Part two then unfolds with similar material to part one, but with the contrast of silence, and I ask myself if this really does sway my perception.
In truth, I'm not sure. On that night I was not yet privy to the particulars of Dumas' experiment, and the unique magic of those moving bodies was quite a sensory spell, never mind the explanation. But there's no doubt his curiosity has profound outcomes and shows what can be done by fine-tuning a lens on the simplest ingredients of performance. Through careful attention to the nature of our senses—rather than just feeding or bombarding them—a realm of exquisite sensitivity is laid bare in this work. And this feels reassuring, somehow, like a lost memory being quietly recovered.
–
Love is Blind, choreographer Russell Dumas, dancers Jonathan Sinatra, David Huggins, Molly McMenamin, Eric Fon, Nicole Jenvey, Beth Lane, Esperanza Quindara, associate artist Linda Sastradipradja, Dancehouse, Melbourne, 28-30 March
RealTime issue #121 June-July 2014 pg. 31
© Jessica Sabatini; for permission to reproduce apply to realtime@realtimearts.net