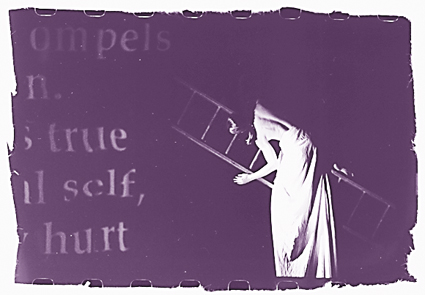 photo Andrzej
Jennifer Newman Preston, Young Woman Glass Soul
Two long-legged bodies lie, hips curving under dappled light, rolling gently together; a face appears, up high to the side, like a phantom, disembodied and peculiar. It takes a while before I realise that this man, Joseph Stanaway, is producing most of the overpowering, long resonant drone and harmonics we hear. It goes on and on, the dancers' soft movements rippling underneath like snakes at the mercy of an almost impenetrable sound.
Young Woman Glass Soul is a work of contrasts: piercing, immediate imagery alongside movement material that seems stuck resolutely in some other mindset, loaded and unrecognised. Even so, the dancers, Georgia Carter and Jennifer Newman-Preston, move well together with meticulous grace and an unforced unity of stature and timing. But because there is such polish and completeness in the production you get the sense that there is nowhere else for this work to go, as it is. It's a full piece, seemingly crammed into a finite stage belying the complexity of the subject matter and giving it hardly any space to breathe.
A multitude of Cinderella stories, from ancient Brazilian to comic Disney, have been researched and pored-over for this production. Newman-Preston wants to unearth the richness of pagan symbolism where ashes stand for cleanliness and purification; whereas the cinders of Charles Perrault's story in the time of Louis XIV are dirty and polluting, and only fit to be touched by those of low birth. The search for the mysterious woman who fits the glass slipper turns out to be the Ash Girl's search for herself, her own innate wisdom.
The symbol of the serpent in the story is not so well known to us, but provides rich imagery for the dance work. With perfect grace and timing, Newman-Preston herself suddenly appears in a remarkable and insinuatingly beautiful dance, long-legged, in black high heels, bare back arching, her arms dancing lithe and intricate steps as she sidles on all fours up to a comic and cowering Cinders, rubbing her feet ecstatically in ashes.
Another striking image: a woman-serpent half climbs and half falls, a step at a time, down a diagonally pitched and precarious ladder, her looping heavy limbs dropping suddenly like the coils of a snake from a tree, and, like a snake, supporting itself by a fierce, unseen muscular grip wedged in the angled branches.
The most beautiful of all images depicts the fairy godmother, with her small white mask/face and beckoning arm, shrouded in a dark blue cape of sleep, tall and hovering over the sleeping Cinderella. A simple puppet brings an unearthly magical reality to the character.
Outside in the foyer, there are drawings by Vinn Pitcher on the wall—seen as slides in the work itself—and texts of some of the different Cinderella stories giving a stability and depth to the performance. There may be more, possibly 350, all versions of the same story: a woman's search for strength and inner wisdom. The illustrations seem comic sometimes, trying to incorporate both the spiritual richness of the pagan cultures and our own mass market mentality and material desires. A well-edited collection of these stories and drawings would be perfect for audiences to take home.
Young Woman Glass Soul, choreography Jennifer Newman-Preston, music Alexander Nettelbeck, performers Georgia Carter & Jennifer Newman-Preston, vocal harmonics Joseph Stanaway, word Victoria Doidge, lighting Tim Preston, images Vinn Pitcher, projections Tim Gruchy, videographer Jo Griffin, Bangarra Dance Theatre, Sydney, July 1 – 10
RealTime issue #32 Aug-Sept 1999 pg. 37
© Eleanor Brickhill; for permission to reproduce apply to realtime@realtimearts.net