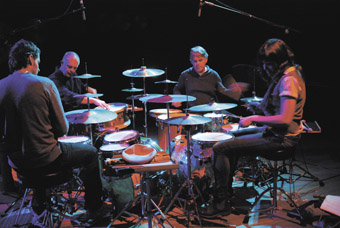 photo Timothy Constable
Synergy with Fritz Hauser
IN HIS REVIEW OF THE OPENING SYNERGY CONCERT THIS YEAR AT CARRIAGEWORKS (RT85, P48), REALTIME EDITOR KEITH GALLASCH CONCLUDED, "THE NEW SYNERGY LOOKS SET TO ENJOY A GREAT FUTURE." BUT WHAT IS THIS 'NEW' SYNERGY? THE 35-YEAR-OLD PERCUSSION GROUP STILL HAS ONE OF ITS FOUNDERS MICHAEL ASKILL AT THE ARTISTIC HELM, AND IT'S ALWAYS HAD A VARIABLE MEMBERSHIP. AFTER ALL, THE PERCUSSION ENSEMBLE ONLY HAS A HISTORY OF 50 YEARS MAXIMUM—IT'S NOT A FIXTURE LIKE THE STRING QUARTET. AND AS ASKILL POINTS OUT, SYNERGY HAS ALWAYS "DONE DIFFERENT STUFF—PLAYING WITH THE SYDNEY DANCE COMPANY, TRYING JAZZ, AND DEVELOPING MIDDLE EASTERN AND AFRICAN COLLABORATIONS." WHEN I BEGAN ASKING SYNERGY'S CORE MEMBERS WHAT THEY UNDERSTAND BY 'NEW', THE RANGE OF ANSWERS WAS INTRIGUING.
For the group's chair, Meredith Brooks, it is very much related to the synergy with the group's partners in drumming, TaikOZ, headed by ex-Synergy man, Ian Cleworth, and run under the same board and management. "New music groups these days can't just take the intellectual path", she told me, "they need to round out the experience by engaging an audience…talking to them, and capturing the visual aspects of a performance through lighting and choreography. TaikOZ has broken through doing that, and Synergy has learnt from them".
Incidentally, Ms Brooks is herself a key part of Synergy's newness. What was once a group run by the musicians themselves developed a board separate from the players 18 months ago: a necessary thing to do as the Australia Council's best-funded key organisation. Brooks insists though that "it's still their company; we just facilitate with our skills in offering a financial assessment of what they want to do."
Newness for artistic director Michael Askill relates primarily to overcoming what he admits was "a fatigue factor" in recent years. "Two key players withdrew, Alison (Pratt) had a baby and Ian (Cleworth) went to TaikOZ. We had to make room for TaikOZ to establish their ensemble, their school and their audience. That's now done. And halfway through last year we aimed to establish a regular presence for Synergy in Sydney, a roster of new works—ours or commissioned ones—and to re-establish the fact that we were well-positioned to play important world repertoire—like the Xenakis and Reich works in our first concert this year. I think we proved ourselves there."
Significantly, that concert program was a project of Timothy Constable's—Synergy's Assistant AD, a position created by the new board. As Askill freely agrees, "Timothy can tackle huge solos I wouldn't dream of undertaking." Constable, meanwhile, admits that this program "was a nightmare practically! Very difficult music with doubts as to whether we could fit enough rehearsals in as well as making our debut at an American festival [Tucson Winter Chamber Music Festival, Arizona, May]. There's just so much problem solving before the first note is played with our music—each new project is really new."
But new projects like that are what Constable clearly identifies as 'the new Synergy'—along with "pushing boundaries in the way percussion instruments are played, and exploring new instruments like ancient Tibetan singing bowls and gongs." There has also been the arrival of Bree van Reyk at Synergy, from what Constable describes as "a scholarly background." [Her MySpace entry however declares: "she was, for many years, in The Rebel Astronauts. Now she plays with Holly Throsby & Darren Hanlon, plays along with the Australian Opera & Ballet Orchestra, does concerts with Ensemble Offspring, and is a sometimes member of Rand & Holland, Charge Group, Coda and The Initials. Eds]
The point I made earlier about the recent invention of the percussion ensemble is reflected in the fact that many of the world's great groups who pioneered the artform are rapidly approaching the end of their natural lives—Kroumata, Amsterdam and Nexus to name but three. So, how has Synergy survived? And is its future survival equally deserved?
Michael Askill's answer is that Synergy was less about one or more dominant personalities—and one thinks immediately of other artistic groups like the Sydney Dance Company and the Australian Brandenburg Orchestra with inspiring founder/leaders—"and more about moving forward with new membership. There have always been great young players who wanted to be part of Synergy; I'd have surely drifted off too without their vitality. In return, I can pass on a few things I've learnt so that we can all share some sort of future vision."
Timothy Constable is equally positive: "Synergy is defined by Michael, but I've been working with him long enough (since 2001) to absorb the spirit of the way he works. Of course there's been creative friction between the generations. But Michael's…very egalitarian and open to the ideas of others. I think that creates a rich tapestry that justifies our survival."
Of course, there's also the little matter of 'succession planning', which both Askill and Constable mention quite comfortably. "Timothy would obviously take over if I left", says the former. "But succession planning isn't an option these days for groups reliant on government funding. Like not going into the red (which Synergy hasn't in the last 10 years) it's demanded in return for the grant."
Money is the board's primary responsibility—paying for the reasonable ambitions of the artists. But what's challenging it in an age of governments paying an ever smaller proportion of the bills, is that a group that clearly appeals to a powerful demographic of "emerging professional people" has not yet proved attractive to sponsors. One would have thought they were a whole lot more appealing than 'classic' companies with audiences in their 60s who've already bought everything they need in life.
Meredith Brooks admits that the 34 years or so of Synergy's existence run by the performers may have been lost time in this regard. "Musos just aren't into cold-calling potential sponsors", she believes. "But they would appreciate the freedoms that more money would give them. To a certain extent we can choose to take profit from TaikOZ to promote Synergy. But we've had to turn down so many invitations to tour the [Meryl Tankard-TaikOZ] dance piece Kaidan for lack of a sponsor. We should have toured Synergy on in America after the Arizona festival this year—but it would have been impossible to move six marimbas without a transport sponsor; and we need a new home that can handle storage of all those instruments, allow 200 students to experience percussion and not drive the neighbours mad with the 130 decibels that TaikOZ generates! An island?" How about Cockatoo?
Or would that damage the fascinating point of difference that Timothy Constable identifies at Synergy? "European and US audiences—even our percussion colleagues like Fritz Hauser who played with us in June—go nuts over our sound and approach. It's not any technical slickness; it's the spirit of not being limited by the idea that percussion is simply a rhythmic entity. We're into space."
See review of Synergy's Space and Time concert featuring Fritz Hauser
RealTime issue #86 Aug-Sept 2008 pg. 39
© Jeremy Eccles; for permission to reproduce apply to realtime@realtimearts.net