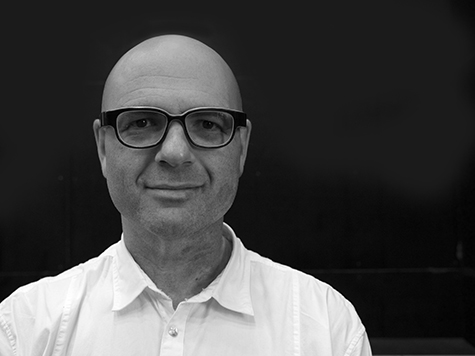 photo courtesy Merrigong Theatre Company
Yaron Lifschitz
When I speak with Yaron Lifschitz, Artistic Director of the internationally acclaimed Brisbane-based 'new circus' company Circa, he's just received a $25,000 Australia Council Theatre Award, has a show about to open that night at the Gold Coast's Bleach Festival and is to premiere in a fortnight a new work created in collaboration with Wollongong's Merrigong Theatre Company. He's loving all of it.
Circa has enjoyed musical collaborations, for example with UK vocal ensemble I Fagiolini (How Like an Angel, 2012), France's Debussy String Quartet playing Shostakovich (Opus, 2013), a violinist (What Will have Been, 2015) and with singers and instrumentalists (Il Ritorno/The Return, a version of Monteverdi's opera, 2015-2016). Landscape with Monsters, however, takes Circa in a new direction—in a number of respects, as Lifschitz reveals.
A collaboration with a theatre company; is this something different?
Very different for us. "All new material," as they say on those Chinese toys.
How did it come about?
It came out of [Merrigong Theatre Company Artistic Director and CEO] Simon Hinton's brain. I think Simon is one of the great unsung visionaries of Australian theatre. He has this idea that a company from Wollongong can make a difference on a national and global stage and can commission new kinds of work and take risks. We'd involved him in planning a sort of national touring strategy and, partly out of that, we put on a festival of Circa a couple of years ago. That worked well and Simon started talking to us about the idea of creating a new show based in and inspired by Wollongong.
I said, "Look, we've never done anything like that before. We make shows here in isolation in Brisbane. But I'm really interested in the idea of landscape and of the post-industrial landscape and how it influences bodies, how we shape it and it shapes us. Can we start there?" And we've done a couple of development periods and now we're about to put on the show!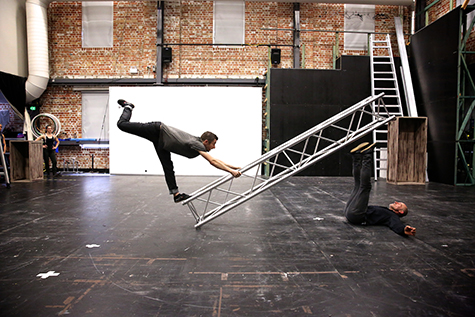 rehearsal image by David Kellie
Landscape with Monsters, CIRCA and Merrigong Theatre Company
Circa has travelled a lot. So I suppose you've become a bit of an urban geographer. Are you sensitive to the cities you visit?
I hope so. It's really fascinating to have the chance to go back to places many years apart and to notice the changes in their landscape but also in their psycho-topography, the sense of how people change with it. There are also the simple visceral experiences. Like [for the Merrigong project] we visited the Steelworks that used to have thousands of people working there, now it has 1,500. It's just huge empty halls with machines and one guy sitting behind a console. It's this extraordinary, 'absent' place. Obviously the jobs and the economy have disappeared along with it. But, of course, that doesn't naturally talk to anything we do. We basically chuck people in the air and stand on them. There's a limit. So we had to find a way to get those two things to talk to each other without getting too interpretive or metaphorical.
Or too literal. In fact, any of the above?
There are plenty of pitfalls in this business. We just don't do 'about' very well as a kind of default setting. And we have to. We have to find some way of infusing the work with 'about.'
You have a strong dramaturgical, musical and choreographical sensibility when working with bodies—their strength, flexibility, vulnerability—but what do you do when you have to convey a sense of a place?
It's very complicated. What it does is to bring out the worst in all of my multiple personalities. At some point the musical side or the choreographic side wins. And what I ended up making through the initial developments of Landscape with Monsters was a series of things that I didn't like very much. They all made sense but just didn't have the oomph that I think our work needs. In the end I wanted to boil it down to a simple dramatic question that I felt we could deal with. And the question was: What happens when the body meets the right angle of the built environment?
As a starting point that was something we could work with, physically as well as conceptually. So we started to work with simple structures—a series of boxes. And we ended up with no circus apparatus in the show. We work with boxes, ladders, planks and with balance. We've had to learn a new vocabulary. There are acrobatics in the work but [ideas like] 'let's put someone on a trapeze or someone doing hula hoops for five minutes to a pretty piece of music,' that's not this show. It's really built on a very different kind of architecture because we wanted to answer those questions with some sort of depth and authenticity.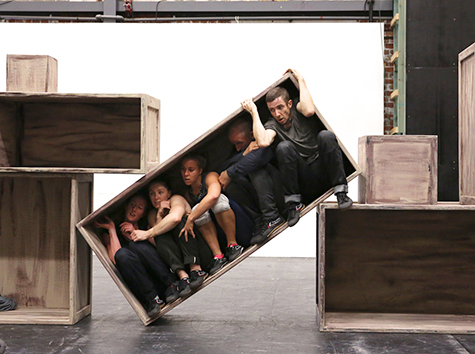 rehearsal image by David Kellie
Landscape with Monsters, CIRCA and Merrigong Theatre Company
So, what kind of edges are you working with?
Mainly boxes. We stack them and climb into them and jump off them. That transforms into very large trestle ladders and planks. It's all very simple, industrial. At times, they're used as projection surfaces. We're still working through the dramaturgy of that, trying to find a way to make it work. As always with projection, there are some pretty things but are they good and meaningful? I'm not sure. It's really reduced, a boiled-down set of languages about how bodies interact with right angles.
The angle versus the curve of the body—a great piece of aesthetic discipline for you.
Hopefully. It doesn't often happen!
What about the musical correlative?
We're working with [Sydney composer and sound designer] Daryl Wallis and he's been terrific. We're finding our way through. We started with the music that was put on the Voyager spacecraft, of which a little bit is actually retained but not a lot. There was a bizarre set of eclectic tracks sent out that will continue to journey through space probably long after we've blown ourselves up…or drowned ourselves. The idea of these tracks without a civilisation behind them [suggested] a sense of a kind of eerie afterglow to our civilisation. There is a kind of post-apocalyptic sense about the show.
That said, it's really easy for young artists, and performers in particular, to make 'depressing' kind of work. You know, 'heavy' for its own sake, and I've been working really hard to avoid that because that's not the experience of being in Wollongong and it's not the experience of the environment. It's actually that complex negotiation where there are beautiful natural features, rotting industrial carcasses and new developments and apartment blocks going up. So I'm trying to make a show that spans some of those perspectives and [deals with] how we live in our environment from living in small boxes to building big structures to hanging precariously off things that may not even be there in a few seconds. That's the range we've been working with.
You're dealing with complex issues but I notice the publicity material says "suitable for 10-years old and up."
Look, [as a circus company], we always have this issue with kids. It's fascinating. I just saw a New Zealand dance company at APAM [Australian Performing Arts Market]. It was pretty terrific, five women dancing. And I took my son who's a special-needs child who barely watches and who hates sitting in a theatre through my shows. But he sat pretty much transfixed through the whole 70 minutes of the show. He's 14 and has a complex set of conditions, and I can't predict [his response], but he loved it. So, I've long since given up trying to work out what audiences will like and what they won't. I just think if the work has integrity…And, look, the first imperative of anything in circus is Do Not Bore Your Audience. In theatre you can think, 'Look, I know I'm bored but I also know this is Eugene O'Neill and I need to see this play in my life.' That never happens in circus. People just go, this is a boring show. So we don't have the cultural imprimatur to carry through the kind of patches of tedium you might get with a classic play or opera or ballet. We have to keep an audience engaged. It doesn't mean simply 'entertained,' but we work from a low boredom threshold and a high sense of audience engagement.
But it is critical that your work is not just for an audience with pre-conceived notions. Circa is a company that changes the notion of what circus can be.
That's right. We've been working hard at this over the last two years. I think we became conscious of the fact that we had a choice: we could develop a house style or break with that. And we chose to break from it. That's why we're really keen to work in ways that are very different. So coming up tonight we have a show [Horizon with Angels by Circa offshoot Preposterous] that's outdoors for the Bleach Festival [accompanied by local choirs].
We've got in rehearsal a show that's going into La Boite's subscription season based on a fantasia in which three heroines—Nora, Hedda Gabler and Miss Julie— encounter each other in some kind of after-life meets circus.
Sounds fantastical.
Yes it's kind of joyous romp as well as quite a searching piece. We re-did all the dramaturgy the other day. It starts in a narrow physical theatre [format] with what you might expect—women being oppressed by men—and then it turns into a beautiful Steppenwolfian explosion of colour and circus-ness, hinged by those [same] issues and ideas. And that's very different from something like Landscape with Monsters, which is much more compressed in its tonality and more 'held' and considered, but has humour in it.
Lastly, why "Monsters"?
It came from a couple of places. Derrida's idea of the monstrous. We're all faced with change from the obvious things that are happening, from Wollongong to the environment to Donald Trump. There are plenty of monsters in the world. But for most of civilisation and most living things, we are the monsters. We're not just victims of the environment or just shapers of the environment, we're in a complex negotiation with it; that idea's really important. That's how I conceived the work. So one of the questions for me is: who are the monsters here? Then, of course, there is Goya and the sleep of reason producing monsters and the monster is the thing to which you haven't applied conscious thought, which seems to me to be not an unusual thing.
–
Watch Landscape with Monsters in development.
Circa & Merrigong Theatre Company, Landscape with Monsters, director Yaron Lifschitz, associate director Alice Lee Holland, sound designer Daryl Wallis, lighting, AV designer Toby Knyvett, costume designer Libby McDonnell; Illawarra Performing Arts Centre, Wollongong, 17-20 March
RealTime issue #131 Feb-March 2016, web
© Keith Gallasch; for permission to reproduce apply to realtime@realtimearts.net