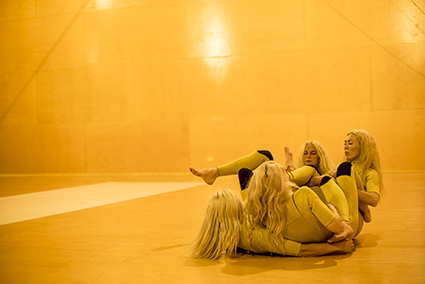 photo Pippa Samaya
Miss Universal, Chunky Move
There's barely a beginning—like a story that dives in mid-sentence, without capitalisation or punctuation. We gather in the large studio at Chunky Move headquarters. There's a wet bar at one end and the audience stand scattered around the space in small groups, chatting and sipping. To one side of the room sits Daniel Jenatsch with a laptop, an electric cello and a 200-year-old harp, creating a lilting, plink-plonk melody, like Renaissance elevator music.
Soon, heads are turning. We realise that the four dancers—Annabelle Balharry, Chloe Chignell, Angela Goh and choreographer Atlanta Eke, all with bleached blonde wigs and wearing mustard yellow wetsuits—are already among us, unannounced, weaving through the crowd.
They wrestle in silent pairs, sprawling between and occasionally through the audient clumps. Their holds are firm but without violence, more like balletic lifts, as if each dancer were simultaneously trying to raise the other. While this is happening, the retractable seating bank is lowered. We gaze up from the stage area, watching as the dancers, like a roiling mess of spitfires, tumble together down from the back row, knocking flat the folding seats.
And it all unfolds in a drenching—the entire studio—sodium yellow wash of light: the aureate world of an indwelling solar deity.
Reaching the bottom of the seats, the four continue chugging their way around the space. This wrestling practice has been developed over many months, and you can see time spent in the figural variety and neat way the bodies fold together. New shapes, curling patterns and spreading geometries appear and disappear, ebbing and flowing into embryonic yellow.
It's a landscape choreography. The body, in that inhuman light, disappears into an emergent prospect. The wetsuits discipline the dancers' movements, further adding to the effect of mutual resemblance. Individual identities blend; the human figure is abstracted. Limbs, torsos and expressionless faces settle into a shifting composition of surface features.
This is a recurring theme in Atlanta Eke's work: the human disappearing into a swelling material abstraction. It's a gesture we find in Volume (2013), for instance, performed at Melbourne Now, and in Fountain (2014), her first commission for Chunky Move and part of the It Cannot Be Stopped program. In both pieces she uses large glass vessels to distort body parts. Then there's Nuseum (2013), another gallery piece, in which Eke performs in a large silvery bag. And always there's her interest in elaborate and imaginative—and often very witty—costuming to contour the body and generate unusual lines and rhythms.
Yet it's not just the dancers. The audience, too, displaced, is drawn into the landscape. Or at least this appears to be the ambition. There's an inclusive sort of vibe about Miss Universal. Apart from Jenatsch's musical accompaniment, there are also exhibited sculptures by Claire Lambe, a brief rap session in the middle about love and metaphysics, and a scene involving an oxy welder and a shower of sparks. Different territories, worlds, spaces—gallery, studio, bar, theatre, workshop—brought together in a universal choreographic terrain.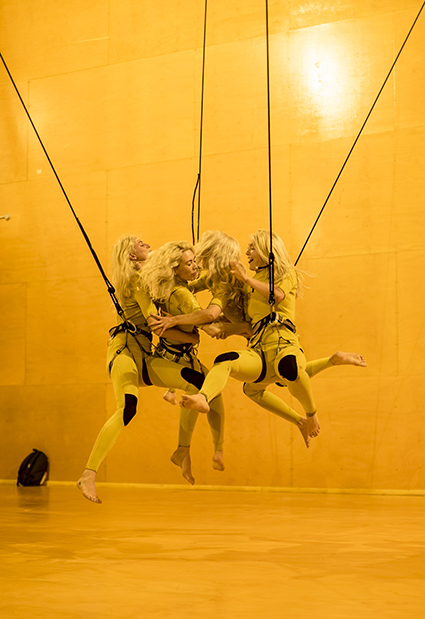 photo Pippa Samaya
Miss Universal, Chunky Move
Later, the dancers climb into harnesses and, supported by a carousel-like system of ropes, continue grappling in the air. Now they struggle not only with each other but with gravity and the tension of the ropes. It's perhaps the most immediately engaging moment of the performance, even if somewhat short. As the bodies hurtle toward each other, cling, slip and return separately to earth, we glimpse something near to the original pleasure of dance: the thrill of the leap.
In the last section, the women enter the space costumed as what look like Justin Bieber clones with glowing hula-hoops, envoys from a parallel art world in which Bieberism marks a point of cultural epiphany. Now the process, whatever we call it, is complete. The egg has hatched. Lighting designer Matthew Adey swaps yellow saturation for eerie blues and lots of gloom. In the show's final moment, as if to emphasise the achievement, the dancers hoist a spherical lunar lamp—like a full stop. Then blackout.
There is a tendency with work of this scale—so difficult to summarise—to simply nod and smile in dazed acquiescence. But there are lulls, too, unwieldy transitions and passages that seem less original than others. Is this necessarily a problem? Is the work so open that it can even accommodate deficiency? Even make it interesting?
Chunky Move's Next Move commissions for young choreographers have been very successful in the recent past. Both Stephanie Lake's AORTA (2013) and Byron Perry and Antony Hamilton's I Like This (2008) have toured internationally and Hamilton's Keep Everything (2012) has also had a successful second life. Hopefully, Miss Universal will have a future beyond 2015, but I'm not so sure.
It feels like a one-off event, a chance assemblage of ideas, images, influences and collaborators, held together for a brief run, barely, miraculously, then falling away, a relationship already figured by the ropes and harnesses. In any case, it is a wondrous artefact: particular in its moment, but universal in its ambiguity.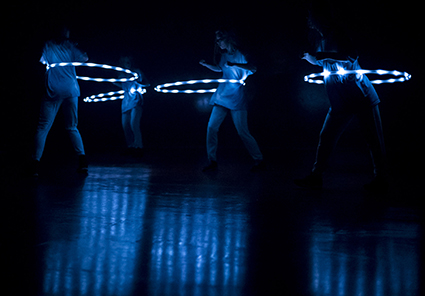 photo Pippa Samaya
Miss Universal, Chunky Move
–
Chunky Move Next Move commission: Miss Universal, Concept, Direction & Choreography: Atlanta Eke, performers Annabelle Balharry, Chloe Chignell, Atlanta Eke, Angela Goh, sculptor Claire Lambe, lighting Matthew Adey–House of Vnholy, Atlanta Eke, composer, musician Daniel Jenatsch, electronic design and microcontroller firmware Morgan McWaters, costumes Atlanta Eke, Chunky Move Studios, Melbourne 3-12 Dec 2015