IN CHARLES STROSS' SCI-FI NOVEL THE SINGULARITY SKY, CULTURAL COLONISERS INVADE A PLANET WITH CORNUCOPIA MACHINES WHICH CHURN OUT EVERY KIND OF OBJECT AND TECHNOLOGICAL DEVICE ON THE INHABITANTS' WISH LIST IN RETURN FOR THEIR IDEAS, HISTORIES AND BELIEFS. THE ALIENS, WHO ARE NEVER SEEN, LEAVE THE PLANET AND ITS CULTURE IN A RIGHT MESS, RUINING THE ALREADY DODGY DISTRIBUTION OF POWER. THE AUSTRALIAN NETWORK FOR ART AND TECHNOLOGY (ANAT) IS A VERY DIFFERENT KIND OF CORNUCOPIA MACHINE, A BENIGN ONE HELPING US MAKE THE MOST, ETHICALLY AND AESTHETICALLY, OF THE NEW TECHNOLOGICAL TOOLS WE ARE FLOODED WITH BY OUR OWN ALIENS, THE TECHNO-CORPORATIONS.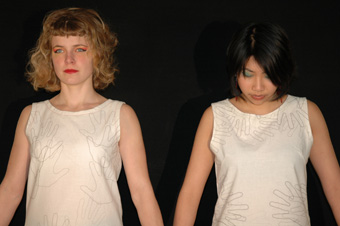 courtesy of the artist
Finger Dress, Joanna Berzowska
When I comment on the apparent fecundity of ANAT's 2007 program, director Melinda Rackham informs me that, of course, Anat is the ancient Egyptian goddess of fertility and crops, and of war. Even so, the program is not quite the horn of plenty Rackham envisaged given limits on funding, consequently "there was some cutting back. So we're really looking for partners and sponsors outside grant funding in order to employ additional staff to make what we're doing sustainable."
in the loop
One of Rackham's passions is keeping media artists informed, in touch, in the loop. A highly developed mailing list is vital and she'll look to the model she employed when she instigated the empyre list with its moderated discussions and papers in 2002 (www.subtle.net/empyre). ANAT will also revitalise the lapsed Synapse Database, "an online resource promoting the nexus of art and science", by bringing writers and curators as well as artists and scientists into its fold (www.synapse.net.au). Because media arts have difficulty connecting with the wider community, says Rackham, it's vital to attract a diverse audience, "like the scientific community or Cosmos readers [www.cosmosmagazine.com], people who enjoy reading about science. We have to make media arts more visible." As well, ANAT's new website, Artport, will play a major role in identifying and promoting artist and organisation members, integrating a diverse field and, as well, reaching out to artists in other fields and a wider audience, "working like a rhizome."
everyday potentials
A sizeable part of ANAT's current focus is on the technological innovations pertaining to everyday life. While attending festivals in recent years Rackham noticed developments in techno-wearables. She was alert to how "textile manufacturing and computing shared the same root—think the Jacquard loom and the difference machine. Why not take a different tack and reunite them. It's aesthetic, it's fun, technologically advanced and pushing at the edges." Some wearables are eminently useful, many of them playful and some surreal: Rackham cites the "really practical handbag you can scream into in public places and let the cry out later." But she also mentions Aphrodite shoes; designed initially for the safety of prostitutes, they are fitted with GPS receiver, alarm and back-to-base signal. (www.theaphroditeproject.tv/saftey). Meanwhile major fashion companies, especially in Italy, are alreading marketing 'techno-couture': "Zegna's parka with pores that open and close, Valetino's waterproof cashmeres and Alexander McQueen's papier-mache leather" ("Made in Milan", Australian Financial Review, Jan 25-28).
The upshot of Rackham's interest is Reskin, a two-week intensive workshop for Australian media, visual arts and craft practitioners led by prominent overseas makers in the field and related practices: Joanna Berzowska (a Montreal expert in responsive textiles and clothing), Susan Cohn (a Melbourne goldsmith and designer), Stephen Barrass (Canberra-based interaction designer and artist), Elise Co (Los Angeles-based multimedia designer and programmer), Alistair Riddell (Canberra-based interaction design artist and researcher) and Cinammon Lee (Canberra-based metalsmith). Berzowska's many imaginative and often amusing creations include "memory rich clothing" pictured on this page in the form of a "finger dress": it's "an intimacy map of the body, recording and displaying where a person has been touched" (www.berzowska.com).
Rackham is impressed with the high calibre of the Australian artists involved in the workshop (including Keith Armstrong, Somaya Langley, Catherine Truman, Michael Yuen, Robin Petterd) and notes that ANAT, a media arts organisation adopted as a client of the Visual Arts Board in the wake of the recent Australia Council restructure, is leading the way for the board's traditional clientele in engaging with technological innovation and in an international context. In RealTime 78 Dan Mackinlay will report on the Reskin exhibition and forum.
pixel.play & portable walls
ANAT staff member Sasha Grbich, was one of the EPIC (Emerging Producers in Community) team (RT73, p9), focussing on mobile phone art in regional areas in South Australia with ANAT in the pixel.play program. The next stage of pixel.play is Portable Walls which, says Rackham, "is an outgrowth of the EPIC program and has really grown on its own". Portable Walls will exhibit on phones and accessible, small DVD player screens the work of young makers and, depending on sponsorship, could tour to over 20 suburban and regional centres around Australia. Rackham says that if she'd seen this kind of art in a gallery when she was growing up in Tamworth: "I would have become an artist much earlier. Exposure of work that we take for granted in the cities is vital in the regions." Pixel.play will show as part of the 2007 Come Out Youth Festival in Adelaide, May 7-19, featuring work on mobiles from 24 schools in the Mercury Cinema foyer (www.comeout.on.net).
opensourcing
The Annual ANAT Media Lab is titled Still Open, comprising two-day workshops in Perth, Melbourne Brisbane in conjunction with the Biennial of Electronic Art (BEAP07) and SymbioticA, Perth, Open Channel in Melbourne and Creative Commons at QUT, Brisbane. The focus is on opensource, the collective authoring of software, specifically the Linux operating system as a model of democratic and low cost cooperation. The workshops aim "to provide hands on experience; and to initiate local networks and projects." The emphasis will be on the application of opensource practice and theory to "networked art and software development, print and online publishing, and in the scientific arena where the open science movement encourages a collaborative environment in which science can be pursued by anyone who is inspired to discover something new about the natural world."
The Lab facilitators are publisher and media artist Alessandro Ludovico (Italy) producer of the online and print publication neural (www.neural.it); free software hacker and new media activist Andy Nicholson (Australia); and interdisciplinary artist and researcher Beatriz da Costa (USA), a former collaborator with the Critical Art Ensemble who works in open science.
The title Still Open was designed to match BEAP07's stillness theme, but is also an apt reminder, says Rackham, that opensource is still a key media factor and "that there's more to life than Microsoft and iPods." Asked about the relatively brief duration of the workshops, Rackham points out that the cost of the lab is considerable and that after their two-day workshop experience, participants will stay in the loop, online with interstate workshoppers. She comments that in a climate where too many things are done on the cheap, ANAT's big investment has been in Reskin and that she has effectively put one and half years of ANAT workshop funding resources into the event to ensure that it is of a scale to make it truly worthwhile, to influence artists and to push the work out into the community, "to really build on what we have started."
new niches
ANAT is continuing its vital Professional Development Travel Grant program: the organisation's membership magazine, Filter, documents artists' reports on their travels. The grants take many artists overseas to research and develop their art and provide the potential for exhibition and collaboration. The Synapse Art and Science Residency Program is particularly targeted at developing "dynamic creative and collaborative partnerships between scientists and artists, science institutions and arts organisations." The program is managed by ANAT as part of the Australia Council InterArts Office's Synapse Art and Science Initiative. With two local residencies already completed in the second program, an international residency will occur at Rothamstead Research, Hertfordshire, UK assisted by Arts Catalyst, the UK equivalent to Synapse. Lynnette Walworth will take up this residency early in 2007 for eight weeks. Synapse Art and Science Residency Program 3 will extend the program into the Asia Pacific region. For Arts Victoria ANAT is now managing the AIR (Arts Innovation Residency) Art and Science Residency Program with three residencies to enable Victorian scientists and artists to develop collaborative research and projects during 2007. ANAT is also a member of Arts Active, a currently office-less international gathering making the most of the residencies boom, says Rackham, not just in universities but in commercial laboratories.
through the portal
ArtPort, ANAT's radically refurbished website will be launched in 2007, shrinking distances nationally and internationally to connect Australian artists with each other and the world, making them, says Rackham, more visible and approachable. Artport will detail the careers and achievements of member artists and organisations; it will stream works; house the Synapse Database site; provide a media arts portal; and archive ANAT's history as it approaches its 21st birthday.
soundings
Also in the pipeline for 2007 is Synthesia, a DVD with sound, images and critical writing by some of Australia's leading experimental sound artists. Rackham is committed to ANAT "exploring sound culture in as many ways as possible."
the ANAT role
I ask Rackham about ANAT's role. It's not quite like the politically active National Association of Visual Arts (NAVA): perhaps that will be the role of the Australian Media Arts Organisation (AMAO) if it gets past the incipient stage. Rackham says that ANAT's role is to educate the public, make media arts more accessible and push for more funding by showing that the media arts are indispensable. To this end, as well as ANAT running a strong program, Rackham sits on a wide range of committees.
I ask about the mood of Australia's new media artists. "Pretty depressed", replies Rackham, as indicated by the lack of funding applications to the Australia Council and a general lack of exposure. However, she feels that "confidence is returning and that the Australia Council is really trying to reach out to artists." She herself, as an award-winning net artist, finds the failure of Australian institutions to support the form exasperating; overseas it is thriving. Similarly she feels that while work on locative media is strong it should be taken up extensively in the community arts area because of its accessibility and artistic potential. The commitment to developing locative media art is, she says, much stronger in the US. Overall, Melinda Rackham feels that emerging practices, like work in techno-wearables, need to be rewarded so they can develop to their full potential and give hope to the young artists engaging with them.
Great new images of prototypes produced in the reSkin lab are now available for download: http://www.flickr.com/photos/reskin/sets/72157594520118616/
RealTime issue #77 Feb-March 2007 pg. 25
© Keith Gallasch; for permission to reproduce apply to realtime@realtimearts.net