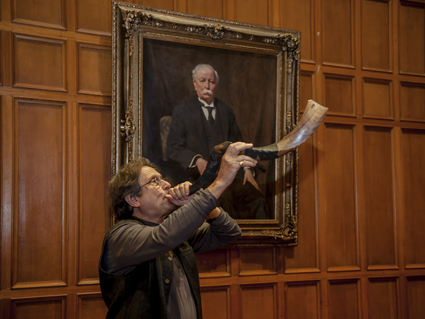 photo Marjorie Rose Butler
Alvin Curran
Alvin Curran's music flits about like an overactive, laterally-thinking mind, jumping from one idea to another, taking the listener on a journey of dramatic musical contrasts. Born in the USA in 1937, and composer-in-residence with Soundstream Collective and the Elder Conservatorium, University of Adelaide, in August, Curran's work spans half a century of musical evolution.
His Oh Man Oh Mankind Oh Yeah (2009) for choir and ensemble combines conventional and graphic notation with improvisation. Curran appears concerned with the sound of speech—vocalisation as music—and the nature of human communication. The score commences by instructing the singers to emit "deep low grunts," then to "press tongue lightly on roof of mouth, exhale in long breaths producing airy whistling sound while moving mouth lips pursed!," and then to bombilate (make buzzing sounds) ad lib and so on. The choir then splits into subgroups as if in conversation and the text includes monosyllabic words from John Cage's 1989 Norton Lectures. In an uplifting climax, Curran plays the Hebrew shofar, or ram's horn, a traditional instrument used in Jewish rites, its earthy, primal voice acting like a call to prayer.
In a separate concert, Curran performed his Fake Book (undated) for piano and midi keyboard, beginning by prodding at an upright piano, autobiographically recalling childhood lessons, before sitting at a grand piano and the midi. Fake Book is a humorous but insightful melange of fragments of his own and others' music and sampled sounds, collected over decades and performed apparently at random, a virtuosic improvisation built from excerpts rather than phrases. The work unfolds as a series of piano episodes jarringly punctuated by recorded voices and sampled and synthesised sounds, evoking a mental picture of the modern sound world—alternately organised and chaotic. Strikingly musical and compelling, Fake Book is a sharply observed account of contemporary music and the composer's own evolution within it, and it's a lesson to composers on the musical legacy of the generation of Curran's youth.
Preceding his Fake Book performance, a chamber ensemble ably led by pianist Marianna Grynchuk gave us Curran's Rose of Beans II (1997), which opens with a mechanical toy emitting a childish ditty, following which a powerful piano drone develops, overlayed with gestural motifs and melodic lines from the other instruments. The work seems a programmatic summation of compositional development, investigating musical ideas and languages. The title, which sounds like 'rows of beans,' plays with the relationship between the sound of words and their meaning. The ensemble performs well but they must play from his score — the difference when Curran performs Fake Book is startling, for he plays intuitively, effortlessly characterising his musical memory.
In a third concert, Gabriella Smart gave a five-hour performance of selections from Curran's Inner Cities (1991–present), a monumental and still-growing solo piano cycle, in the grand, neo-gothic Bonython Hall as part of Soundstream's music and architecture project Great Music in Great Spaces. I attended only a preview of Inner Cities at Smart's studio but found it to be an extraordinary exploration of compositional form and style, which, in extended performance, should amply demonstrate music's mystical potential. Listening for five hours would be a mesmerising experience. Curran's invitation to such inner contemplation recalls John Cage's keyboard cycle In a Landscape and, in his accompanying stream-of-consciousness program note that identifies significant moments throughout his life, he acknowledges Cage's ideas. In rendering his own lifetime as composition, Alvin Curran shows how composition is inevitably an extension and exploration of personal experience.
Alvin Curran, Oh Man Oh Mankind Oh Yeah, conductor Jesse Budel, Bonython Hall, University of Adelaide, 23 Aug; Alvin Curran and Soundstream Collective, Madeley Performance Space, University of Adelaide, 23 Aug; Alvin Curran, Inner Cities, piano Gabriella Smart, Bonython Hall, 24 Aug
RealTime issue #117 Oct-Nov 2013 pg. web
© Chris Reid; for permission to reproduce apply to realtime@realtimearts.net