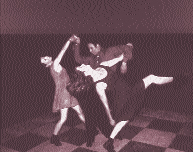 One Extra Company, Suite Slip'd
Annette Shun Wah, Chair of the Board of the One Extra Company, believes the secret of longevity is adaptability. As she stepped into the spotlight at the very showbiz launch of the company's new season at The Seymour Centre, she announced that the Board had taken a long hard look at the way the company serves the dance community and meets audience expectations and consequently adapted the position of Artistic Director to Executive Producer. This decision follows a trend in senior appointments in performing arts companies (see Eleanor Brickhill's article in RealTime 17). This Board's brief to their EP is "to guide the artistic vision of the company in a program which offers possibilities to a range of independent artists—choreographers and dancers as well as designers, musicians and visual artists, brings in new audiences and presents attractive opportunities for new funding partners". A very full dance card indeed even for the energetic and confident EP, Janet Robertson.
The institutional architecture of the York Theatre was transformed into an unusually moody and intimate setting for the launch in which the audience of dancers, arts bureaucrats and well-wishers shuffled conversationally to light lounge music. Janet Robertson spoke from the seats accompanied by backing vocals and video clips. She quoted from Culture, Difference and the Arts—"Innovation is a dialogue between tradition and possibility"—before elaborating on her plans to build on the twenty-one year history of the One Extra Company founded by Kai Tai Chan with a season of works by some of our brightest choreographic sparks.
Reflecting her own background, Robertson sees the featured work as being highly theatrical and speaks passionately of One Extra's firm commitment to dance that questions and reflects Australian culture. The season begins in June–July at The Performance Space with Sue Healey choreographing a new version of her work Suite Slip'd which premiered in Canberra when she was artistic director of Vis A Vis. One Extra's invitation offers her a rare opportunity to re-think and extend a work. In October–November the company presents Two, a double bill of two new works from Lucy Guerin and Garry Stewart to be performed in the York Theatre at the Seymour Centre.
In Suite Slip'd, Sue Healey begins with the movement patterns and demeanours of 17th century French courtly dance—"But don't expect a period piece", says Janet. The dance suites are the impetus for more contemporary explorations. Rather than using a conventional theatrical framework, Sue Healey is creating a work in which performance structure and character spring from the movement itself. The dancers, Philip Adams, Michelle Heaven, Nicole Johnson, Luke Smiles and Sue Healey move from tightly interwoven ensembles into spacious solos and duets. Music by Darren Verhagen is as slippery as the movement, veering from Handel to noise. Costumes and design are by recent NIDA graduates Michelle Fallon and Damien Cooper. One Extra has plans for a tour of Suite Slip'd to regional New South Wales in 1998. Sue Healey will also take the work to Auckland and in February to the Dance Space Project in New York.
One Extra's main program is supplemented by an Affiliate Artists program which invites artists to use the resources of the company as a place to explore work with other artists and as a venue to show new work in development. The impressive list of affiliates includes choreographers Kate Champion, Rosetta Cook, Bernadette Walong and Garry Stewart, lighting designer Damien Cooper, dancers Lisa Ffrench and Felice Burns and stage designer Eamon D'Arcy. As well as strengthening links with the Centre for Performance Studies at Sydney University and the University of Western Sydney's Dance Department, the company will institute a series of schools-based workshops. Importantly, One Extra is also in the final stages of securing a home base as company-in-residence at The Seymour Centre.
Formalities over, Annette Shun Wah and Janet Robertson sashayed onto the dancefloor to begin their dialogue of possibilities. They had no shortage of partners in an air of genuine excitement and celebration. Janet Robertson has come up with a program that is ambitious for artists, integrating new collaborations and connections with institutions, with clear goals for developing audiences and with a theatricality that builds on the tradition of Kai Tai Chan's One Extra.
–
RealTime issue #19 June-July 1997 pg. 28
© Virginia Baxter; for permission to reproduce apply to realtime@realtimearts.net