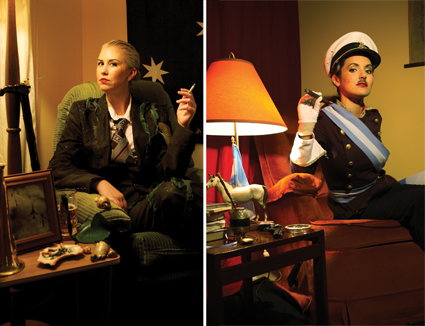 courtesy the artists
Tarryn Gill & Pilar Mata Dupont, Harold Holt 1968, Juan Carlos Ongania 1968
IF EVER THERE WERE A RACE TO BE PERTH'S ART DARLINGS, TARRYN GILL AND PILAR MATA DUPONT WOULD WIN. THEY TROT OUT A SUMPTUOUS AESTHETIC LIKE PROUD SHOW PONIES LADEN WITH RIBBONS. IT IS CLEAR TO SEE, HOWEVER, THAT IN THEIR COMPETITIVE SPIRIT, THEY ARE NOT BENIGN, OR AT LEAST THIS IS WHAT THE IMAGE ADVERTISING THEIR LATEST EXHIBITION, STADIUM, AT PICA (PERTH INSTITUTE OF CONTEMPORARY ART) SUGGESTS.
This image [see our cover] humorously reminds us that while the art game might be about prancing and parading, foul play is certainly not out of the question. The two artists link arms as a formidable duo on the racetrack, with the carnage of their fallen competitors splayed behind them. Their faces sport elated grins and their hair groomed to perfection contrasts with blood-splattered fists, tops and knees, that tell us a different story. This type of play of meaning underlies many of the duo's works, though not always so literally; it is often articulated tongue-in-cheek. The seductive glamour, burlesque, kitsch-Australiana and Hollywood styling is adopted with a wry stare derived from a deeper critique of issues anchored in nationalism, militarism and patriotism.
Stadium marks Gill and Mata Dupont's first survey exhibition, spanning a decade's practice which has seen their meteoric rise to prominence through a bold and savvy aesthetic across a range of media encompassing performance, video, installation, design and photography. It is entirely appropriate that the PICA gallery be transformed into a sports arena for this show, replete with bleachers, a custom vinyl logo pasted on the ground and a mini-stage with weights and a boom box. The contextualisation of their practice expresses a degree of self-consciousness of their own torch-wielding power in the art world arena. It is articulated here in several series that demonstrate Gill and Mata Dupont's fitness across the field in an intersection of ideas about art, sport and war, drawing from influences grounded in propaganda, autobiography, art history and most significantly, cinema—ranging from John Huston's film of the musical Annie to Matthew Barney's Cremaster 3.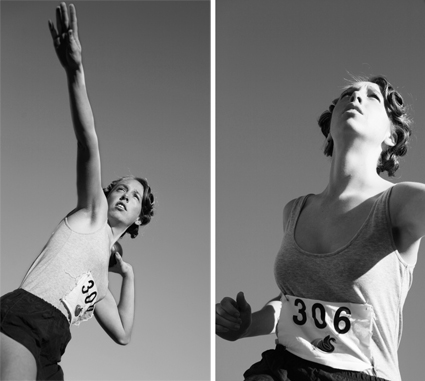 Tarryn Gill & Pilar Mata Dupont
left – With Terrific Power Behind It The Shotput Hurtles High Above The Arena; right – In Their Dash to Victory The Runners Circle The Main Stadium
On entry one encounters the raw structure of the rear of the stand of bleachers, opposite which are three photographs from the Stadium Series (2009) referencing the life and pioneering aesthetic of German filmmaker Leni Reifenstahl. Each black and white image features the same model in states of focused determination, aiming for victory. She's captured in statuesque poses defined against the high-intensity glow of the sun, her face expressing the sheer exertion involved in fighting for the nation in the games arena. The nation is not Germany, but Australia, as attested by the swan logo decorating the model's top. This kind of investigation into the sporting figure as iconic nationalistic hero subject to a fascistic routine recurs in another work on display, the video piece Gymnasium (2010), winner of the 2010 Basil Sellers art prize.
Gymnasium screens alongside other video works viewed from the bleachers. In a gymnasium, athletes are filmed mechanically and repetitively working through robotic routines. The ideals and values of the military are here aligned with sport, as the proud and grinning Aussie athletes imply.
In parallel gallery spaces a series of works are taken from Heart of Gold, an epic-scale project that propelled the duo, on their glittery trail, to a theatre production finale (see RT94). In Gallery 1, the Heart of Gold Project 5 blooms with a sumptuous intensity in the All Australian Lifesaver Series (2008), based on the Cronulla riots of 2005-2006. Here, Varga style girl models feature in sparkling red and gold skullcaps and shiny gold onesies, belted with red sashes. The images show no attempt to conceal their fiction; their celebration of artifice is excessive, from the cherry-red lips to the painted sunset backdrops. As such they reside in a realm of simulacra to poke fun at the high status of the lifesaver as an archetypal Australian hero. Of course, these ladies are more Hollywood Baywatch than Aussie surfer gritty and their gestures belie action in the static nature of their poses. But like the very image of the lifesaver in the Australian psyche, they are presented as women of action, women who have it all, sporting bodies and glamour-girl looks, "A Gladiator Class, Envied by all the Men, Adored by all the Women," as one of the titles sardonically suggests.
Hero mythology is further explored with specific attention to the war hero. In the Heart of Gold Project 3 (2006-07) WWI and WWII propaganda posters are referenced in staged photographs (RT94, p42). Pictured are such scenes as women in the place of men on the front line, part of the 'Boys Brigade', their tarnished faces ever-enthused and glowing in blessed, blinkered, nationalistic pride. Drawing from their own autobiographies for The Presidential Portraits series (2008), Mata Dupont is made-up in the guise of Juan Carlos Onganía, defacto President of Argentina, while Gill becomes Harold Holt, each in their politically turbulent year of 1968. Troubled history also courses through Lament for the Argentine Military (2010), made for the 2010 Sydney Biennale. This work, part installation, photography and video, addresses Argentina's history from the military perspective. It adopts such symbols as a teary Virgin of Luján, patron saint of Argentina, in a large-scale portrait and in the song and dance video a silvery green Ford Falcon, reportedly used in the middle of the night to forcibly take civilians from their homes. This work, like others in the exhibition, is crafted with keen attention to detail and framing made accessible through its adoption of the codes of high-fashion.
A Gill and Mata Dupont show would seem almost incomplete without the added seduction of a live event. On opening night and several dates in the exhibition season, the collided spectacle of art, sport and war was made performative. On the mini-stage, flexing muscles and pumping iron, was a body builder à la Charles Atlas and, to detract from the abjectly mesmerising quality of his bronzed pecs, was the piece de resistance, the premiere of a new performance, Ever Higher. In this work an aerialist triumphantly tackled a rope, rose and fell in a gracious tangle analogous to the precarious risks of sudden drops at the heart of a career in the arts as much as sport or the military. The aerialist climbed to reach a megaphone and, hanging upside-down, barked a chant at a troupe of cheerleaders dancing below who enthusiastically belted out spiked lyrics such as "Take your safety off your gun, let's go have some combat fun."
Gill and Mata Dupont demonstrate just how easily a golden propaganda machine can mask sinister realities. They dance through the games of the art world distracting and seducing onlookers with their rich and glittery aesthetic. Using the languages of fashion and dance, they have deployed archetypal sports star, war hero and glamour girl avatars in the last decade. For the next project can we anticipate Gill and Mata Dupont using the conceptual strength of their sense of irony and parody as a launch pad for a deeper critique? It is evident that their work contains the promise of something else, something more challenging, more disturbing, a little weirder.
Tarryn Gill & Pilar Mata Dupont, Stadium, curator Leigh Robb, STADIUM, PICA, Perth, Sept 3-Oct 30; Performances: Oct 15, 2pm; Oct 28, 4pm, as part of the Commonwealth Festival for CHOGM.
RealTime issue #105 Oct-Nov 2011 pg. 43
© Laetitia Wilson; for permission to reproduce apply to realtime@realtimearts.net