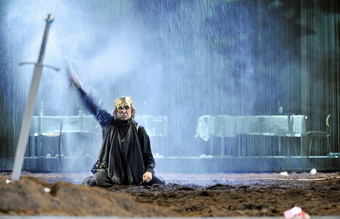 photo Arno Declair
Lars Eidinger, Hamlet, Schaubühne
THE 2010 SYDNEY FESTIVAL IS ANOTHER OF ITS COSMOPOLITAN CELEBRATIONS OF LARGELY CONTEMPORARY ART PRACTICES INCLUDING PROVOCATIVE UPDATES ON THE CLASSICS—OEDIPUS (TWO OF THESE), HAMLET, CANDIDE (ANOTHER TWO) AND SIX CHARACTERS IN SEARCH OF AN AUTHOR. THERE'S SOME STRONG INTERNATIONAL PROGRAMMING AND WHILE THE FESTIVAL DOESN'T HAVE A GOOD RECORD OF CONSISTENTLY PRESENTING AUSTRALIAN, LET ALONE SYDNEY ARTISTS, THE 2010 PROGRAM IS SOMETHING OF AN IMPROVEMENT.
Australian participation includes choreographer Shaun Parker's Happy as Larry; Urban Theatre Project's The Fence (see page 16); contemporary classical music group Ensemble Offspring's collaboration with Pimmon, in Fractured Again; media artist Lynette Wallworth in exhibition at CarriageWorks; the Malthouse production, Optimism; Campbelltown Arts Centre and Gallery 4A's Asia-Pacific art show, Edge of Elsewhere; Circa 1979, Signal to Noise—a concert, exhibition and free forum to celebrate Australian independent music 1979-85; a concert from Warren Ellis' Dirty Three and Ed Kuepper's Laughing Clowns; Australian artists Yvonne Kenny, Paula Arundell and Bangarra's Elma Kris performing in the Peter Sellars' production of Stravinsky's Oedipus Rex and Symphony of Psalms; and an Australian cast and musicians in a concert version of Leonard Bernstein's Candide for the festival's Opera in the Domain concert.
Lindy Hume's first Sydney Festival selection defies thematic cohesion, but it does have rare contributions from our region—two shows each from India and New Zealand; a strong music theatre stream; adventurous overseas theatre; a fresh look at a gaggle of classics; four substantial dance works; two strong media arts shows; and a continued commitment to innovative overseas independent bands and solo singer-songwriters alongside reflection on Australian music of the 80s. It's a good start.
music theatre
Hume is an opera director so it's not surprising there's a music theatre strand in the festival including Ruhe, from Belgium; a Peter Sellars' Stravinsky double bill from the US; a local concert version of Bernstein's Candide; Dublin's Pan Pan Theatre's thrash metal Oedipus Loves You; and The Pirates of the Caribbean-inspired Rogues' Gallery, songs selected by Johnny Depp and Gore Verbinksi and performed by actors (including Tim Robbins) and singers (Marianne Faithful, David Johansen, Norma Waterson and Sarah Blasko among others to be announced).
In Musiektheater Transparant's Ruhe (Silence), the audience sit in a room of mismatched chairs in the Great Hall of the University of Sydney with performers from Collegium Vocale Gent for a performance of Schubert lieder interrupted by verbatim 1960s confessions (performed here in English) from World War II Dutch citizens who collaborated with the Nazis. With its strong reputation, a fine choir and unusual form and content, Ruhe could be a festival hit.
Choral work is also central to Peter Sellars' calculated yoking together of Igor Stravinsky's choral Symphony of Psalms and the opera Oedipus Rex (1927, surtitled performance text in Latin by Cocteau after Sophocles, narration usually in English). The opera is sparely staged employing African costume and limited decor in the form of seven thrones by Elias Sime, an Ethiopian artist. The choral aspect links the two works otherwise separated by the gulf between hope and despair. What the African cultural transposition will bring to Oedipus Rex remains to be seen, but the austere staging appears true to Stravinsky's spirit in this, one of his first neo-classical works. The production features Sydney Symphony, Sydney Philharmonia Choirs, American soloists Rodrick Dixon and Ryan McKinny, with Yvonne Kenny and Paula Arundell. If Sellars brings to the works the kind of focus and restraint he has given, say, to a Handel oratorio, then Symphony of Psalms & Oedipus Rex could be a truly memorable musical event.
It's not exactly music theatre, but Ensemble Offspring's Fractured Again will combine live acoustic music with electronica, video and sculpture to create a performative installation. Typical of the Sydney group's sense of exploration, this new work by the ensemble's director Damien Rickertson is built around a rare glass harmonica—the rims of glasses or a series of bowls conjoined after a design by Benjamin Franklin are rubbed with wet finger tips to produce an eery sweet ringing. The instrument is joined by electronica from Sydney musican Pimmon, plus violin, clarinet and percussion. Video by Andrew Wholley will be projected onto Elaine Miles' glass installation, which itself becomes a gong in what should be an engaging multimedia experience. We might also gain insights into the repertoire created for an unusual instrument that went out of favour in the 19th century after being associated with madness, in Gaetani's Lucia di Lammermoor 'mad scene' (a starting point for the Fractured Again performance) and Mesmer's experiments in hypnosis. It's good to see that there will be three performances; Australian new music is so often limited to one.
Another concert with a theatrical edge, The Manganiyar Seduction, is apparently already booked out. Forty three Rajasthani musicians are housed in a huge wall of small compartments which open one at a time, the music accumulating simulataneously in "a repertoire ranging from ballads of kings and Sufi songs to songs to mark life's important occasions such as birth, marriage, rains and feasts."
dance
Ireland's Fabulous Beast relocates the ballet classic Giselle to a small Irish town where "a lonely Giselle McCreedy cares for her abusive brother. But everyone is quick to exchange gloom for glamour when the new line-dancing teacher arrives in town." It's directed and choreographed by Michael Keegan-Dolan and performed with speech, song and video. (It's intriguing that Keegan-Dolan has chosen line-dancing for a key motif while simultaneously Garry Stewart in his version of Giselle for ADT (G), uses a very different line that rarely stops coursing left to right across the stage. When will Sydney see G? France has.)
From New Zealand Lemi Ponifasio, with his company MAU, comes Tempest: Without a Body, "an apocalyptic response to the sinister escalation of post-9/11 state powers." Drawing on Shakespeare's Tempest and fusing traditional and modern dance, the work incorporates Maori activist Tame and is linked to a public forum, the 5th Pacific Thought Symposium, presented by MAU between the company's two performances on January 10. Tempest: Without a Body is at times intense dance theatre, at others an engrossing, highly synchronised formal gesturing and spatial patterning.
Vancouver-based choreographer Crystal Pite's Dark Matters, performed by Pite's company Kidd-Pivot Frankfurt RM, uses dance, a puppet and shadow play to speculate on the mystery of dark matter and the analogous unseen forces that shape human behaviour. Vancouver-based Pite is Associate Dance Artist at Canadian National Arts Centre and Associate Choreographer of Nederlands Dans Theater. The choreography is familiarly modern but with a gripping off-centredness (Pite has danced for William Forsythe) and liquid ensemble work, but it's the dancer engagement with puppet and shadow that looks particularly intriguing.
Happy as Larry is the premiere of a new work from choreographer Shaun Parker whose This Show is About People (2008; see RT 82) was widely applauded. Here nine dancers explore "the elusiveness and possibility of human happiness" to an electro-acoustic score by Nick Wales and Synergy's Bree van Reyk. It's interesting to read that the work is inspired by and loosely based on the Enneagram (literally "nine figures") symbol, central to an allegedly ancient psychological theory of nine interrelated but discrete personality types, a model subsequently refined by GI Guerdjieff through movement as a means to improved self-knowledge. Brief excerpts of the work shown on DVD at a Dance Massive forum in Melbourne earlier this year suggested the possibility of a fascinating departure from Parker's earlier works.
theatre
From Berlin's Schaubühne comes director Thomas Ostermeier's account of Shakespeare's Hamlet to a translation into German by playwright Maurius van Mayenburg (Eldorado and Soft Targets, both for Malthouse) for six actors playing 20 characters, a lot of dirt, rain, modern suits and a Hamlet who dresses for the part. Rather than an evolution into possible madness, the production publicity promises that "Hamlet's emotional decay and growing paranoia are immediately clear in Lars Eidinger's portrayal." It'll be interesting to see how such absolutes play out against the text's complexities in what will doubtless be a compelling production.
In Optimism, director Michael Kantor and writer Tom Wright (his adaptations for STC include Lost Echo, The Women of Troy, Genesis) transpose Voltaire's Candide from Enlightenment naivety to a modern Australian "she'll be right" idiom with Frank Woodley (who won a Glasgow Herald Angel award at the Edinburgh Festival for his performance) as Candide and Barry Otto as Pangloss, each attired as a classic clown. While reviews have admired Wright's fidelity to Voltaire's original and the quirky playing there's been not a little debate about the purpose of the re-telling. The pros and cons of the Enlightenment are fuel for endless debate, especially in these fundamentalist times. I'm keen to see Anna Tregloan's design, which includes a much admired aeroplane interior for the well-travelled protagonists.
British company Headlong will perform their much-praised new version (by Ben Power and the show's director Rupert Good) of Luigi Pirandello's 1921 classic Six Characters in Search of an Author. It's framed as the making of a film in which real lives and fictional ones tangle during editing, "becoming a sinister parable for a media-obsessed age" (www.headlongtheatre.co.uk). Incidentally, the company's latest show, Enron by Lucy Prebble, using "music, movement and video", is playing to sellout houses in London.
From New Zealand's Red Leap Theatre comes a faithfully meticulous account of Shaun Tan's graphic novel The Arrival, wordless (of course) and deploying music, movement, puppetry and shadow-play to convey a fantastical world, the realities of displacement and the search for a home.
music
As mentioned, Circa 1979, Signal to Noise comprises a concert, exhibition and free forum to celebrate Australian independent music 1979-85. The keynote address will be given on January 15 by John Cale, regarded as a significant influence on the music of the period, followed by a concert on the 16th. Ed Kuepper's Laughing Clowns and Warren Ellis' Dirty Three will be in concert on January 26. While Brisbane has had several celebrations of the period and its local heroes this is a welcome first for Sydney.
Al Green is the festival guest who will pull big crowds to his two concerts with his 13-piece band, but there are plenty of lesser known but significant artists on the program. New York-based Medeski Martin & Wood are inventive composers, breaking free from the all too familar jazz trio format with up-to-date textures and complex beats while remaining accessible. As on their 2009 album Veckatimst and in appearances on late night American TV, the band Grizzly Bear deliver reliably rich harmonies and unusual, soaring melodies. Both bands are giving concerts at City Recital Hall, Angel Place.
New York's most lateral experimentalists, The Books, offer two 75-minute shows in The Famous Spiegeltent. Paul de Jong plays guitar and sings, Nick Zammuto plays cello and the pair texture their compositions with found sounds and images from "a massive digital library", "creating their very own brand of folktronica."
Also of considerable interest is The Handsome Family—Brett (charming baritone, guitar) and Rennie Sparkes (accompanying vocals, bass, banjo). Their tuneful, droll songwriting is rooted in tradition, but with a strong contemporary feel. Of course, there's also the big ticket number, Rogues' Gallery, a night of pirate and sea-faring songs produced by Hal Wilner who created the sell-out Leonard Cohen tribute, Came So Far For Beauty. The festival's opening night, directed by Nigel Jamieson, will feature music across the city while The Black Arm Band, The Manganiyar Seduction musicians and Al Green will appear in Hyde Park.
See overview of Sydney Festival visual arts shows.
Sydney Festival 2010, Jan 9-30 www.sydneyfestival.org.au
RealTime issue #94 Dec-Jan 2009 pg. 18
© Keith Gallasch; for permission to reproduce apply to realtime@realtimearts.net