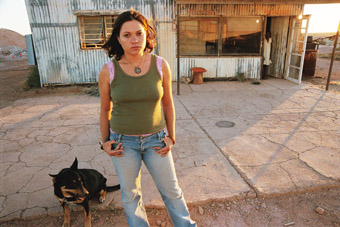 photo Mark Rogers
Ngaire Pigram, Plains Empty
Alice Springs-based Beck Cole, of the Warramungu and Luritja nations, is an Australian Film Television & Radio School (AFTRS) graduate and has worked extensively on Central Australian Aboriginal Media Association (CAAMA) productions. Her documentaries include The Lore of Love (2005), about 18-year old Jessie returning to her Pintubi homeland to learn the lore of love from her grandmothers, and Wirriya: small boy (2004), a moving portrait of a 7-year old boy, Rocco from a Central Desert community. Wirriya won best film at the 2004 Women on Women Film Festival in Sydney. Cole's short drama Flat (2002) was shown at the Sundance and Edinburgh Film Festivals in 2004. The suspenseful short drama, Plains Empty, screened at Sundance in 2005 and other international film festivals. Lisa Stefanoff interviewed Cole in Alice Springs about her career in documentary and drama filmmaking.
Why did you start making films?
I actually didn't think that I was going to be a filmmaker. I started training as a journalist. After a few years of studying journalism I discovered that the degree of stories that you can investigate were quite restricted in that they were often set in the present, in a current affairs sort of world which I didn't find hugely exciting, or hugely creative or visual. So I began to explore the documentary genre, primarily in the field of radio but later on film and video. And that of course became a huge interest of mine and began the journey that I then went on.
What about your training?
I actually began working in the media when I was 16. I got a cadetship at Imparja Television. I would go to high school during the day and I would finish there at 3 and I'd work at Imparja from 3.30 until 8.30 at night in the newsroom. [After] about 6 months I started writing and presenting stories and then I began working as a news presenter and weather reader, which was very fantastic for a 17 year old girl from Alice Springs. Lots of fun! Going to the hairdressers' every day after school—very glamorous!…I specifically enjoyed writing stories. I finished school and went to Charles Sturt University where I studied for 3 years—Batchelor of Arts in Communication and Sociology. [Then] I went and worked at ABC Television in the Indigenous Unit, and that's when I started making films.
I'd been doing that for a few years and applied to AFTRS to do documentary directing, which was a really tough year but fantastic, experimenting. It's like being in a big toyshop, you know? Shooting documentaries on film, and meeting new people and making some sort of wacky way-out films which you've got to get out of your system…And also, on and off, [I worked] with CAAMA.
Did you see anything at film-school, or were you taught by anybody, that had any major influence on you?
I think the best thing about going to film-school, for me, was exposure to films from all around the world and to filmmakers, Australian documentary filmmakers—Dennis O'Rourke, Tom Zubryzci, Pat Fiske. …Pat was a really large influence on me because—well I guess the men were as well—but she shoots and does sound and directs and was happy to go off on a motorbike and make a film about women with breast cancer, and that really excited me. With no money she sort of managed to do that and they're such beautiful films.
Tell me about the films you made while you were at film school.
I made one about a fighting, kick-boxing coach/priest, Anglican, called The Good Fight. And he was just a great character. He works with homeless kids…and troubled youth in Dulwich Hill in the western suburbs of Sydney. [It's] sort of a character study film. And the second one's completely different. I'd won a grant on the first film from Kodak for stock and processing and it was enough to make a 10-minute film on Super 16. We designed this whole concept for a documentary about a haunted house in Junee and the family that lives in this house and, you know, the 'ghosts', and the history of the house, and the place, which was really fun. I worked with a female DOP on that, which was really an interesting experience, and primarily a female crew too, which was good. [It] was really stylised and shot on film and really, sort of, controlled. But it's a fun film. I enjoyed making it. It has a huge score. We had like a 35 piece orchestra come in and do the score, and incredible titles, and you know, it was just completely indulgent, but I learnt so much on that film, The Creepy Crawlies. The Crawlies is the name of the family. The woman of the house was part-Aboriginal and would cover herself in white powder and keep herself and her kids out of the sun so they wouldn't, you know, tan up. [S]he was 'touched with…a speck of tar', or something really ridiculous. [Laughs]. That sort of sparked my interest in the story.
Two of your recent documentaries made at CAAMA—Wirriya and The Lore of Love—are very intimate films and they're about families. Not your own families. There's a striking balance in them between observational material and your main characters' narration of themselves in action on screen. How have you developed that style?
I didn't realise I had developed that style [laughs] until you just pointed it out… Well, look, I think it's important that the subjects in the film have a voice. Often in observational documentary it can be really easy to interpret it as a filmmaker, but if you involve the central characters in writing the narration, which I always do, and voicing the narration and of course therefore controlling what they say and how they represent themselves, to a degree, I think it just helps create an intimacy in the film and a connection between the central character and what an audience is seeing happen in their lives. It gives them a more interesting point of view, I think, and particularly for a half-hour film it really makes it more succinct, and helps you join the gaps.
The other thing that's striking to me about Wirriya and Lore of Love is that the narrators are young people, and they're telling stories about their place in a world where their elders are quite important to them.
I'm interested in what young people think about culture, and I'm interested in what young people think about family, and the challenges and pressures of living in a contemporary lifestyle with Aboriginal heritage, and Aboriginal customs that you have to deal with as well. They're the things that you don't hear people talking about and you don't get an opportunity to ask kids about very often and if people find those films interesting, that's probably the reason why, because it is a fresh voice.
In Wirriya you reveal young Ricco's boredom, his cheekiness and his care for [his aunt] Maudie, his adventurousness. In The Lore of Love, Jessie's older, so I guess there are more sophisticated emotions like jealously, and love and shame…[T]hey're almost themes in these films, these emotions. Was that your intention?
That's a very deep question Lisa…[I]f you depict a character really well an audience will emotionally connect with them. And if you are close enough to the subject, and spend enough time and they trust you and you trust them and you're working together, well then you are emotionally connected with them and they do say things and they do, you know, open up to you. That's what's so important to me about those films, that I had really fantastic relationships with both of those kids, Ricco and Jessie, and their families. We connected emotionally, and that's represented in the film.
You've also moved very deftly and fluently between documentary and drama. Has documentary been a training ground for [drama]?
Writing scripts for documentary is so difficult that it's like scripting drama. I do like to have realism, [drama that] could be interpreted as real life, like documentary. Like Flat, for instance. A professor of documentary has put it on the cover of his book thinking that it was a documentary, which is really peculiar. [Laughs].
Tell me a bit about Flat and why you told that story?
Flat's about a young girl living in a block of housing commission flats in Alice Springs, Central Australia, who gets a handycam and just films a day in her life. She lives just with her father, who's largely absent, and she's the primary carer of her little sister, and is also experiencing a budding love relationship. So it's a mixture between what she shoots with the camera and the static shots of the world in which all this unfolds.
When you talk about realism and making your films feel as real as possible, in a drama, what elements are going to conjure 'the real' the most?
For me it's the way people interact with one another. I find a lot of films way too dialogue driven. I sit at home and we barely talk to each other! We grunt, or things are said through gesture largely, and I like the communication of gesture. I think it's really a big thing in Aboriginal language. And things are left unsaid, but things happen.
You made Flat as part of a series of shorts funded by the AFC's Indigenous Branch initiative Dreaming in Motion and you went on to be supported by the AFC to make a half-hour drama film called Plains Empty.
Plains Empty has sort of been with me for a while, on many different levels. [A] large part of my 'youth' has been sitting around talking about ghost stories and country and travelling and being in remote places. I guess it's a film that has all of those elements, which are all things that I find really fascinating. It's a ghost story, and it's a fun way of representing history, and in this case a female history. Also I'm just playing around with the genre and challenging myself. I wanted to use special effects and CGI. I see these initiatives as a training ground for me to work with people in different departments and learn various skills.
It's set in Coober Pedy, the opal mining town in South Australia. It's about a young Aboriginal woman who moves out to a mining camp with her man. She's left alone for long periods of time and begins to see strange things. So it's a film about isolation and discovering ghosts and finding closure. [She meets an] old miner who lives nearby and the town isn't welcoming for women—it's a really sort of dangerous place, because there aren't many women out there.
How do you work with a cinematographer like Warwick Thornton to translate your vision onto screen.
…[Y]ou have faith that they'll interpret it the way that you want it to be interpreted, and will bring their own elements to it. Warwick and I have worked together on and off for years now and we spend our entire lives talking about films, looking at books, at films and, you know, we understand our styles. …We work really well together, and it just sort of gels. It's a great working relationship.
What's the role of the filmmaker today?
A filmmaker needs to always challenge an audience, to make them think about things and see things that they might not get to see, or might not have been exposed to or have thought about. …As a woman it's really important to give women a presence on screen, especially Aboriginal women…on screen, as characters, and behind the scenes as well. I guess to make an audience watch and interact and respond to your film you need to entertain them.
Do you feel that as a heavy responsibility, to make films that are speaking to Aboriginal people and filling the gaps of all those stories that have never been told?
I don't think I've ever seen it as a burden…For documentaries I'm initially making that film for the family I'm working with and it's really important to me that they like it and their families like it and it can be passed around on DVD and the whole community will watch it. And you know, that's going to happen anyway. Well, you hope that will happen anyway. But if you think about that sort of thing too much it becomes really daunting and…you'd crush yourself. You have to just be free and an audience will find the film, it will find its audience. That's sort of my philosophy! I think it's true, I think that happens.
What's next?
It's a feature film project, part of the AFC's Long Black initiative. We're up to second draft now. My film's called The Place Between and it's about a young Aboriginal woman in South Australia who is released from gaol and has to rebuild her life. So it's a character piece and it deals with the prison cycle, and family and sexual abuse, and friendship and love. It's ultimately a love story. [Laughs]. A love story set in Port Adelaide, which I'm very excited about, I have to say.
Why is Port Adelaide special to you?
Well, I spent a lot of time growing up in Adelaide and around Port Adelaide, It was always sort of 'the Aboriginal area' of the city and it's such a fantastic location. Really, you know, it's a port, and it's dying, and it's going nowhere, even though it's a port! It's just a great location, and Adelaide's a really fascinating place to make films I think.
Any more documentaries?
I'm working as a writer and director on a documentary series called First Australians [writer-directors Rachel Perkins, Beck Cole, writer Louis Nowra], It's 9 one-hour episodes exploring the history of Indigenous Australia. It's being made with SBS and others. It's basically a history of black Australia in a really well-researched, well-funded capacity. Yeah, it's going to be one of our largest documentary series.
–
RealTime issue #74 Aug-Sept 2006 pg. 19
© Lisa Stefanoff; for permission to reproduce apply to realtime@realtimearts.net