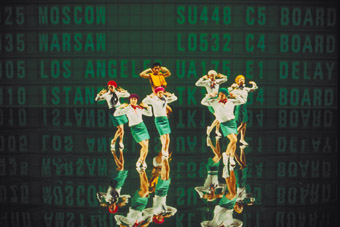 photo Kazuo Fukunaga
Dumb Type, Voyage
What was great about the fifties is that for one brief moment—maybe, say, six weeks—nobody understood art.
These are the words of the late, great American composer Morton Feldman quoted in a recent New Yorker. Our own era, with its proliferating arts hybrids, myriad new means for delivering art and audiences happily playing co-creators, is like the 50s, although the sense of mystery is running much longer than 6 weeks. New forms are hard to label, artform boundaries blur, artists' roles are fluid. Meanwhile conservatives backpedal into comfortable old categories. Melbourne is enjoying a wonderful mini-renaissance of arts innovation thanks to Malthouse, Arts House, Black Lung (p43), FULL TILT (the Victorian Arts Centres' contemporary performance program, see RT 75), and a host of companies like Back to Back, Stuck Pigs Squealing, Chunky Move, Lucy Guerin Company, Aphids and others, and numerous individual artists. The Melbourne International Arts Festival is very much a part of this exciting evolution.
Kristy Edmunds' second MIAF is a fantastic festival of possibilities across forms, across media, across cultures, across political thinking and very much achieved through new forms of collaboration. It features some of the greats of the last 30 years who are still incredibly influential. They include progenitors of 21st century art—Robert Wilson, Dumb Type, Bill T Jones, Peter Greenaway and Richard Foreman—along with more recent inspirers, Romeo Castelluci, Jérôme Bel, Marie Brassard and with a strong contingent of Australian innovators: Lucy Guerin, Aphids, Ros Warby, Max Lyandvert, Big hART and Richard Murphet. This is a festival that's open-ended, rich in possibilities.
What drives you in the creation of your festival?
I kept hearing people describe Australia culturally in terms of the 'tyranny of distance' and geographic isolation which made me think, yes all those things are true, but they're ideas that have no poetry in them and it limits what I was actually experiencing. When Georgia O'Keefe left New York at the height of her career to go to New Mexico so she could paint, she would sign off her letters, "From the faraway nearby, Georgia."
What is that faraway nearby that is here? Places that are supposed to be the most familiar to us, whether it's our home or our country, or even ourselves in a way, can become far away, or unfamiliar, very quickly because of various forces at work. I don't make a theme for the festival, as you know, but I do try and find cohesion. A lot of what the artists are dealing with in the festival is about place and home—how you long for the very thing you have in front of you; how you belong—in terms of national identity, cultural identity…So there's a lot of work in the festival either celebrating a sense of home and place through tender little personal histories, or a really deep questioning—what does it now mean to me to be part of this place, or finding a place in language.
In the 51st (dream) state, the black American artist Sekou Sundiata asks very rigorous questions about language, how it is essentially colonised either in the corporate sector or political speech. Certain words that we used to be able to use now have new meanings or are harder to use—like "radical" or "family." How does one reclaim that language, because if you don't you're silenced slowly. Sundiata's kind of giving a State of the American Soul Address, questioning empire. He's also questioning it from his own sense of self. What does it mean to me to be American? What does it mean to be an African-American poet/artist/musician? He's such a wise man.
We saw him perform blessing the boats at the National Review of Live Art in Glasgow this year, which is also in MIAF 2006. It's a fabulous performance—very present but also reminiscent in form of work from the early 70s. Ngapartji Ngapartji (RT70, p8), the Big hART show that you've developed over these 2 festivals, is a very different look at language in which the audience becomes seriously participatory. It's also focused on place with Trevor Jamieson's account of the effect of nuclear testing in the 50s on his South Australian homeland and his people's dispossession.

Imagine trying to fill out grant proposals for Ngapartji Ngapartji! So many people absolutely thought that it would be impossible for them to pull it together. And, of course, when that sort of thing happens, my instinct is that it's only not possible if we don't engage.
There are many collaborations across countries and cultures.
Artists are typically having to function across multiple countries. So what does home mean for an artist who's Australian but collaborating internationally? How did the Indonesians win Robert Wilson? He developed that work (I La Galigo) in different parts of Indonesia for many years. You can see there's a lot of engaged cross-national/cross-cultural collaboration just to pull these projects together. Bill T Jones' cast is very international. What is it that drives artists to seek across such huge divides? For me this is the hopeful side of globalisation.
How is that sense of place reflected in some of the works in the program?
Dumb Type's Voyage basically starts out with the question of where we are and where we may be going. They always have very strong connections to the natural environment versus the urban hyper built environment. It's at its clearest in the scene where there's an astronaut-like figure looking down at the Earth. Robert Wilson uses the ancient Sureq Galigo text of Indonesia's Bugis people. The work is sung and chanted in Bugis with English surtitles. These people hardly speak that language any more. So it would be akin to Homer's Iliad. But it's valuable for the culture: they use it for predicting weather and what they should eat. It's like a bible, it has a creation myth and the whole text is about how humans try to restore balance and order in the world.
Tragedia Endogonidia (RT 66, p37), Romeo Castellucci's epic voyage around Europe, is another response to place. There are 11 full-length theatre works built in the cities they're named after. Some of them could only happen once in a location, others are more mobile. It's a modern tragedy of what happened in each of those cities. He's not addressing World War 1 or 2 or any of that. They're the small things that end up in the back of the papers that can then evaporate, disappear and be done with. But they leave a mark on the place and the culture, especially the culture's ability to sweep it away instead of dealing with it. So Castellucci really grabs you by the throat and asks you to have a look at something that is horrifically tragic, unexplained and then disappeared. When you look at him aesthetically, it's almost like he's layering Renaissance painting and really rigorous symbolism and gesture into a theatrical world. It's a series of slow tableaux that are quite overwhelming. This is a project that is certainly not for the faint of heart.
How do you see the place of Australian artists in the festival? Richard Murphet is collaborating with Dutch artists from DasArts in a work that takes them to northern Australia to the first point of Dutch contact in 1606 (see Murphet in our education feature p2), and Aphids are collaborating with Swiss artists. What about dance artists Lucy Guerin and Ros Warby who are presenting major new works?
There's a double bill from Lucy Guerin and Japanese artist Kota Yamazaki, Chamisa 4°C/Setting, but we're also doing the premiere of Guerin's new work, Structure and Sadness. She's using the collapse of Melbourne's Westgate Bridge in 1970 and principles of tension and suspension, torque and collapse as a means of getting at the choreography. It's also a metaphor for those forces that are in our bodies, even if we're not dancers. Westgate Bridge had been so embedded with hopefulness and tremendous engineering but it collapsed due to human error. So she explores that and the tragedy of the people who died, but also the resilience of human beings that makes you dust yourself off and say, we have a job to do and you do it again and this time you succeed.
In a very different physical language, Ros Warby's Monumental also explores simultaneity, looking at the swan from ballet iconography and the regimentation of the soldier. In her work, she's constantly unlearning in order to get to a different vocabulary and presence. Metaphorically, she's addressing the impulse for humans to want to fly, and the gravity that keeps us grounded. And beyond that how tremendous beauty is happening alongside great trauma, How does the spirit both fly and stay grounded?
I've also put together a program with Sally Ford called Second Home with first or second generation immigrant Australians performing. What you have running through Second Home is a lament, often for the homeland but also a real celebration of it. It's really about engaging with the audience and saying these are Australian musicians. They are contributing a great richness to Australian contemporary music but at the same time they're not being looked at in world music programming inside Australia. Murundak, with The Black Arm Band, a 21-piece ensemble, is very different because first peoples' issues are radically distinct from immigrant or multicultural issues. Murundak has traditional songs from different parts of the land that are laments for it, and music for healing practices, but it's also stylised with jazz overtones with a variety of other contemporary musical forms.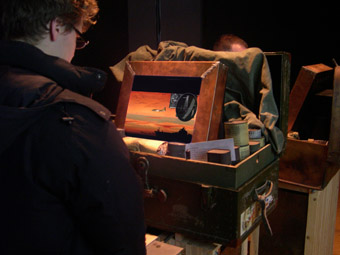 Peter Greenaway, The Tulse Luper Suitcases
Peter Greenaway's festival work, which he refers to as "a personal history of uranium", represents an adventure in form and media, with new feature films, DVDs, a website and an interactive game.
After Greenaway did Prospero's Books there was a radical drop in his presence in the international scene. But even before DVD he completely anticipated the technology and the viewing behaviour where you would go home and push pods and see multiple screens and layers. A lot of what he's been doing since is this project, The Tulse Luper Suitcases. The trilogy can be screened in cinemas but also set up as a game installation (The Tulse Luper Journey, ACMI Games Lab). As you go through a layer of the work online you download a minute of the next film. There are 92 layers, the isotope of uranium. And you become the holder of his next film. It's just astonishing.
Schallmachine 06 looks like another unique combination for Aphids who have that willingness to connect internationally and make a life for themselves beyond their home city. And the work is situated in the underworld beneath Federation Square, each performance designed for very small audience.
It's a beautiful work and it is complex, a collaboration with local group Speak Percussion and the Swiss-based percussionist Fritz Hauser and architect Boa Baumann. One of the things I love about Aphids is the profound commitment to an intimate engagement with audiences: they're not trying to reach 5,000 people in one go. That's not their ambition. There can be a tremendously meaningful, resonant exchange among 5 of you.
* * *
There's much more to look out for in MIAF 2006 to stretch the imagination and deepen reflections on time and place, including American actor Tim Robbins' direction of an update on Orwell's 1984; composers Alva Noto and Ryuichi Sakamoto in concert; Kota Yamazaki's dance works Fluid hug-hug and Rise:Rose; leading European experimentalist Jérôme Bel in his dialogue with a Thai dancer, Pichet Klunchun and Myself; Canadian chameleon Marie Brassard in Peepshow (acclaimed for her Jimmy in 2003); and New Yorker Richard Foreman's surreal Now that Communism is Dead my Life Feels Empty, wonderfully realised by Sydney director-composer Max Lyandvert and actors Benjamin Winspear and Gibson Nolte. It's a festival that celebrates the rich new possibilities of 21st century art and where not everything will be understood but much is to be felt and learnt.
Melbourne International Arts Festival, Oct 12-28, www.melbournefestival.com.au
RealTime issue #74 Aug-Sept 2006 pg. 38-
© Keith Gallasch; for permission to reproduce apply to realtime@realtimearts.net