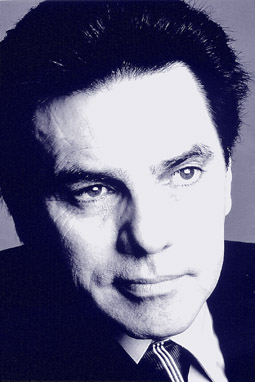 Lyndon Terracini
Lyndon Terracini is an eminent opera performer. He has worked extensively in Europe, with Peter Greenaway and David Freeman among others, and committed himself to new Australian music theatre, appearing in Michael Smetanin and Alison Croggan's The Burrow, Paul Grabowsky and Janis Balodis's The Mercenary (which he commissioned), as well as touring his own music theatre production of The Cars That Ate Paris. He established NORPA (Northern Rivers Performing Arts) in Lismore NSW, a breakthrough in regional arts, presenting a year-round international arts program alongside locally produced work (like The Mercenary and The Cars That Ate Paris). We celebrated Lyndon's first Queensland Biennial Festival of Music with a bottle of red wine as the ebullient Artistic Director described a unique event designed for musicians, urban and far flung communities, and all music lovers. (eds)
The festival is like a great tree, under which musicians from everywhere meet every 2 years to play. Ever since the first arts festival I went to, in Adelaide in 1973, I thought yes, festivals are places for audiences but they're also for artists to get together.
Salvo Terracini
I started playing in Salvation Army bands and then I played a lot of jazz in pubs around Sydney when I was young. I grew up in Dee Why. Went to Manly Boys High. I remember doing Music for the Higher School Certificate and I actually didn't have a music teacher. I sat in a room on my own! For a year! With no-one! I started doing a lot of concerts with the Renaissance Players. It was great. I played the knackers (a medieval percussion instrument) in that because I played timpani in the Salvation Army as well. And did a South-East Asian tour. We did 35 concerts in 5 weeks plus travelling. 1974. It was a really hard gig. Michael Atherton was on that tour. Graham Pushee, Jonathan Rubin. It was a great band but people got really sick and it was really hard work. I was at the Opera School, then I went to New Opera in South Australia. Justin Macdonnell offered me a contract there. It was the first job I'd had that was longer than a week. And I sang in Janacek's The Excursions of Mr Broucek as my first gig. And loved it. Then the Australian Opera offered me a contract and then James Murdoch asked me to do Henze's El cimarron (about a runaway Cuban slave) at the 1976 Adelaide Festival.
El cimarron
I got the score and I thought, God, I know how to do this piece. It was a combination of having been an instrumentalist and performer in a number of areas—I'd played in orchestras and bands as a trumpet player, did jazz, sang medieval music. I'd also worked as a session singer when I was at the Opera School and in fact sang at the first variety concert at the Sydney Opera House—a duet with Rolf Harris. I did commercials, did backings for Kamahl, Olivia Newton-John, Helen Reddy. And I came to El cimarron and all of those things were in it and I knew how to do them. The only difficulty for me—well, not the only one, it's a very very difficult piece—I was frightened about just getting through it. And I'd never done a piece like that before, as big as that, singing flat out on your own for an hour and a half. Extreme stuff. I'll never forget it as long as I live. I turned the page for the last section and the first line was "Maybe I will die tomorrow", and I looked at it and the first thing I thought was, shit, I'm gonna make it. It was a great concert, a fantastic time. Hans Werner Henze was there and he directed it.
He invited me to sing the premier of Don Quixote later that year. It was the first time I'd been to Italy and I remember getting off the plane in Rome. The first thing I did was take a photo of a car with a Roman number plate! I thought I'd never get back. But it was a great experience and really conceptualised for me what I wanted to do and how I wanted to do it.
Lismore
We were living in Italy and Liz, my wife, got really sick with lung problems and I was singing in Switzerland a lot and we went to a specialist there and he said, look we need to take a lung out. I thought that was pretty drastic and so we asked what the alternative might be and he said, well, I suggest a hot, humid climate. We were coming out to Brisbane because my brother was getting married and it was Christmas time and I'd had to dig the car out of a snowdrift in Zurich to get to the airport. We got off the plane in Brisbane at Christmas and drove down to Byron Bay through Bangalow to Lismore. And that time of year, you think, what is this place. I mean this is Paradise. And it was hot and humid and so we thought we'd try it and Liz has been a million times better. [And you happened on a place with an Italian history?] Absolutely. It was incredibly fortuitous and it's been a really happy time. [And you'll stay there?] I love living there. [And it's still the centre of your performing universe?] Yeah, it is.
The job
They offered me this job as director (of the Queensland Biennial Festival of Music), I didn't apply for it. Initially, I got a phone call asking if I would be interested. I thought about whether I wanted to do it and what it meant. I wanted to do it for a number of reasons. One, because I thought I could do a festival that was about 20th century music and new music and make it work and get an audience for it and do pieces that had a lot of substance that people would really enjoy. And secondly, I was really attracted to the fact that, because it was statewide, we could do something about connecting regional Queensland to Brisbane and connecting community music making to concert music.
In Lismore we've programmed a lot of work that's got larger audiences than in Sydney—like ELISION for example. And I was heartened by that. And I still believe that there's a huge misunderstanding from the larger arts organisations about audiences outside of capital cities. It's presumed for some reason that your IQ is a lot lower than if you live in the metropolitan area. There are a lot of people who now make lifestyle choices about wanting to live in the country and they don't have the same access to cultural activity that you do if you live in the city. So a festival like this gave me the opportunity to do that. I like to think we have a reason for doing a festival and that people will feel connected to it.
Barcaldine
Part of the theme of the festival is about making music and what that means. I'm suggesting that it starts with composers, the people who are the original makers of the music, and obviously performers who make music together in the concert hall or pub. But it also has to do with instrument makers. So in Barcaldine, in a town of 1500 people, 200 have signed an agreement to make marimbas and learn how to play them. They do it from May right through 'til when the festival's on. They don't pay for the tuition or the workshops and then, at the end, they get to keep the marimba. Barcaldine is 6 hours drive west of Rockhampton. You can only go as far as Longreach and the road stops. It's way out.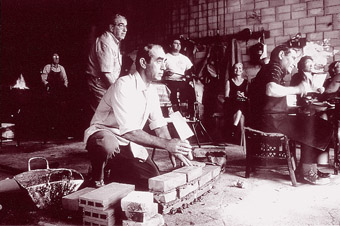 Experimentum Mundi
Chermside
I've asked Stephen Leak to write a new piece, a musical round for the people of Chermside, a suburb of Brisbane. 400 kids from the schools have signed up to sing it and I've asked him to base it on the bird calls of the Brisbane wetlands belt. So if they do that and then ideally, when they see that Messiaen's Turangalila (Reinbert de Leeuw conducting the Queensland Orchestra, July 21) is based on bird calls, hopefully they'll make a connection too. We're bringing 150 people from Barcaldine to Brisbane on the Spirit of the Outback and they'll play at Southbank and they'll also play in the Chermside piece. We have an instrument-makers expo in Curroy. And really what brings all those threads together is Experimentum Mundi (the artisans from an Italian town who play the tools of their trade as instruments) which is about music making being connected to everyday life, not divorced from it. So there are cobblers and pastrycooks and coopers.
Rockhampton
Elena Katz-Chernin is writing a symphony for Rockhampton. I think that's a first. There are 400 people on stage and I had to say no more because we can't fit any more. They're really excited about it. Elena came up and talked to them and I took her to hear the Capricornia Silver Band—they can really play. They were preparing for a big competition and they started playing a hymn tune. It was so beautiful, we were both sitting there with tears in our eyes.
Rockhampton has a tremendous history of choral music, brass bands, and an orchestra. And they also have a really beautiful botanical garden with a lot of rare trees. It's a gorgeous place to be with a lagoon with water lilies, with different performances (like the Song Company) happening throughout the gardens so people can spend the day there with their picnic hampers. At the end of the day they go into a valley, sort of like a natural amphitheatre, and they hear the big symphony. Elena and Roland Peelman, who's conducting, will be there 10 days before the premiere. Elena's written in 7 short sections. They want to have one of those sections as a kind of anthem for the City of Rockhampton and would like to keep the score and have it in a display case. And I said, do you know how big it is? For 400 people, it is HUGE. But they're right. A score is an artwork. I want to have a score for the Turangalila in the brochure. So people can actually see it and think, my god that is music.
Mackay
In Mackay there's a street spectacle created in a collaboration between Opera North, Circus Osmosis and the QTC. There's a new piece in the local church hall where Sherbet once played—a kind of installation music-memory-piece of that building. In The Lagoons area, Indigenous singers and dancers will be joined by the Dutch percussion group Anumadutchi.
Logan
In Logan, in the bible belt of Australia, there are a lot of new age Christians and new churches. When I first went through there I saw all these churches and I thought, maybe they'd like a gospel music festival. They fully embraced it. It'll feature Tony Backhouse and the Cafe at the Gate of Salvation choir, the Heavenly Light Quartet and some young Christian based rock bands with the most un-Christian names, like Dumpster.
Guys and Twins
In Rockhampton there's a great pub called the Great Western and in the pub they've got a rodeo ring that seats 3,000 people. It is massive. So you're literally sitting at your table, eating your steak and there's a rodeo ring. So I've put the Topp Twins in the rodeo ring. They're also playing in Townsville. The Scared Weird Little Guys from Melbourne are like the Marx Brothers. They're going to Townsville too, because there's a Barrier Reef Orchestra there and a big choir. The Guys do a version of the Hallelujah Chorus where they get a kid out of the audience, ask him his name and sing it. Rus-ty Thom-as. Tim-my Bry-ant. It's fabulous. You see kids of 7 years of age, going "Yes!" The audience love it. The Guys are great musicians too. In Lismore we had an audience of 600 for them, they went ballistic. Overnight they learned all the local landmarks around Lismore and put it in their show. It was extraordinary.
Powerhouse
The Brisbane Powerhouse is at the centre of the festival. Paul Grabowsky's Australian Art Orchestra and the Indian percussionists Sruthi Laya Ensemble are doing Into the Fire (ABC Classic CD 465-705-2), Synergy are doing Steve Reich's Drumming—it was one of their great concerts I heard last year—and Orkest de Volharding from the Netherlands will play the Louis Andriessen music for Peter Greenaway's M is for Man, Music, Mozart—as the film is being screened. The International Critics Symposium is there. Local groups Topology and Loops are doing a new piece, airwaves, a show about the history of radio.
We've got an interesting late night gig called Playing by Numbers. It's for all the musicians in Brisbane and in Queensland. They turn up and take a number out of the hat and the number determines who they play with. You could get the most fantastic combinations. As we all know, there are some serious rivalries in music circles so ideally people who wouldn't speak to each other will have to play with each other.
We have a film night, Notes on Celluloid. There's a film about Paul Bowles whom I've always found a really interesting character. I was reading The Sheltering Sky when I was in Barcaldine and it made a hell of a lot of sense out there. There's a documentary about Venancio Mbanda who's one of the percussionists with the Anumadutchi percussion ensemble from the Netherlands. He's a really interesting guy. Runs his own festival right in the middle of the jungle in Mozambique. You have to trek for a couple of days to get there. He's a revolutionary, leads workers, an incredible character. We've also got a DJ festival at the Powerhouse and a festival club.
Elsewhere…
We've only got 2 shows at QPAC (Queensland Performing Arts Centre ) —Turangalila (there isn't another venue where we could do it) and Stravinsky's The Soldier's Tale. There's Brisbane City Hall where we're presenting Anumadutchi and the Queensland Orchestra playing a new piece by Gerard Brophy. The Song Company is at St Mary's in South Brisbane, ELISION at the Customs House, Core Ensemble at QUT, the Stuart Series at QCC Auditorium. The rest is at the Powerhouse.
The Critical Mass is interesting. I asked Stephen Stanfield to write a piece about homeless and marginalised people. A lot of those people go to St Mary's Church in South Brisbane. There's a soup kitchen and the priest there is sensational. Middle class people go there as well. When they go to the mass, they'll experience this new work. The congregational songs they will sing are part of the piece and the liturgy that Father Peter Kennedy is delivering is about homelessness. Stephen's been with the social worker from the church to interview homeless people and snippets of their conversation will be in the music installation. (Performed by Symbitronic Electro-Acoustic ensemble with the QUT Academy of Arts' Student Choir.)
The music of criticism
Andrew Clements from London's The Guardian will be here for the Critics' Symposium. His specialty is new music and, apart from the Song Company program, nothing in this festival was written before the 20th Century. In fact Turangalila is probably the oldest piece in it. Elmer Schonberger is coming from the Netherlands. Roger Covell (Sydney Morning Herald) is going to give a keynote address. I had lunch with Chris Mitchell (the Editor of Brisbane's The Courier Mail) and said, I'd like you to speak at the Critics Symposium and I'll tell you why. Basically, I'd like to know why reviews are regarded like race results and why music is not discussed in a serious way and why music reviews are only 250 words. It would be great if you would speak about those and other issues related to arts criticism and commentary from the perspective of Editor in chief of a major daily paper.
We're calling for papers to be submitted from the general public too. It seems to me that the role of the critic isn't perceived to be as important as it used to be and I think we need to say, as artists, that this is an important issue. We want serious criticism, we welcome it. The newspapers all seem to be playing to the lifestyle crowd.
It's interesting to read reviews from Germany. It's a completely different cultural attitude. As a performer, if you're lucky, you might get your name mentioned at the end. And that's fine because there's a really serious discussion about the piece, philosophically speaking as well. Not just 'the orchestra played shithouse and so and so was good.' That's why I wanted to get Elmer to come to give that perspective and how it is writing for a European journal as opposed to….Why is a review like a race result here?
Driving the festival
I'm in Brisbane during the week. I drive home to Lismore on the weekend. It's about 2 and a quarter hours away. I can listen to music, like Turangalila and all the music I need to listen to for the festival. Doing this festival is like doing a new piece. I don't see it as being a festival director. I see it as doing a new show. It just so happens that the show stretches over an entire state.
Queensland Biennial Festival of Music, July 20-29, bookings QTix, 136 246, Brisbane Powerhouse, 07 3358 8600
RealTime issue #43 June-July 2001 pg. 4-5
© Keith Gallasch; for permission to reproduce apply to realtime@realtimearts.net