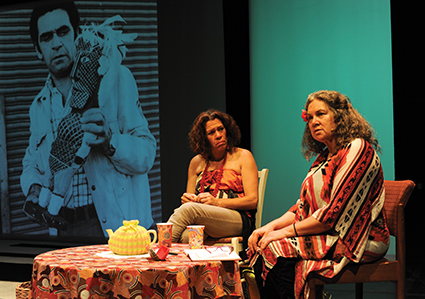 photo Heidrun Löhr
Nadeena Dixon, Rhonda Dixon-Grovenor, The Fox & The Freedom Fighters, Performance Space
I'D LIKE ALL PERFORMANCES TO BEGIN WITH SOMETHING LIKE THE INDIGENOUS SMOKING CEREMONY. THE EFFECT IS CALMING AND PREPARES US TO ENTER ANOTHER REALM. SUCH WAS THE FEELING AS WE WERE WELCOMED INTO THE SPACE FOR THE FOX AND THE FREEDOM FIGHTERS BY UNCLE MAX (MAX DULUMUNMUN HARRISON), A YUIN MAN.
The 'fox' refers to Aboriginal activist and social pioneer Charles (Chicka) Dixon (1928-2010). Three years in development, this work has been conceived and co-created by Chicka's daughter Rhonda Dixon-Grovenor and granddaughter Nadeena Dixon with a team of collaborators including co-writer and dramaturg Alan Valentine and director Liza-Mare Syron.
Three components of the design (Nadeena Dixon, Clare Britton) combine to reflect the work's structure: a large central screen for film sequences (and doubling for an ASIO document); a small platform with a microphone for sung segments; and a spare living room set-up where mother and daughter casually exchange memories of the man who radically affected their lives. The spare design is enveloping and incorporates a set of striking woven sculptures by Nadeena Dixon, which grace the walls and cast enigmatic shadows. As they converse, Rhonda separates raffia threads while Nadeena weaves the circular forms of a new piece.
The performative style aims to be laidback but at times the demands of conventional theatrical dialogue appear to hinder the rapport we sense between mother and daughter. The powerful film segments (Amanda King, Fabio Cavadini) are more effective with the women appearing to be unscripted and more spontaneous. Generous archival footage provides insight into the important work of Chicka Dixon-—his involvement in historical events such as the 1967 Referendum, the establishment of the Aboriginal Tent Embassy, the Aboriginal Arts Board and a visit to China in 1972. All this is woven together with the quietly intense statements on the impact of this activism on family life delivered individually to camera by Rhonda and Nadeena.
Most engaging in this work is the opportunity it offers us to meet two very interesting women and to share with them the unravelling of an intimate and difficult truth. "Don't you for a minute think that there isn't a cost to every single moment of this fight for freedom," says Rhonda. And we don't. As they reveal with passion and humour the highs and lows of life with an admired patriarch—his many absences, the alcoholism, which he eventually overcame but which clearly affected their early lives and manifest in stress and abuse in subsequent relationships—we experience the recovery of intimacy with their father and grandfather along with their own unfolding activism, all woven into the complex issues of everyday life.
The Fox & The Freedom Fighters, concept, creation, performers Rhonda Dixon Grovenor, Nadeena Dixon; Performance Space, Carriageworks, Sydney, 13-22 Nov
RealTime issue #124 Dec-Jan 2014 pg. 43
© Virginia Baxter; for permission to reproduce apply to realtime@realtimearts.net