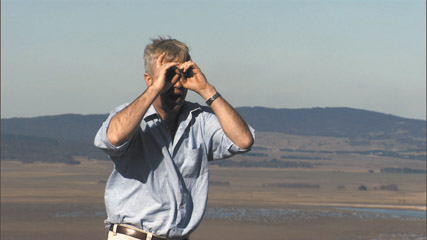 A Lake Without Water
THE HEADLINING PROJECT IN ARTSPACE'S VIDEO, MOVING IMAGE, SOUND AND PERFORMANCE SEASON WAS A LAKE WITHOUT WATER BY ALEX KERSHAW WITH VIDEO ARTIST SCOTT OTTO ANDERSON AND SOUND DESIGNER GAIL PRIEST, A MESMERIsING MULTI-CHANNEL VIDEO INSTALLATION EXAMINING THE CONTENTIOUS NOTION OF LAND OWNERSHIP AND EXPLOITATION, SHOT ON LOCATION AT WEEREEWA, THE DRY LAKE GEORGE IN THE SOUTHERN TABLELANDS OF NSW.
On this site, Kershaw staged an ambitious, Brechtian-influenced exploration of the land and its maligned uses, involving local farmers, property surveyors, a musician and an auctioneer in performances, ambiguous actions and partially decipherable monologues. Comprising three large-scale projections, two smaller projections onto custom-built tables, and three more LCD screens, the installation envelopes the audience with a virtual sense of environment, occupancy and complicity.
In one dream-like steadycam sequence, the viewer/camera perspective appears to float between the banks of a dry riverbed, around labourers planting trees too close together on its sandy bed. Like an overzealous gesture towards reforestation, the trees are placed where even weeds couldn't grow. An adjacent projection shows two men in Akubra running down a moss-covered, rocky hill scattering plan-sized paper at their feet. While the journey down is fast, the trudge back to the top is symbolically and physically gruelling. Cleaning up the mess is amplified by Priest's soundtrack of crunching paper. On the far wall of the installation, two LCD screens display looped performances; in one an auctioneer calls a horse race into the empty valley, while in the other a red-uniformed bugler plays a tune into an empty water tank. While these recorded performances have an absurdist element, the parched nature of the landscape and the hollow resonance of the soundtracks also lend the installation an overriding sense of desolation.
Two projections of Weereewa from the air are cast down onto table-tops, panning across the landscape like frames from Google Earth. In these sequences, drought and salinity leave decorative, graphic marks in the landscape. From the air, farms look like geometric abstractions, punctuated here and there by the appearance of white-rimmed, black welts of salt that have risen to the surface of the earth. Conceived during a time of rising alarm about Australia's ability to sustain its farming industry and adequate water supplies for its populace, A Lake Without Water is a timely meditation on propriety, planning, speculation and the mythopoeia of struggle in the Australian landscape.
In the entrance gallery, Canberra-based artist Elvis Richardson constructed a helix-shaped column of unwanted domestic videotapes with hand-written titles such as Rex Hunt's Fishing 1995, Time Cops, Tarzan, Big Brother and an Australian Bicentennial Authority Community Presentation—a reminder of the technological advancement and uses of the medium.
Richardson's work was part of Tomorrow, again, a selection of 20 video and documented performance works (recorded from a live performance night, October 27) curated by Scott Donovan. The project showcased the work of Australian and international multimedia practitioners in Artspace's entrance, reading space and ante room. A large projection of Ronnie van Hout's I've Stopped Trying (2003) in the main space featured various camera angles of the artist lying still on a sports oval wearing a blue tracksuit, sneakers and only just visibly breathing. The work set a tone of quiet antipathy that was echoed in Justene Williams' Photo Me (2006), a video self-portrait of the artist-as-photo booth, regurgitating images from her mouth, and French-Algerian artist Hakeem B's Just Do It (2002), a video of an angry young man speaking an un-subtitled dialect, followed dryly by a recipe for making couscous. In Carla Cescon's Portrait: An Autobiographical Narrative (2006), a woman poses sweetly in front of a video camera using infra red light before being roughly slapped off her chair and labeled a "vampire", a placard stuck into her vagina.
Tony Schwensen's documented live performance, Trans-Scandinavian, shows the artist attempting to assemble an IKEA wardrobe wearing only his trademark saggy shorts while two women read the instructions in Swedish. Schwensen's construction appears to halt at a point where the wardrobe exhibits some potential—it could be anything from a wooden chest to a coffin. Vicky Browne's two gold and silver sculptures continue this critique of pointless consumption by repurposing obsolete personal stereo technology into glittering kinetic objects. One device scrapes the needle of a record player around a CD, while the other uses old Walkmans to spin a groove into an empty deck.
In the back room, West Australian artist Michelle Theunissen's solo project, Elastic Boundaries, provided an emotional counterpoint to the coolly subversive undertone of Donovan's curation. In this gently uplifting installation, two super 8 projections screen original footage of the artist's daughter flying and back-flipping within its frames. Subtle differences can be discerned between the younger girl and her older self, while a third video projection on the floor captures the young woman in changing costumes, grounding her to a sense of social expectation. Theunissen brought to Artspace's audiovisual season a focus on a personal experience of transformation.
A Lake Without Water, Alex Kershaw with Scott Otto Anderson, Gail Priest; Tomorrow, again curator Scott Donovan; Elastic Boundaries, Michelle Theunissen; Artspace, Sydney, Oct 27-Nov 18
RealTime issue #76 Dec-Jan 2006 pg. 55
© Bec Dean; for permission to reproduce apply to realtime@realtimearts.net