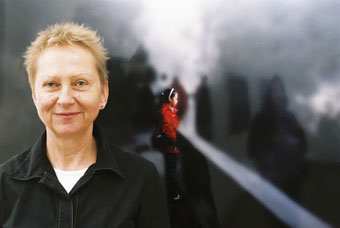 photo Heidrun Löhr
Gitte Weise in front of Cherine Fahd's Looking Glass, Rotorua
Gitte Weise has been director of her eponymous Paddington gallery for 13 years and in 2004 opened a space in Berlin to promote her Australian program internationally. Originally from Karlsruhe and then Heidelberg, she migrated to Australia after meeting Australian artist Christopher Snee while holidaying in Greece. In Germany, she practised as a social worker, although even then she was surrounded and intrigued by art, sharing her communal house with several art students (many of whom are now well known contemporary artists). On arrival in Australia in 1981, she settled in Snee's home town on the Gold Coast, but the couple soon moved to Sydney, where Snee began a visual arts degree and he and Weise produced and sold silk screened shirts.
It was not until Weise enrolled in COFA's Masters of Art Administration that her arts career gained focus. During her first practicum with the 1986 Biennale of Sydney she worked with mentors Nick Waterlow and Ann Flanagan. Upon graduation, she worked for a small commercial gallery, before landing the exhibition manager's position for the 1988 and 1990 Biennales. Here she gained invaluable experience overseeing the transformation of industrial sites into exhibition spaces at Pier 2/3 in Walsh Bay and the Bond Store, and working with her 'mentor of mentors', Berlin-based curator René Block. In the early 1990s, an opportunity came up to take a lease on an Oxford Street shopfront with a small, sunny room upstairs. There was just one proviso: that Weise set up and manage a deli-cafe downstairs! She fulfilled the brief, and in 1992 Kunst opened its doors with a show by Bill Seeto.
When you first opened your gallery, how did you select your artists?

I followed the program of artist run spaces, especially First Draft. And I followed my own aesthetic, what I responded to.
How would you describe that aesthetic?
I find that always very difficult. I suppose most of the artists I take on are informed by art history. And you can see that in the work, they can transform that into something new. I look for something that's solid, that's got a background, that's anchored in art history. There's a certain aesthetic, a certain strength that goes through each artist's work that brings it together.
Do you think your artists share a conceptual base?
Yes, but…that's what they're looking for in Germany. There, they love it when you say "I just show concrete art." But I have always resisted being put in a drawer like that. The artists have to experiment and I always welcome that. I like that there is constant change, evolving with the material. I would never say to them "You have to stick with that because that sells." Maybe from a commercial point of view one should do that, but I don't fit into that mould. My accountant thinks I'm mad.
There's often quite a poetic sensibility in your artists' work.

Maybe a philosophical sensibility too, I respond to that.
And the work is often quite beautiful and materially sensitive.
I love beauty. We all do. What I get excited about is the ability to transform a concept into a beautiful object.
What do you think is the role of a commercial gallerist in Australia today?
That is a question I've been asking myself a lot over the last year, because I feel that things have totally shifted. My idea was, and still is, that the role of the gallery director is to look after the careers of a particular group of artists. I've never had more than 12-13 artists in the program, that's all I can really do. In a philanthropic way, what I want to do is find people who support and nurture these artists' careers, like I do. But that hardly happens any more. That whole notion of art as decoration has changed everything. Art's become very fashionable, so that a gallery now is almost like a restaurant: when a new one opens, everyone flocks there. So I am questioning my role. I don't want to be a shop. If I wanted to be a shop, I'd go back to selling sausages! But this idea is very idealistic, and I don't know whether I'm actually able to sustain it. Can I really do enough for the artists in this context? You have to be quite pushy and aggressive, which has never really been me. You do as much as you can: you send out information, you try to educate. But it's not enough anymore. More and more you get people who come in and say, "I've bought a new house and I need something to hang above the green couch." You might sell something to them, but then they may never come back to see what the artist is doing. I find that quite depressing.
Do you think it's also part of the role of a commercial gallery to put great art out there, to nurture ideas, to contribute to the broader discourse of art?
Yes, I hope so, definitely. I also love to have my artists in international exhibitions. One has to go beyond the Australian boundaries. My main objective in going to international art fairs is to meet curators and writers. Once an artist gets into an international show, it's a snowball effect. Most of the host institutions have money to produce a catalogue, so the art gets seen again.
How do you see arts writing supporting your role as gallery director?
It's a fantastic supportive tool, and very necessary. Each of the artists I show would now need a comprehensive catalogue, but it is very expensive to print in Australia. I can do small booklets which document the exhibitions, but this doesn't compare with the European standard of a glossy catalogue that even very young artists use as their calling card.
What is the profile of the typical contemporary art buyer?
They're mostly 40 plus, professional couples who may have been in contact with the artist, or who are members of Contemporary Benefactors; a lot of gay clientele, academics, lawyers, doctors. Amongst them there are passionate people who come back to see the next exhibition, but there are just not enough. There are some corporations and institutions, such as the AGNSW, NGA, and some regional galleries, but sales have been affected by their budget cuts. I'd say about 80% of my clientele are individuals.
How do you see the role of Room 35 [an exhibition space downstairs that artists can lease]?
To encourage more experimental work and media, and offer artists the experience of showing in a commercial setting. We provide hands on advice, installation, publicity and we look after the show. It's also fantastic for us: the artists come to us, and it can be a great way of developing talent. Three artists—Cherine Fahd, Maria Kontis and Sarah Robson—have joined the stable after showing at Room 35, while others such as Dani Marti, nell, and Tim Silver have been taken up by other commercial galleries. It costs money for the artist, but it's an investment in their career. We put on 8 to 9 shows a year, and I have up to 60 applications. I select the artists again using my own aesthetic, but also taking into consideration the proposal itself; whether it shows commitment. I always put decorative works aside, seeking out more edgy or confrontational things. I have also built up a great private collection by buying works from Room 35.
How do you choose an artist to join your stable?
I can only take on a new artist when another leaves, and I have to consider very carefully, "Can I really offer you a future, a career?" People approach us all the time: I may advise them to apply for Room 35, which gives me a good idea about whether they are committed and serious about their work, and whether I can work with them. It's never been the case that I've taken on an artist after they've cold called. And then there are people who stalk you, which means they've got completely the wrong idea. But then again, with some artists, I've stalked them, such as Sarah Ryan, whose work I saw at Primavera [an annual show profiling young artists at Sydney's MCA] and whom I followed up after the opening. I still go to First Draft, other artist run spaces, and grad shows at the art colleges, or sometimes will respond to an artist's booklet/catalogue if it intrigues me.
What gives you the biggest thrill as a gallery director?
An artist winning a prize, or getting into a prestigious group show, or placing work in an institution or fantastic private collection. Also, seeing an artist evolve, like Cherine Fahd, who first showed at Room 35, and now has shown in Berlin.
Tell me about your Berlin gallery.
The Berlin gallery opened in January 2004, and is now into its 9th show. The gallery came out of doing international fairs, like New York, Madrid and Berlin: I wanted something a bit more permanent. The fairs can be very political affairs, and whether you're included can depend on whom you schmooze on the board. Also, an art fair can cost you anything between $40-$80,000, so you have to sell a lot of work just to make that back. The gallery is in Mitte, in the former East, in a gallery precinct with hundreds of other galleries. Kunstwerke [a public contemporary art space] is just behind, while major museums are between 10-15 minutes' walk away. You get so many people coming through, including curators, from all over Europe. And people like to engage with the work at openings. There's been quite a lot of interest in the gallery director being a German who has come back. And we've gained a good reputation for being a unique space that shows Australian art—even though the work is totally international [Weise's stable includes Renate Anger, Berlin; Micah Lexier, Canada, lives in New York; and Pip Culbert, London.] So far, the response has been terrific, with some artists like Maria Kontis already included in some great international shows. The only drawback is that some of the Australian collectors would like me to be more here, in Sydney. So I'm talking now with some other Australian galleries about having the Berlin space as a joint venture, as a way of profiling Australian artists to an international audience on a more permanent basis, without having to spend as much time there myself. I would like to keep that Australian focus, as it's worked very well in developing an identity for the gallery.
The Australian artists represented by Gitte Weise Gallery are Aleks Danko, Cherine Fahd, Helga Groves, Maria Kontis, Jude Rae, Sarah Robson, Sarah Ryan, Paul Saint and Christopher Snee.
Gitte Weise Gallery's current exhibition is Looking Glass, photographs by Cherine Fahd, May 18-July 2, www.gitteweisegallery.com
RealTime issue #67 June-July 2005 pg. 4
© Jacqueline Millner; for permission to reproduce apply to realtime@realtimearts.net