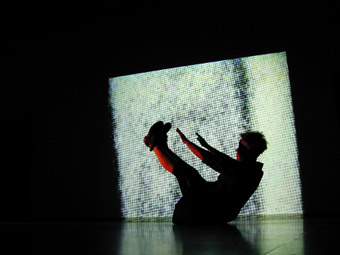 Tess de Quincey, Nerve 9
Nerve 9 is a work by 4 women—solo dancer/choreographer Tess De Quincey, audio visual artist Deborah Petrovich, poet/performer Amanda Stewart and writer Francesca da Rimini—whose contributions have been collected under the banner of De Quincey Co. Nerve 9 comprises 9 movements, each with a title—"Archaic domains", "Tensile zones", "Flesh of everyday speech", "Porous matter", "Tongue of sacrifice", "Enigmatic hallucination", "Black continent", "Infinity emerging", "Decentering"—mostly from the writing of Julia Kristeva, around which the artists' materials have been arranged. The fifth title, "Tongue of sacrifice at the edge of the other", was provided by Stewart. The work is a tight weave of dance, sound, text, sonic and visual imagery, and although De Quincey's subtle movement often steals the visual focus, her work is really more of a thread which runs throughout the complex totality. Nerve 9 exists by virtue of all elements together; even the printed program which elucidates the work's 9 sections is in the form of a visual score.
Nerve 9 is hybrid in essence and pushes the creation of visual, sonic and dance scores out from the far corners of the imagination, creating an intellectual arena within which all the ideas can grow and mingle. It synthesises some quite rarefied elements—Stewart's shimmering sonic and visual poetry and De Quincey's enduringly watchable portraits of attenuated human frailty. The different sounds (both text and soundscapes) and movement are entwined, as if De Quincey's body can be shot through with those textures, human and electronic, structured and hanging on shafts or webs of sound, animated sometimes entirely by those vibrations.
The filmic and visual imagery provides a kind of harder-edged structure for the work, delimiting the 9 sections as they shift and change. It further expresses and clarifies a central theme, that of textual richness and diversity—of language, and the cultures from which it springs; of the flesh, which simultaneously grows into, out of and away from those cultures; and of the environment, seeping in, penetrating, escaping from, deflecting.
De Quincey's performance has a depth and lucidity that is immensely readable and challenging. Her movement is neither naturalistic nor mimetic but often particularly expressive of human frailty and sensibility. Emotional qualities are strongly captured, but not with an overt sense of drama. Sensibility is expressed through highly and minutely wrought body language. She seems to work with ideas, particularly internalised and embodied, rather than with overt and consciously planned movement. It's possible to see a physical narrative unfolding through the work—the flowering of a peculiarly acute register of human sensibility, the medium through which a person experiences the world.
As the work opens, a slim needle point of light pours downwards, as if from the darkness of a cave, light seeping out through a pinhole in a membrane, a tiny opening in the blackness, a stain imperceptibly widening, a deep drone. Then there is wind, whispering, bird sounds, the dancer's body quivering, flinching, almost doll-like. A feeling of animation and coming to life. She opens her eyes with the sounds of water and whispering. Later there is singing, and the sight of a city—electric lights, signs, letters, neon. She is sensing, sentient, responsive, a grain of humanity, light and sound pierce her body. Blocks of light tilt behind her; she walks, looking back from where she's come. There are people here. She has a wilted staggering gait, hands limp, "a body called flesh." And then sometimes she seems not so much a person, more a passive idea, some other form of life. Then, on the screen, there are mouths speaking, foreign languages, texture in the sound, the lips sticky with lipstick, the skin, the eyes, all female. What are they speaking about? All those words, behind and in front of her, all those letters, that sound, becoming part of her. And could there be, among all this, a simple act of listening, an act of seeing, or of speaking?
–
Nerve 9, De Quincey Co, Tess De Quincey, Amanda Stewart, Deborah Petrovich, Francesca da Rimini, The Performance Space, Sydney, May 27
RealTime issue #44 Aug-Sept 2001 pg. 35
© Eleanor Brickhill; for permission to reproduce apply to realtime@realtimearts.net