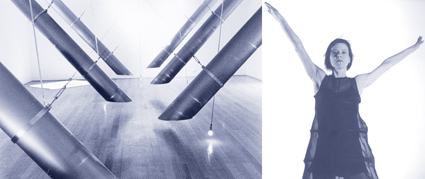 courtesy the artists
Lucy Guerin, 25 Songs on 25 Lines of Words on Art Statement for Seven Voices and Dance
25 Songs on 25 Lines of Words on Art Statement for Seven Voices and Dance is a collaborative work between artist Joe Felber, composer Elliott Gyger and dancer Lucy Guerin, each of whom is responding directly to American painter Ad Reinhardt's famous 25 Lines of Words on Art Statement. The 3 artists have created a theatre of response, reconsidering Reinhardt's seminal 1958 writing on abstraction, art and modernism through the creation of a work combining music, image, video and dance.
Involving interdisciplinary arts practice and new media technology, the installation runs from the Cubase program. The video, stills photography and text graphics were created on Adobe After Effects and Premiere. The Pendulums run on a 12 volt magnet call from 2 transformers.
Joe Felber is an Australian citizen of Swiss origin. He completed an architectural draftsman apprenticeship in Switzerland and Master in Art (sculpture) at RMIT. His is a pluralistic arts practice including painting, photography, video and new media art. He has exhibited internationally since 1985 in New York, Europe and Australia.
This work toured Australia and Singapore and will be shown October-December 2001 at the Minioriten in Graz and Landesgalerie, Ladesmuseum in Linz Austria. Australia Council for the Arts, Pro Helvetia, Switzerland, Credit Suisse Group, Singapore.
Working the Screen 2000 was a supplement in RT38 surveying media arts.
–
RealTime issue #38 Aug-Sept 2000, WTS p15
© RealTime; for permission to reproduce apply to realtime@realtimearts.net