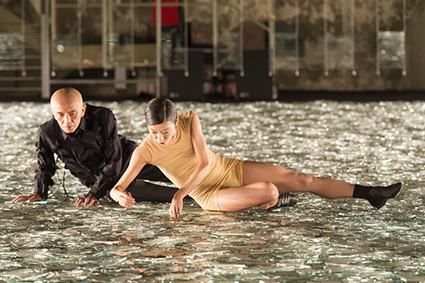 photo Wonge Bergmann
Saburo Teshigawara, Rihoko Sato, Broken Lights
CARRIAGEWORKS GROWS AND GROWS, VERY EFFECTIVELY INHABITING THE ADDITIONAL SPACE IT'S BOLDLY TAKEN ON AND ENLARGING ITS PROGRAM ANNUALLY INTO WHAT INCREASINGLY FEELS LIKE A YEAR-ROUND CONTEMPORARY ARTS FESTIVAL. ABOVE ALL, THROUGH ITS OWN INITIATIVES AND THOSE CO-INSTIGATED WITH AN EXPANDING NUMBER OF PARTNERS, ITS PROGRAM IS UNDERPINNED BY LONG-TERM CREATIVE DEVELOPMENT, NURTURING NEW WORKS AND EXHIBITIONS ACROSS TWO TO THREE YEARS FOR FUTURE ANNUAL PROGRAMS. AN OTHERWISE EXUBERANT LISA HAVILAH, GUIDING ME THROUGH HER FOURTH PROGRAM, MODESTLY DECLARES, "I THINK WE'RE GETTING MORE GROWN UP AS WE GO ALONG. MATURING SLOWLY."
24 Frames per Second
Central to the year is a program of screen-based works "at the nexus of dance, film and visual arts" by 18 Australian and six overseas artists. Principally supported by the Australia Council it's titled 24 Frames per Second and has been three years in the making. The list of participants represents a striking cross-section of adventurous Australian art making: Tony Albert and Stephen Page, Alison Currie, Nat Cursio and Daniel Crooks, Brian Fuata, Antony Hamilton and Byron Perry, Vicki Van Hout, Sophie Hyde and Restless Dance Theatre, Angelica Mesiti, Kate Murphy, James Newitt, David Rosetzky, S Shakthidharan, Aimee Smith, Latai Taumoepeau, Christian Thompson, Lizzie Thomson, Branch Nebula (Lee Wilson and Mirabelle Wouters) and Khaled Sabsabi. The international artists are Siobhan Davies and David Hinton (UK), François Chaignaud (France), Ho Tzu Nyen (Singapore), Sriwhana Spong (NZ) and leading international choreographer Saburo Teshigawara (Japan).
Havilah tells me, "The screen-based work we've commissioned from Teshigawara is based on Broken Lights, the work he presented at the 2014 Ruhrtriennale" for which he made a large shallow internally lit box full of broken glass on which the dancer performs with the choreographer's trademark ecstatic slowness.
Havilah is emphatic, "24 Frames per Second is delivering the Australia Council [$300,000] Screen Dance Initiative. I hope that it really talks about all that's happening (in dance on screen) which has changed so much. I hope this program will challenge some of those who see visual arts as co-opting dance" (see "Was there dancing?" RT123, p29). 24 Frames per Second will also feature live performances at the opening of the show which will be exhibited over three months and doubtless attract a large audience well beyond dance fanciers and visual arts lovers.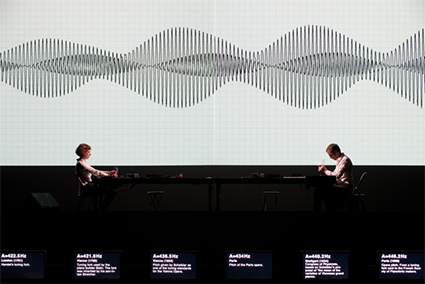 photo: Kazuo Fukunaga, courtesy: Kyoto Experiment
Superposition, Ryoji Ikeda
Ryoji Ikeda
"We're really excited," says Havilah, "to be bringing Ryoji Ikeda back for his first-ever live performance, Superposition (see p3), an Australian premiere in partnership with Adelaide's OzAsia festival. You'll enter a one and a half hour live performance in the huge Bay 17 with two performers onstage who do the live video mixing for, I think, about 40 screens with text, sound and Ryoji Ikeda 'things.' That's in September." Carriageworks presented Ikeda's datamatics [ver 2.0] as part of ISEA2013 (go to ISEA2013 on the Features pages of www.realtimearts.net) drawing a huge audience onto the magnificent projected grid that mutated magically beneath their feet.
Ho Tzu Nyen, Ten Thousand Tigers
"We've partnered with The Esplanade in Singapore, the Asian Art Centre in Guangzhou and Vienna's Wiener Festwochen," says Havilah, "to bring this amazing new work, Ten Thousand Tigers, by Singaporean artist Ho Tzu Nyen to Australia. He's created large-scale video works for the Venice Biennale and has also been in the Auckland Triennale, but this is a one-hour live work with performers, many screens and objects. "An ensemble of automated objects come to life and recount the tale of the Malayan Tiger's numerous deaths and returns across a thousand years" (press release).
Zhang Huan, Sydney Buddha
Further connecting us with Asian culture, Carriageworks begins the year with Sydney Buddha, a work by Chinese artist Zhang Huan showing as part of the 2015 Sydney Festival. "It's been shown in only three other places around the world," says Havilah, "and continues our commitment to mounting large-scale visual art works. In the past we've hosted Brook Andrew, Song Dong and Christian Boltanski. Zhang Huan hasn't had a major installation like this in Sydney. He just had a big survey show at Storm King Art Centre in the US, which was incredible."
Michael Tuffery & The Royal Samoan Police Band
This new work, Siamani Samoa, is by Michael Tuffery a New Zealand-based printmaker, painter and sculptor of Samoan, Rarotongan and Tahitian heritage whom Havilah had worked with at Campbelltown Arts Centre. The work continues her commitment to bringing the art of the South Pacific to Australia, as she has done with the three productions of dance works by Lemi Ponifasio's Mau over as many years. "Tuffery is collaborating with the Royal Samoan Police Band who we're bringing to Sydney on their first-ever international tour. The work will be a fully immersive projection installation work in Bay 17 and includes a series of four live performances by the band. 'Siamani' means 'German' and it's about the centenary of the end of the German occupation of Samoa. Every day the police band marches down the main street of Apia playing traditional German music—so the German influence is still very strong. In Samoa it's a very positive story of colonisation."
Carriageworks residents
One of Carriageworks' great strengths is its resident organisations—Performance Space, Erth, Force Majeure, Marrugeku and Stalker—now joined by Sydney Chamber Opera, Felix Media and the Aboriginal theatre company Moogahlin Performing Arts. Havilah says, "There's more and more collaboration between Carriageworks and the resident companies in terms of commissioning new work and co-investing in major works, which you'll see throughout the 2015 program. The amazing Sydney Chamber Opera will present with us the world premiere of an opera by composer Elliott Gyger and librettist Pierce Wilcox based on David Malouf's classic novel Fly Away Peter, with Imara Savage directing."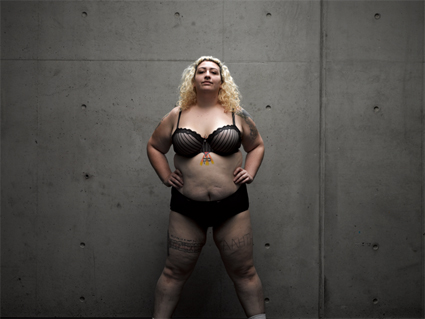 photo Toby Burrows
Force Majeure, Nothing to Lose
Force Majeure, Nothing to Lose
Havilah is proud to have co-commissioned with Sydney Festival Nothing to Lose, the final work for Force Majeure by artistic director Kate Champion. "We've been supporting this work through all of its development right up to presentation. I think it will be a festival highlight." In a society preoccupied with ideal body shape, anorexia and obesity, there's little room for a nuanced response to the stereotyping of 'fat' bodies as obese and ugly. Champion has collaborated with artist and "fat activist" Kelli Jean Drinkwater "to celebrate the sculptural splendour of the large dancing body."
Performance Space
Carriageworks' partnership with Performance Space continues with the co-commissioning of a Jonathan Jones installation and presentation of the performance event Day for Night in collaboration with the Gay and Lesbian Mardi Gras. "The first one last year was very successful. A new range of artists will be in the 2015 incarnation—Matthew Day, White Drummer Nell, Emma May, Técha Noble from the Kingpins and Bhenji Ra—curated by Jeff Khan and Emma Price." Performance Space will soon launch its own 2015 program (see RT125).
Faithful to Redfern
With Redfern still a hub for Aboriginal culture, despite impinging development, Havilah is resolute: "We've tried to stay as true as possible to the whole vision that we started with in terms of reflecting the social and cultural demographic of the place in which we're located, Redfern. We're investing more in our Aboriginal arts strategy and in new contemporary Indigenous work. With Moogahlin we'll present the second Yellamundie National Aboriginal Playwriting Festival, continue our three-year relationship with NAISDA and present Stephen Page's re-imagining of Ochres (1995) for Bangarra on the work's 21st anniversary as well as Jonathan Jones' new installation. This will be the first time we've worked with Bangarra. Each year we sponsor an Aboriginal artist at our Park Road Studios in Alexandria. This year it's dancer Ghenoa Gela. And next year it will be Microwave Jenny and the year after, Tony Albert."
New Music
Louis Garrick, formerly of Sydney Chamber Opera, is Carriageworks' new music curator. Havilah says, "He's established a relationship with Brisbane-based Lawrence English's Room 40. For their 15th anniversary, we'll be presenting Open Frame, a two-day program" featuring potent composer-musician-visual artists Grouper (Liz Harris & Paul Clipson,(US) and William Basinski (US) plus fellow looper and installation artist Austin Bucket (AUS).
Branch Nebula, Wade Marynowsky, Xavier le Roy
Havilah is pleased that Artwork commissioned by Carriageworks for Sydney performance company Branch Nebula is coming to fruition: "This is a really experimental work, employing people who have never been onstage before performing a series of tasks directed by Branch Nebula. There's also the premiere of Prehistoric Aquarium, a new work from Erth and of Wade Marynowsky's Robot Opera, which has been developed with Branch Nebula from the artist's Nostalgia for Obsolete Futures. As well Carriageworks will have its first collaboration with Kaldor Public Art Projects, presenting French choreographer Xavier Le Roy's Self Unfinished."
In-Development 2015-16
Carriageworks' In-Development 2015-16 program includes commissions for a major work by American artist Nick Cave, a dance work with Kristina Chan, composer James Brown and designer Clare Britton; a project about the history of the Redfern Block [for 2017] with commissioned artists Vernon Ah Kee, Kev Carmody, Romaine Moreton and Warwick Thornton; and we're partnering Marrugeku's Cut the Sky and supporting Milk Crate Theatre on the creation of a new work. We're also a partner in the new Art and the Moving Image Commission, between Adelaide Film Festival, Samstag Museum and University of Western Australia with the first new media work [currently being filmed in Iran] by Hossein Valamanesh. The producer is Brigid Ikin of Felix Media, one of our new resident companies."
Disability Arts Strategy
We conclude our meeting with Havilah telling me about the importance of Carriageworks' Disability Arts Strategy coming into play in 2015: "We have a mission to commission 10 new works over five years from the Disability Arts sector. The first will be a new piece by Rosie Dennis called A Simple Infinity and then Phillip Channels from Dance Integrated Australia will create a new work with Force Majeure. It's about having a structured program that provides pathways for artists with a disability into contemporary practice."
Carriageworks has radically increased its audiences over several years and staged commercial events (Fashion Week, Sydney Contemporary) which financially benefit the overall program while not being culturally removed from the organisation's ethos. It feels that maturation is coming fast, underpinned by a cogent vision, partnerships and collaborations that address a wide spectrum of contemporary art practices and, not least, needs—for artists and audiences who deserve the best. All praise to Lisa Havilah and her dedicated staff.
RealTime issue #124 Dec-Jan 2014 pg. 21
© Keith Gallasch; for permission to reproduce apply to realtime@realtimearts.net