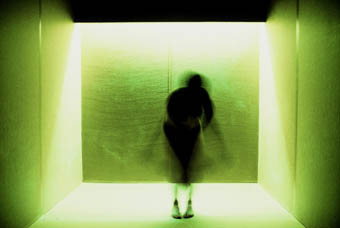 Helen Herbertson, Morphia Series
OVERHEARD AUDIENCE MEMBER AT DANCE MASSIVE EVENT: "I DON'T KNOW ABOUT DANCE; I'M SAFER IF THERE'S A TEXT. OTHERWISE I FIND MYSELF INVENTING NARRATIVES. I WATCH A DANCER MOVING AND I THINK 'WATCHFULNESS', THAT'S WHAT IT'S ALL ABOUT. BUT I KNOW IT'S NOT THAT AT ALL!"
In Morphia Series, Helen Herbertson and Ben Cobham offer text as well as everything else but audience members searching for meaning might find themselves in the same cul de sac.
I experienced an earlier work in this series a decade ago at Performance Space in Sydney. In that version (which is with me still), the audience was separated from the performer in her yellow stage box by Ben Cobham hovering over a slide projector, placed between us. In this new version, the technology has progressed considerably, such that no lighting source is visible and we, the audience, are totally in the artists' hands. I won't give the game away by revealing how this works—surprise is part of its magic. Suffice to say that the relationship between performer and audience here is crucial and echoes the matter of the work (rather than the meaning) stated in the program as "working with the notion that life hovers somewhere between the ordinary and the metaphysical."
Of the dancer's movements I remember only fragments. They are pedestrian but equally, earth shattering. There's geometry but no patterns, no obvious displays of skill or prowess—if you don't count navigating the unconscious. There's a feeling that something crucial is on the tip of the tongue. What pervades is the atmosphere, the sense of being elsewhere. When you leave the room after the 18-minute performance, it feels like crossing a border into another country. A friend greeting me as I emerged reported on a kind of collective double take amongst departing audience members. As they left, he said, they each took three steps through the door, dipped their heads, looked up, blinked and then moved off.
In the first sequence, we see Herbertson at a distance and hear her recorded voice uttering a poetic text to do with a dream of Estonia (was it?). A fine white mist appears in the yellow box. Movements from the silhouetted dancer are at first deliberate as if being slowly recovered or performed without full consciousness. At one of many illusory moments an arm becomes a serpent. Stabbing gestures mirror explosive, whipping sounds.
Next comes a dream of place, faintly familiar to me, featuring my own fantasy of the perfect living space in which human and nature are separated only by glass and inside there's nothing to bump into. The black clad silhouette moves with the same minimal gestures feeling her way as she imagines the space into being.
In the third sequence, the text is of a vision, a body leaving its marks on nature. Were there hooves? Whatever is being said is over-ridden by the strange power of the dancer's gaze. I remember no movement save turning, and Herbertson's now entirely vulnerable features facing us squarely while she remained elsewhere, as if clothed in memory.
Just as shadows from the earlier incarnation of this work have stayed with me for a decade, this new work takes its place in my own unconscious. Searching for comparisons, what surfaces the morning after Morphia is the sharp memory of an hour in the Rothko Room at the Tate in London in 1997, gazing into the deep colours of the huge canvases, overtaken by an enveloping sensory reverie.
Helen Herbertson and Ben Cobham, Morphia Series, design concept Ben Cobham, Helen Herbertson, performance, text, sound concept Helen Herbertson, lighting Ben Cobham, sound compile David Franzke, morsels John Salisbury; Arts House, North Melbourne Town Hall; March 10-15; Dance Massive, Melbourne, March 3-15
RealTime issue #90 April-May 2009 pg.
© Virginia Baxter; for permission to reproduce apply to realtime@realtimearts.net