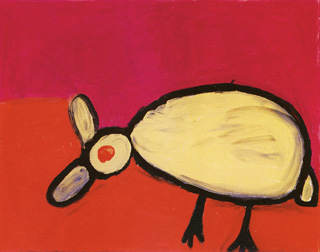 Peggy Napangardi Jones, Yellow Bird, 1998
Without question, the National Aboriginal and Torres Strait Islander Art Award—officially NATSIIA but better known by its brand-name, the Telstra Art Award, or just 'the Telstra'—is Australia's premier Indigenous art prize. And Transitions, the touring exhibition which showcases a selection of the prizewinning works over the 17 years of the award's duration, is arguably among the strongest and most significant Australian visual arts events of this Federation year.
The consistently high standard of the works in this 'best among equals' exhibition means that singling out any for special mention becomes a somewhat arbitrary affair. One of the brightest stars in this galaxy is the Warlpiri artist Dorothy Napangardi. In 1991, Napangardi won the Museums and Art Galleries Award in the 8th NATSIIA for her Wild Black Plum Dreaming, a lyrical and deliciously evocative rendition of the wild plumbush, heavily laden with fruit, which grows on the Warlpiri homelands of her youth. In this work Napangardi uses feathery brushstrokes and luxuriant colours, including light mauves and yellows, to depict the Mukaki or Bush Plum Dreaming, over which she has custodial rights. Napangardi's relatively early artistic success augured well for what was to come, because now, 10 years down the track, this modest and reserved artist has been declared the overall winner of the 2001 Telstra award for her stark, haunting, ethereal work Salt on Mina Mina, in which she depicts her Women's Dreaming.
Also represented are many other artists from the Northern Territory, including Napangardi's older countrywoman Jeannie Nungarrayi Egan. Egan's Young Men's Dreaming (1987) is a powerful and elegant composition that shows just how gifted this artist is. Had she not devoted most of her life and energy to teaching at the Yuendumu School (where she still works), Egan would surely be recognised as one of Australia's greatest living artists. Tennant Creek based Warumungu artist Peggy Napangardi Jones' wonderful, unselfconscious Yellow Bird (1998) demonstrates Picasso's maxim that it can take an entire lifetime to learn to paint like a child.
Travelling north, Jack Wunuwun's marvellous and seductive Fish Trap Story (1984) shows an Old Master at his best. Wunuwun won second prize at the inaugural NATSIAA. Gali Yalkarriwuy's fascinating and apparently seamless cultural fusion, Three Wise Men (1999), combines the Christian story with that of Banumbirr, the Morning Star, belonging to the people of Galiwin'ku (Elcho Island).
Moving west, a sublime work by Balgo artist Eubena Nampitjin, Wirritji Rockhole (1998,) uses colour to suggest immense, pent-up ancestral energy straining to be unleashed. There is a curiously paradoxical spirit apparent in Nampitjin's work. It is at once bold and calm, forceful and sublime and always grounded in her 'country', characterised by an explosion of warm, sometimes even hot, colours, mostly yellows, oranges, reds and pinks. This artist ought to be regarded as one of our Living National Treasures.
A strong contingent of South Australian artists is also represented. Trevor Nickolls' Garden of Eden (circa 1984) depicts an Indigenous Adam and a non-indigenous Eve standing hand in hand in front of a lake shaped into a map of Australia. Behind them a backdrop of Australian flora and fauna signifies idyllic peace, encapsulating the artist's dream for reconciliation. A wonderful diptych by Ian Abdulla, Memories of Fishing with the Family (1996), is a loving portrayal of the Riverlands of the artist's youth. Abdulla's vivid, dreamlike memories of his irretrievable past are rendered in powerful colours, including an astounding technicolour blue. A series of etchings, Tweret Spirits, Dingo Spirits, Njoorlum Spirits and Anthropomorphs of Aboriginal Life (1990) by Port Pirie's Bevan Hayward (Pooaraar), depicts an era when people were half dingo and half human, also make a substantial contribution.
Queensland offers particularly memorable contributions by Yidindji artist Michael Anning and Thursday Islander Sania May Mabo. Mabo's subtle and understated lithograph depicts the ceremonial headdress of her people (Headdress [1997]). Anning has in recent years led a cultural revival among his people, resurrecting the almost lost Yidindji art of weaponry carving. His skilful, elegant and professional works Rainforest Swords and Shields (Starfish, Matchbox Beanpod Seed, Tree Grubs Designs) from 1998, indicate that this artist is carving out an important niche in Australian art history.
Transitions covers almost 2 decades of artistic production, during which time this distinctively Australian art has consolidated its place in the world of international art. An exhibition of this nature necessarily has an historical dimension. So, it is interesting to note that most of these artworks seem to have 'aged' extremely well—perhaps in contrast with the work of many of their non-indigenous peers over the same time span, whose works seem subject, to a greater extent, to the vagaries of fashion. Taking such a retrospective view also brings some sorrow when one reflects on some of these artists who passed away much too young. For example, the late Robert Campbell Junior's Robert Marbuk Tutawallie Supports Aboriginal Stockmen Striking for Equal Pay (1990), a work of great visual and political literacy, reminds us what a fine artist this Ngaku man (from Kempsey in NSW) was.
Transitions is an exhibition to rival the spare-no-expense blockbuster travelling visual arts roadshows of recent years—the Monets and the Manets, the Old Masters, the cloyingly ugly and tasteless Dale Chihulys—and even the current rash of shows exhibiting Federation fever. Mercifully this seems to have been a short lived and not very serious illness that has now nearly run its course, and to which Australians didn't seem to succumb in large numbers. Transitions not only represents an implicit challenge to any residual cultural and colonial cringe on the part of Australians, but is a 5-star show.
–
Transitions, Tandanya Cultural Centre, Adelaide, Sept 15 – Oct 21; Melbourne Museum, Nov 9 – Jan 27 2002
RealTime issue #47 Feb-March 2002 pg. 27
© Christine Nicholls; for permission to reproduce apply to realtime@realtimearts.net