"I think it's pretty rare for a woman to make a good film, they have to work from behind their oppression, which makes for some bummer movies." Though these words are fictional — spoken by the titular antagonist of the television adaptation of Chris Kraus' canonical I Love Dick (director Jill Soloway, 2017) — they ping-ponged around my mind during the three sessions of the Feminism and Film retrospective at the 2017 Sydney Film Festival. Susan Charlton's finely curated program — Feminism and Film: Sydney Women Filmmakers, 1970s & 1980s — suggests that creating from behind your oppression can make for films that are entertaining, experimental and original, laterally conceptualised, carefully structured and beautifully shot. Comprising short films and documentaries, the Feminism and Film sessions were among the most compelling of the 20-plus screenings I attended at SFF over the course of 12 days.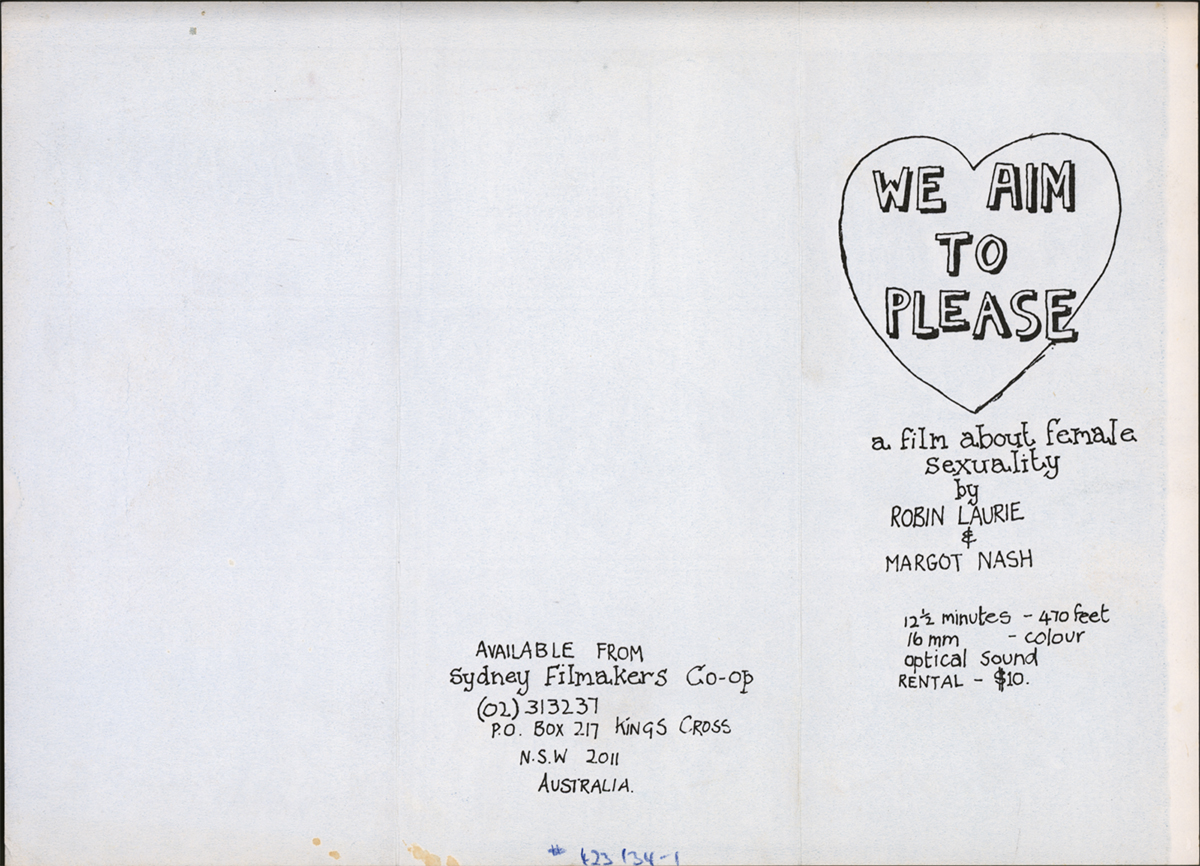 We Aim to Please (1976)
Though indeed disparate in content and form, the films were united by their spiky, feminist tellings of history and experience, bristling with energy and verve. They all suggested a creative, political phase of feminism in Australia, and while I expected overtly feminist content — daily life, the mess of it, housework, stories of women's lives — many works contested the very language of film, reaching for new ways to represent women onscreen. We Aim to Please (Robin Laurie and Margot Nash, 1976) was, like the new I Love Dick, all about women's perspectives on desire that bucks the male gaze and the beauty myth. Satirical and irreverent, We Aim to Please ended up settling on very close-up shots, abstracting one of the filmmaker's bodies, lying in the earth of a garden patch, pale goosebumps alongside green leaves. This was not an idealised vision: there was body hair and full nakedness without the politeness of a reclining nude or the airbrushed unreality of porn. This concern with finding visual ways for women to be subjects, not objects, even without clothes, recurred in almost all the films that followed.
For Love or Money: a history of women and work in Australia (1983)
For Love or Money (Megan McMurchy, Margot Nash, Margot Oliver and Jeni Thornley, 1983) was a highlight of incredibly dense, intelligent non-fiction storytelling. An essay film, it resurrected a staggering array of archival clips and synthesised the writings of feminist historians to construct a chronology of women at work in Australia. By opening with the equal and vital role of women in Indigenous societies, it slayed the idea that Australian history commences with colonisation, creating the ideal basis for advancing the film's main thesis that under capitalism, women's work (raising children, doing the bulk of domestic labour, performing emotional labour that keeps families and their partners afloat) is devalued in a way that lowers the stature of women themselves. In other words, sexism isn't just a floating prejudice in the uneducated mind, but is anchored and legitimised in an economic reality. The film arcs through the ban on married mothers in the workforce, the campaign for equal pay, the rush of women into paid roles during World War II and the exploitation of migrant women. Though this description of a radical economic analysis probably suggests a super cerebral film, For Love or Money resonated at a deeply felt level. Noni Hazelhurst's narration refused to engage in documentary cinema's historical pretensions of objectivity, with constant reference to "our bodies," "our pain" and "our survival." For Love or Money stands today as a major work of historical research, a masterclass of montage editing and a classic essay film. It can be streamed from Ronin Films.
My Survival as an Aboriginal (1979)
The retrospective's vital Indigenous component went further. The first Australian film by an Indigenous woman, My Survival as an Aboriginal (1979) is framed through the experience of Murruwurri matriarch and director Essie Coffey, whose strength and hope and struggle burn through every moment. Superbly structured, the documentary, filmed and co-produced by cinematographer Martha Ansara, tells of Indigenous depression initiated by the trauma of colonialism. A sequence in which Coffey shows Indigenous kids how to find food and medicine in the bush is followed by a blue-tinged, scripted segment in which a fridge door opens repeatedly onto a white-fluoro nightmare of processed foods, a jug of orange juice glowing nuclear. Coffey turns away from the fridge and stares down the camera with an ironic glint in her eyes, and we understand that happiness is an impossibility under Western imposition. We then see shots of drunken Aboriginal alienation — met with police repression — before going back to the bush with Coffey and her family: survival through community is the lasting message.
Two Laws (1981)
Next was Two Laws, a documentary made collaboratively by the Borroloola Tribal Council and filmmakers Carolyn Strachan and Alessandro Cavadini (see excerpts). It tells of an awful moment of police and judicial brutality in the 1930s in the Northern Territory, with each storytelling decision made collectively by the surviving people of that community. The film has scripted moments and re-enactments but is entirely transparent in its presentation; much of it is shot, wide-angle, from a seated position among a circle of people, in visual sync with Indigenous storytelling traditions. I haven't seen anything like it in honesty of feel or form, though it's an obvious precursor to the sleeker fictional drama Ten Canoes (Rolf de Heer, 2006).
The women's film collectives
A common context emerged over the course of the retrospective: the filmmakers' collectives that shaped much independent filmmaking in Australia in the 1970s, often involving people who began their creative training as artists. The Sydney Filmmakers' Cooperative and the Women's Film Group birthed combinations of art minds who encouraged and worked with each other with an ethos antithetical to today's neoliberal, self-branding mentality. Many of the films benefited from the Experimental Film Fund, an Australian Film Institute program 1970-1978 for projects orphaned by commercial distributors and production houses. And in 1975, a Women's Film Fund was created, resulting in films like the fantastical This Woman is Not a Car (Margaret Dodd, 1982), which presents suburban married life as a form of horror.
Consider this context for filmmaking against that of today. Federal support for experimental filmmaking is now zero. And an express vision for correcting rampant workplace discrimination against women in the screen industries has only just begun to form among policymakers, who remain hesitant to suggest concrete targets or quotas for parity in gender participation.
The lost/found paradox
The series performed another function: the revelation of an archive lost to the public imagination. The films are all preserved by the National Film and Sound Archive, but, without more concrete screening opportunities, are a lost legacy. It's paradoxical to think that cultural objects can be both archived and lost. Though the NFSA's mission is to collect and share items of audiovisual production, evidently much more collection than sharing takes place, with few options for big-screen or home viewing. The archive seems to be a one-way chute: archived but not circulating or discoverable, films go in and rarely go out, with digitisation, distribution and exhibition the missing links to their life in contemporary film-going.
Projections
The Feminism and Film series is over now but the retrospective highlighted the absence of state and industry structures crucial for the creation and delivery of innovative creative works: an experimental film fund, a better plan for digitising and providing access to archives, exhibition spaces for non-commercial films and the facilitation of discussions around them. Though I've heard much lamentation of inequity since the launch of Screen Australia's rather spineless Gender Matters policy in 2015, I knew almost nothing until now of these women's films that thrived in a living vein of supported film culture in the 1970s and 80s. To think that the beginnings of a tradition of politically acute, formally daring filmmaking by women in Australia was cut short, and then almost forgotten, says so much about the larger problems of cultural value and memory in Australian culture and screen industries. Despite their retrospective nature, the Feminism and Film screenings played like scenes from a possible future for Australian cinema: a reminder that culture can change, if we're willing to look back before we look forward.
Other films in the program included Behind Closed Doors
 (Sarah Gibson, Susan Lambert, 1980), 
 Serious Undertakings
 (Helen Grace, Erika Addis, 1982), A Song of Ceylon

 (Laleen Jayamanne, 1985) and Film for Discussion (Sydney Women's Film Group, including Martha Ansara and Jeni Thornley, 1974).
–
Sydney Film Festival, Feminism and Film: Sydney Women Filmmakers, 1970s & 1980s, curator Susan Charlton, Sydney Film Festival, Event Cinemas and Art Gallery of New South Wales, 10 & 18 June
Top image credit: Archival still, For Love or Money